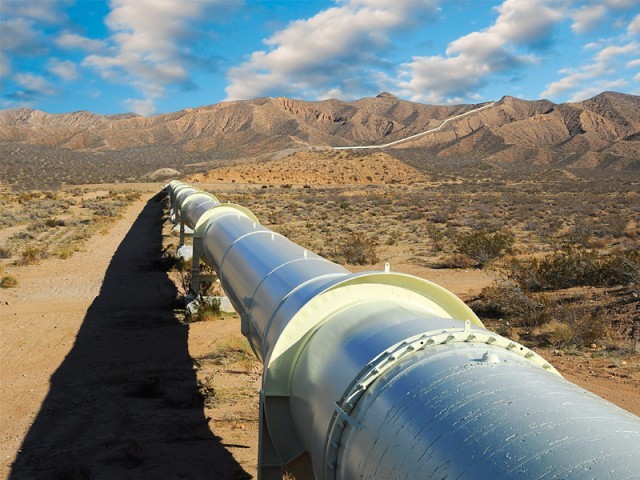 ISLAMABAD: Pakistan and Russia are close to formally signing bilateral agreements within days for the supply of gas and construction of two gas pipelines while upcoming federal cabinet meeting is likely to grant its approval in this regard, it was learnt.
Official sources at petroleum division on anonymity informed that next federal cabinet meeting scheduled to be held on December 26, is expected to give a go-ahead to formally sign agreements with Russia for the supply of gas to Pakistan and construction of two gas pipelines. They said Prime Minister Shahid Khaqqan Abbasi has advised Petroleum Division to finalise matters with Russia pertaining to the initiation of an offshore gas pipeline project and Lahore to Karachi gas pipeline and also forward the summaries to the federal cabinet for final approval. And, after getting federal cabinet's nod, a Pakistani delegation will visit Russia to sign these agreements, said sources.
"Defence cooperation had been the vanguard in Pak-Russia relationship, which would soon be matched by vast energy-sector cooperation," said officials.
The official sources also told that after the signing of agreements between the two countries, Russia, which controls and manages huge gas reserves in energy-rich Iran, and Turkmenistan will provide gas to Pakistan via Iran and Russian state-owned firm will construct gas pipeline inside Iran and Pakistan. They said though Iran has no objection with the Pak-Russia gas deal, however, Pakistan will have to revive Gwadar-Nawabshah gas pipeline project to get Russian gas via Iran and for ensuring energy security of the country.
It is relevant to mention that former prime minister Nawaz Sharif during a Cabinet Committee on Energy held on June 6, 2017, had ordered to stop the $ 2 billion Gwadar-Nawabshah gas pipeline project through approximately Rs 3billion had already been spent on the project at the time. However, Chief of the Army Staff General Qamar Bajwa during the meeting of the National Security Committee raised the matter and, both civil and army leadership unanimously decided to complete the construction of gas pipeline project with the cooperation of Russia.
Sources also said that after the construction of said two gas pipelines, Russia will initially supply 500 million to 1.5 billion cubic feet per day to Pakistan while in future, it (Russia) will also be able to supply gas to India via Pakistan through land or sea routes. They added that Russia will also sell Turkmenistan's and Iran's gas to Pakistan and India via Iran at cheap rates in comparison to the price of Liquefied Natural Gas (LNG).
Official sources at Petroleum Division further informed that Petroleum Division is mulling over to revive 700-kilometre long Gwadar-Nawabshah gas pipeline project especially due to recent developments achieved in enhancing relations with Russia in the energy sector. They said after signing the defence deal, proposed energy cooperation between the two countries will usher a new era of cooperation and confidence between Russia and Pakistan. They said Pakistan has speeded up the process of formally signing bilateral agreements for the import of Russian gas to the country and the construction of two gas pipelines in the country.
Earlier, Pakistan and Russia in October 2015 had signed an inter-governmental agreement for the construction of the North-South gas pipeline. The 1,100-kilometre pipeline with a capacity of 12.4 billion cubic meters per annum will connect Karachi's liquefied natural gas (LNG) terminals with those in Lahore.
As per the agreement, Russia will invest $ 2 billion in the project, the first phase of which is expected to conclude by December 2017. On the first stage, by the second quarter of 2018, the gas pipeline will be built. On the second stage, by the second quarter of 2019, part of compressor stations will be completed. And, on the third stage, by the second quarter of 2020, all compressor stations will be commissioned bringing the pipeline to its full capacity, which is 12.4 billion cubic meters a year.
The project will be implemented in compliance with BOOT model (Build Own Operate Transfer). The built pipeline will be owned and operated by the project company for 25 years. During this period payments for gas, deliveries will help the company return the investments and make a profit. After that, the pipeline will be handed over to the government of Pakistan.
Similarly, Pakistan and Russia had already reached an understanding on signing the offshore gas pipeline deal during Prime Minister Shahid Khaqan Abbasi's visit to Sochi, Russia. Now, during the upcoming trip, the two sides are poised to ink a memorandum of understanding (MoU) for the offshore pipeline and the North-South (Lahore-Karachi) LNG pipeline.
According to the Petroleum Division's official, after signing of the MoU for the offshore pipeline, work on feasibility study will begin in an attempt to assess the viability of the project. Russia is even ready to finance the study.
It is worth mentioning that in August, Pakistan and Russia signed a landmark defence deal for the sale of four Mi-35 'Hind E' attack helicopters to Pakistan and are currently in talks about the delivery of Sukhoi Su-35 fighter jets. However, proposed energy cooperation is expected to strengthen the bilateral relations and is expected to enhance the volume of bilateral trade. Moreover, Pakistan and Russia are set to ink agreements very soon for the supply of gas and for laying an offshore gas pipeline and the North-South liquefied natural gas (LNG) pipeline – the two projects in which Moscow will pour an investment of over $ 10 billion.