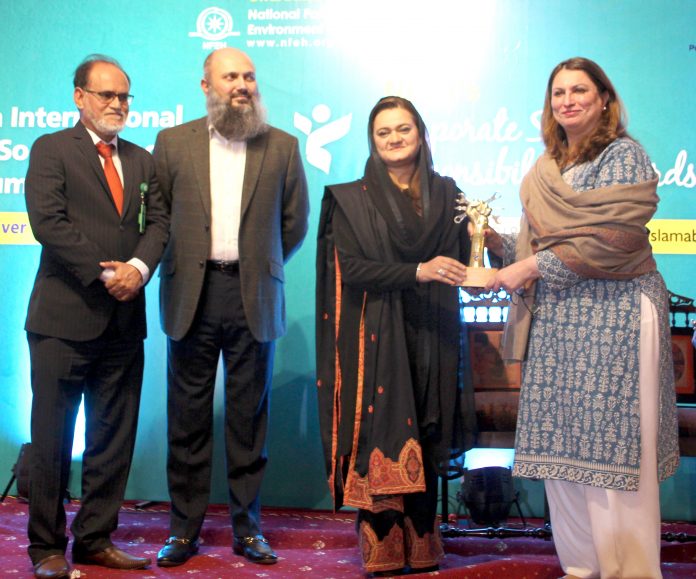 ISLAMABAD: Hashoo Group secured three Corporate Social Responsibility (CSR) awards for its significant contributions in social development through different remarkable interventions in the following categories: Community Development and Services, Vocational Training, and Education and Scholarships.
On behalf of Hashoo Group Country Director Ayesha Khan and Hashoo Group vice president, received the awards from Minister of State for Information and Broadcasting Marriyum Aurangzeb and Minister of State for Petroleum Jam Kamal Khan.
Ayesha Khan in her speech said that Murtaza Hashwani carries forward his family's philanthropy with a global approach and renewed dynamism.
"Re-positioning the foundation as a development foundation and partnering with key change agents at the global and national level, Murtaza Hashwani has hurtled the foundation on a trajectory of achievement at scale with new and innovative projects tapping into the potential of youth and women in Pakistan," she said.
Ayesha Khan further commented that Hashwani aims to go global with the foundation as a Pakistani, reaching out to other countries in its areas of expertise, such as skills and entrepreneurship training, early childhood development and disaster risk reduction/climate change.
The well-attended event, 10th Annual International Summit on CSR-2018, was organised by the National Forum for Environment and Health and the CSR Club.
The chief guest on the occasion was the Azad Jammu and Kashmir President Sardar Masood Khan.