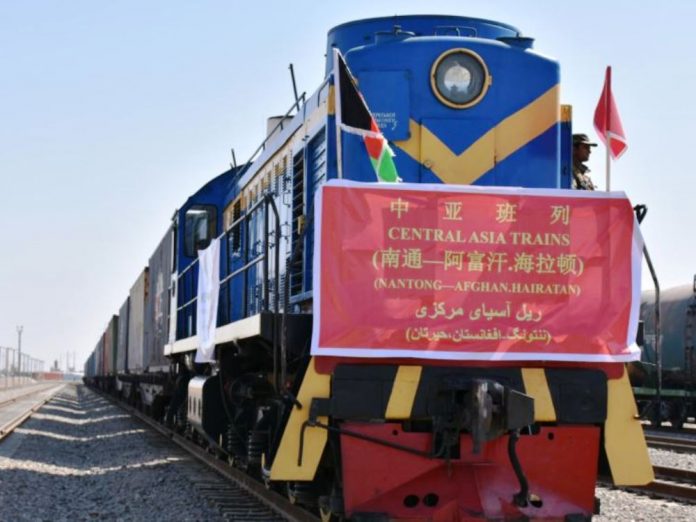 LAHORE: China is competing with India for geo-political influence in war-torn Afghanistan, as it moves ahead to forge closer economic ties and maintain its hegemony over trade across Asia.
A report in Forbes said China is seeking closer economic ties with Afghanistan, a country ravaged by conflict and war since the 1970's.
Afghanistan, which is a poor and landlocked country is viewed by the Chinese as a major spot for new highways and railways, which would assist it in increasing trade for both sides, said experts.
Although, Spanish financial firm Santander Trade says investor rarely put Afghanistan in their top lists for investor protection as it is ranked below of Europe, United States and South Asia.
In a comment to Forbes, Professor of Strategic Management at Deakin University in Australia, Stuart Orr said "China would probably see the instability in Afghanistan as more of an opportunity than would most countries."
But Chinese designs are being thwarted by increasing Indian investment in Afghanistan, where it is providing funding to build dams, roads and hospitals, said Mohan Malik, Professor at Asia Pacific Center for Security Studies in Honolulu.
Also, another risk cited to Forbes by Sameer Lalwani, Senior associate and South Asia Program co-director at the Stimson Center think tank in Washington stated "Afghani "non-state actors" have the power to support for anti-government Muslims in the nearby Chinese region of Xinjiang."
Mr. Lalwani added the Chinese see the mining industry and other extractive potential in Afghanistan, but it is offset by the high stabilization costs and front-end conflict management.
He said the key strategic prerogative of China in Afghanistan would be to control instability and prevent it from spilling out to its other economic equities in the region.
In a larger context, the China-Pakistan Economic Corridor (CPEC) has extreme significance since two railway lines are being planned and Pakistan is welcoming Beijing's investments into its infrastructure.
China's border with Afghanistan runs over 76 kilometers, but the Pakistan-Afghan line runs over 4,250 kilometers, said Forbes.
The extension of a road or railway across the longer border would be a very easy option, which could open transportation avenues to oil-rich Iran and maybe even Turkey, reported Forbes.
According to Orr "From a long-term perspective, establishing a trade route through Pakistan and Afghanistan would introduce the option of increasing the ease of trading directly with Iran, from whom China currently gets the bulk of its oil and has significant two-way trade. Establishing a direct trade route to Iran would then open the doors to increased trade with Turkey."
Afghanistan counts China as amongst its largest investors and in 2007, a Chinese entity entered into a 30-year lease for $3 billion of Aynak copper mine.
And both countries have already established a railway link in September 2016, which has reduced shipment times from six months by road to two weeks, says Santander Trade.
The railway link has permitted freight to travel from far eastern China to Afghanistan's rail port of Hairatan.