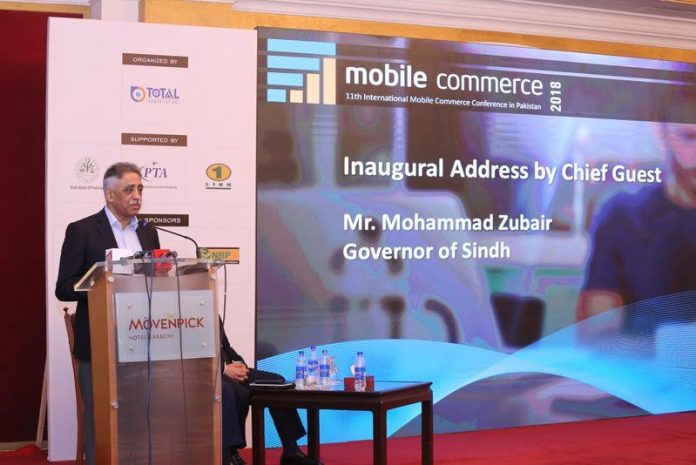 KARACHI: Pakistan has done a massive job at deploying digital technology which significantly supports the acceleration of economic growth to the set target of six per cent this year, and higher in the years to come, experts said on Thursday.
Governor of Sindh Mohammad Zubair, while addressing the 11th International Mobile Commerce Conference 2018 stated that digitalisation is going to accelerate economic growth in the country.
The one-day annual conference was organised by Total Communications with the support of State Bank of Pakistan (SBP), Pakistan Telecommunication Authority (PTA) and 1Link.
Pakistan has successfully deployed 3G/4G mobile internet infrastructure in the last four years. Four cellular phone companies are providing internet and data services which is key to the digitalization of the economy. The time is not far when the country would be testing the fastest mobile internet service, 5G.
Pakistan is home to over 200 million people. Half of the population is using a mobile phone (120 million active SIMs), while one-fourth of the population is using smartphones (50 million phones) which are 3G/4G compatible. Moreover, over 70 million people belong to the vibrant middle-income group, which is a key target for cellular service providers.
Zubair, who is also a key member of the economic team at the federal government, said that the technology in place is about to get people living in rural areas involved in the digitalisation process and hence, into the economic growth circle.
"Technology is going to reduce the gap between rich and poor, and narrow down the rural and urban divide bringing us closer to actual economic growth," he said. He further added that public and private sectors must work together for the national cause of digitalising the economy.
SBP Executive Director Development and Finance Group, Syed Samar Hasnain stated that the central bank makes sure that all required resources, including finances, remain available for mobile commerce and digital economic growth.
He said the number of branchless banking accounts has increased by over 21 per cent to 33 million in the quarter of July-September 2017 against 27 million in the previous quarter of April-June 2017.
SBP Executive Director, Banking Policy and Regulations Group, Syed Irfan Ali, said the central bank is targeted to increase the number of bank accounts to 100 million by 2020. Branchless banking would provide the much-needed support in achieving the financial inclusion goal under SBP's National Financial Inclusion Strategy 2015.
Planet N Group of Companies Founder and Coach, Nadeem Hussain, said that a large amount of currency remains out of the banking system while Fintechs can bring the amount into the system and help document the economy. "Printed currency notes worth Rs3 trillion are not in bank accounts," he said, adding Ant Financial, which is part of the Chinese e-commerce giant Alibaba Group, is going to revolutionise the digital economy in Pakistan.
Ant Financial has entered Pakistan by investing $185 million in Telenor Microfinance Bank a couple of days ago. Also, three companies have recently started offering 'nano (small) credit' by using algorithm technology.
Inov8 Limited CEO, Hasnain Sheikh said that FonePay would offer its first loan in the next quarter.
CEO 1Link, Najeeb Agrawalla said that Pakistan has become the 28th country in the world in launching a domestic payment system called PayPak.
Bank Alfalah's Group Head, Digital and Branchless Banking, Muhammad Yahya Khan and Meezan Bank's Head of Branchless Banking and Digital Initiatives Ali Imran Khan also spoke on the occasion.