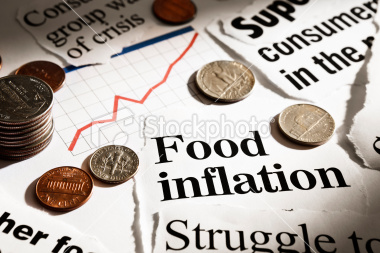 KARACHI: A report titled 'Threshold Inflation in Pakistan' released by the State Bank of Pakistan on Monday stated if the inflation remained around 6 percent, the economy's growth trajectory would continue to remain beneficial.
However, the report cautioned if inflation crossed the 6 percent mark, it could dent economic growth, reported The News.
The report said, "keeping in view these close threshold inflation levels, we can safely conclude that inflation below 5.67 percent may be favorable for economic growth and inflation above 6.05 percent can hurt growth."
For present financial year 2017-18, the government had estimated a growth rate and consumer price inflation at six percent compared to SBP's projection of five to 6 percent for economic growth and 4.5 to 5.5 percent for CPI.
SBP had hiked the interest rates by 25 basis points in January to tackle rising external imbalances and inflationary risk.
According to experts, inflation is expected to rise in the next few months due to depreciation of the rupee and uptick in international oil prices.
The report highlighted that a one percentage point rise in inflation could contribute to 0.74 percent point rise in real GDP growth if inflation remains contained to 5.67 percent.
It added that if inflation crossed this level meaning a one percentage point rise in inflation could knock-off 0.53 percentage points in the real GDP growth.
The study disclosed historically, average real GDP growth rate has clocked at over 5 percent during low inflation periods of below 6 percent and 4.7 percent during high inflation periods (i.e., inflation rate crossed 6 percent).
It highlighted that only in 1990 when the inflation stood at six percent, the average real GDP growth was recorded at 4.6 percent, lower than its historical average.
Also, the report stated that a low and stable inflation rate helps economic activities, while high inflation dents economic growth.
It added "Pakistan has experienced highest inflation of 30 percent in 1974, followed by 26.8 percent in 1975 and 17.0 percent in 2009. In fact, double digit inflation was witnessed for 19 years out of 67 years of Pakistan."
The central bank report added a high inflationary setting impacts decision making ability of all economic players in the economy including consumers, producers, investors and savers via unpredictability about the expected outcome of their decisions.
"Moreover, a persistently high inflation also causes erosion of the value of the local currency in terms of foreign currencies. Such uncertainties, in turn have adverse implications for economic activities," said the report.