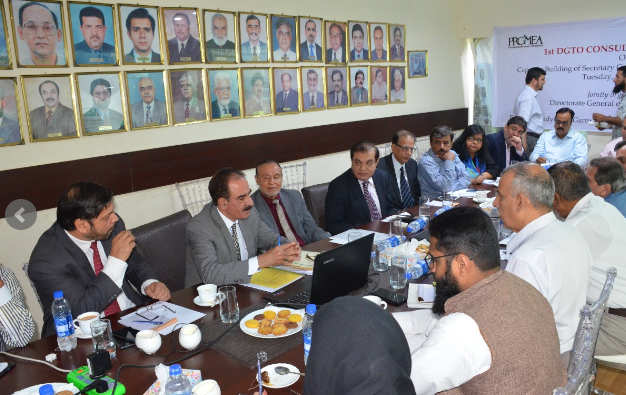 ISLAMABAD: 
The Directorate General of Trade Organisations (DGTO) of Ministry of Commerce and Textile in collaboration with Licensed Trade Organisations of Pakistan will organise the 2nd DGTO consultative session titled "Capacity Building of Secretary Generals and Office Bearers of Trade Organisations (TOs)" on 
April 6, in 
Islamabad.
Pakistan Overseas Employment Promoters Association (POEPA), will coordinate the event to be participated by 15 trade associations and nine chambers of commerce and industry from the Northern zone (Punjab, Khyber Pakhtunkhwa, AJK, Northern Areas and Islamabad Capital Territory).
The participating secretary generals and office bearers of 23 trade bodies representing the business community include Chambers of Commerce and Industry of Chakwal, Gilgit, Haripur, Jhang, Jhelum, Mardan, Mirpur (AJK), and Sargodha along with associations representing sectors such as petroleum exploration, ICT, gloves, pharmaceuticals, garments, overseas employment promoters, edible oils, livestock and gemstones.
Pakistan Readymade Garment Manufacturers and Exporters Association (PRGMEA) Chairman Shaikh Muhammad Shafiq will be the chief guest at the opening ceremony.
The consultative sessions are designed to enhance understanding on Trade Organisations Act 2013 and Trade Organisations Rules, 2013 under which trade bodies in Pakistan are granted licenses to undertake activities in their specified areas of jurisdiction. Legal aspects for TOs to function as legitimate trade bodies particularly, the provisions relating to licensing, post-licensing, renewals and conduct of annual elections will be shared with participants representing the 24 TOs.
Besides better compliance of regulations by licensed TOs, the platform offers opportunities for private sector trade bodies to engage more actively in areas of trade, industry, and services for the development and promotion of sectors and regions in line with their declared objectives.
The technical session to be addressed by the officials from the TOs regulatory authority will include discussion on the performance of trade organisations in Pakistan, regulatory compliance of Trade Organization Act 2103, role and responsibilities of secretary generals and office bearers of TOs.