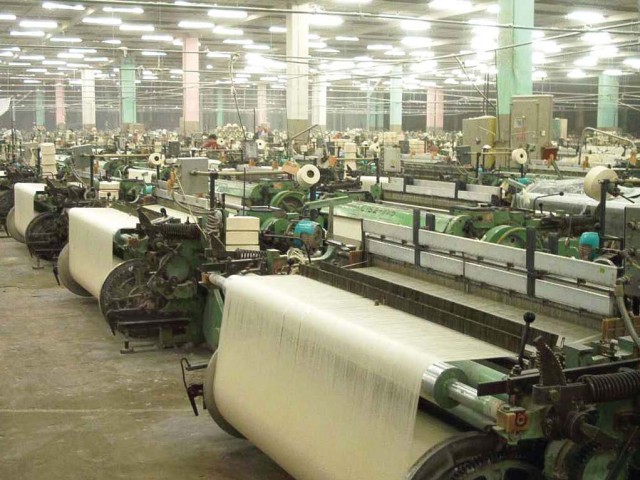 KARACHI: As the financial crunch worsens for the textile industry, it is still awaiting the disbursement of funds under the government's export package.
Also, funds disbursement stuck due to long outstanding refunds is also awaited by the textile industry, reported Express Tribune.
The Rs180 billion prime minister's incentive package announced by former PM Nawaz Sharif has seen the State Bank of Pakistan processing only Rs50 billion worth of funds, however, the textile industry got only Rs18 billion.
Textile magnate Zubair Motiwala said the textile industry was struggling with a cash-flow crunch as it advanced the incentives offered under the export package to buyers overseas for boosting exports.
Motiwala revealed industry players had been unable to dispense export orders properly because of failure to produce the desired volume due to lack of procurement of raw material.
Export receipts recorded a meagre increase of 1.1 percent during 2013, the year the incumbent government came into power compared to 2012.
But exports nosedived by 12.36 percent during 2015-16, touching $21.97 billion and worldwide exports also posted a fall of meagre 1 percent.
The textile sector which constitutes 57 percent of the country's total exports and 8.5 percent of Pakistan's total economy size, was the major contributor to these low exports.
For January to June 2018, the government had placed no stipulation on claiming duty drawback.
However, from the start of next financial year, exporters would need to post a rise of 10 percent in exports to avail these incentives.
Although, the target is set to have been attained as exports rose to $8.85 billion from July to February of FY 2017-18 against $8.18 billion in the same period of last year (SPLY).
But according to experts, the receipts could have been inflated by false recording by the exporters to avail government incentives.
Disagreeing with this perception, Motiwala said exports from Pakistan posted a rise after extending monetary gains of the export package to overseas buyers.
The higher exports have been attributed to the lower prices of Pakistani products in the international market.