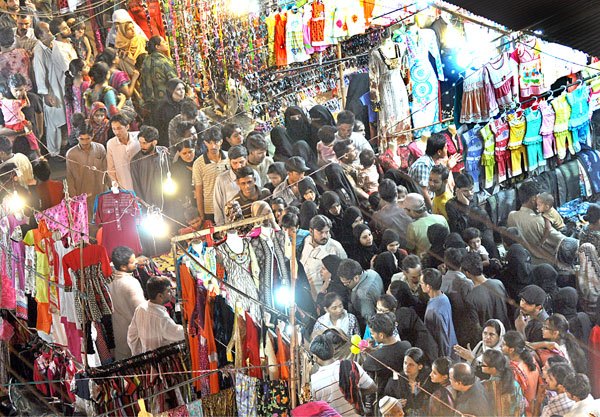 KARACHI: The traders in the metropolis of Karachi are aiming for Rs60 billion sales target from Eid-ul-Fitr shopping compared to Rs40 billion in 2017 and Rs50 billion during 2016.
The highest sales posted in Karachi during the PML-N five-year tenure was Rs70 billion in 2015, reported Dawn.
Traders disclosed sales in Karachi have remained muted during daytime (1 pm till post-iftari period) because the heatwave and humidity have kept buyers away.
And due to temperatures subsiding after iftari, customers prefer to go to markets then.
Atiq Mir, Chairman All Karachi Tajir Itehad (AKTI) validating the sales target of Rs60 billion shared if an individual did Eid shopping of around Rs2,000, the sales volume is determined to be Rs40 billion considering Karachi's population is 20 million.
Citing another instance, he added if an individual was to spend Rs5,000 purchasing shoes, gifts, crockery, garments etc would mean the sales in Karachi could touch Rs100 billion.
Mr Mir said sales across Pakistan are projected to reach Rs400 billion taking Rs2,000 expenditure by a population of 200 million.
He said if the amount spent on purchases rose to Rs5,000, the sale figures could touch Rs1,000 billion.
Mr Mir shared these were reserved projections since sales hadn't yet picked up pace especially in evening time due to the scorching heatwave.
The AKTI chairman said sales would exhibit an improvement in the last ten days of Ramazan.
But he pointed out sales outlook looked far low taking into consideration Rs350 billion new notes being printed by the central bank which will be given as Eidi to kids.