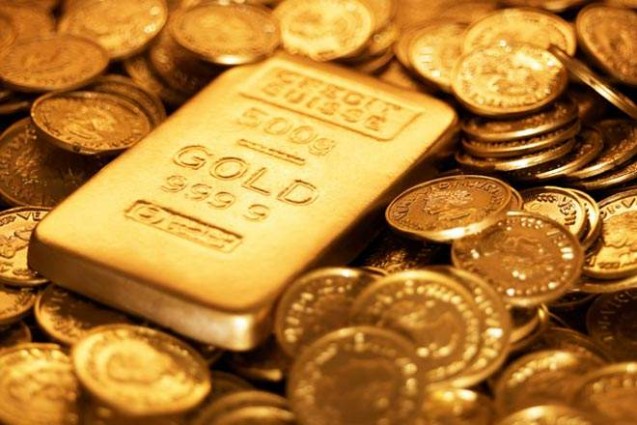 BENGALURU: Gold prices edged lower on Monday as the dollar firmed after last week's U.S. inflation data supported the Federal Reserve's outlook for future interest rate increases.
Spot gold was 0.3 percent lower at $1,248.98 an ounce as of 0644 GMT.
U.S. gold futures for August delivery were down 0.3 percent at $1,250.20 an ounce.
The dollar strengthened against a basket of currencies and extended its gains against the yen to hit a fresh six-week high of 111.06 yen, supported by the relative strength of the U.S. economy and on prospects of further rate hikes from the Federal Reserve.
U.S. consumer prices accelerated in the year to May, with a measure of underlying inflation hitting the Federal Reserve's 2 percent target for the first time in six years, data showed on Friday.
The rise in price pressures will probably not shift the Fed from its stated path of gradual interest rate increases as policymakers have indicated they would not be too concerned with inflation overshooting its target.
Gold is highly sensitive to rising U.S. interest rates, which increase the opportunity cost of holding non-yielding bullion, while boosting the greenback.
Hedge funds and money managers cut their net long positions in COMEX gold and silver contracts in the week to June 26, U.S. Commodity Futures Trading Commission (CFTC) data showed on Friday.
Speculators cut their net long position in COMEX gold by 19,328 contracts to 4,186 contracts, CFTC data showed. This was the weakest position since January 2016.
Holdings of SPDR Gold Trust, the world's largest gold-backed exchange-traded fund, fell 0.18 percent to 819.04 tonnes on Friday, the lowest since late August.
Among other precious metals, platinum slid 0.8 percent at $840.70 per ounce, it hit its lowest since January 2016 at $835.50, earlier in the session.
Spot silver fell 0.6 percent at $15.98 an ounce and palladium was 0.5 percent lower at $947.76 an ounce.