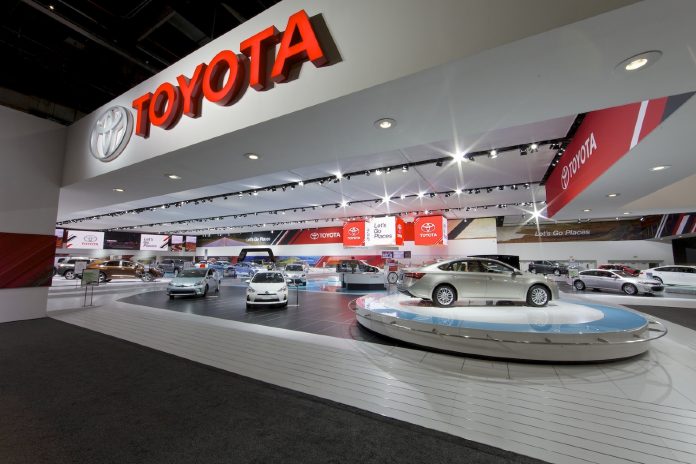 TOKYO: Toyota Motor Corp on Friday posted a 19 percent profit jump for the first quarter, beating estimates and clocking its best quarterly performance in two-and-a-half years on the back of higher sales and cost reductions in Asia.
Operating profit at Japan's largest automaker was 683 billion yen ($6 billion) for April-June.
Global retail vehicle sales rose 1 percent to 2.6 million units in the quarter, boosted by an 8.5 percent lift in Asia.
For the first six months of 2018, demand for the remodelled Camry helped increase Chinese sales by 5.4 percent, while Thai sales jumped 26 percent.
Together, sales in those countries helped drive a 40.2 percent rise in first-quarter profit in Asia.
In North America, Toyota's biggest regional market, sales rose 3.2 percent due to a rise in demand for its pick-up trucks, including the Tacoma and Tundra. Still, profit in the region fell 29 percent as sales incentives continued to weigh.
At home, sales fell 6.3 percent, but profitability rose 24 percent due to cost reductions and an increase in vehicles made in Japan and exported overseas.
The automaker maintained its full-year profit forecast to slip 4.2 percent to 2.3 trillion yen, though it is now factoring in one U.S. dollar is worth 106 yen, from an earlier forecast of 105 yen. Overall, it still anticipates a stronger yen to offset the benefits of cost-cutting and record-high global vehicle sales.
TARIFFS
Like its domestic rivals, Toyota is bracing for a possible rise in U.S. auto import tariffs, which could cloud its outlook as tariffs would raise the cost of selling vehicles in one of its biggest markets.
The United States in May launched an investigation into whether imported vehicles pose a national security threat, and President Donald Trump has repeatedly called for tariffs of up to 25 percent.
Toyota, which sells more cars in the United States than any other Japanese automaker, locally produces roughly half of all of the vehicles sold in the country. It imports the balance mainly from Japan, Canada and Mexico.
Its share of localized production is lower than the 75 percent of Honda Motor Co Ltd and 60 percent of Nissan Motor Co Ltd.
Toyota has been a vocal opponent of tariffs, arguing that 25 percent would increase the cost of its U.S.-made Camry sedan, Tundra pick-up truck and Sienna minivan by up to $3,000 per vehicle.