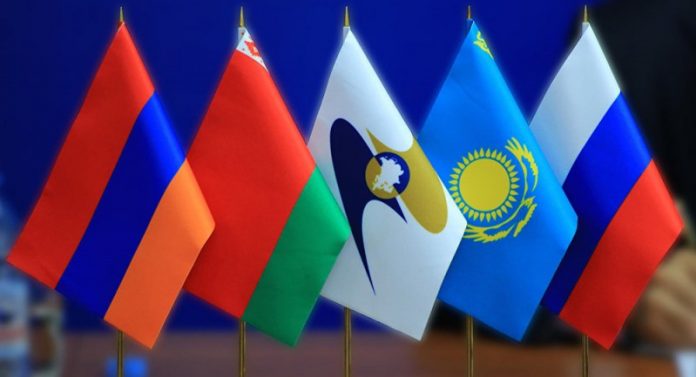 ISLAMABAD: Pakistan faces the prospect of being unable to reach a trade accord with the Eurasian Economic Union (EEU), the Russia dominated alliance after a fall in exports during the previous government's tenure.
The EEU bloc is constituted of Armenia, Kazakhstan, Russia, Kyrgyzstan, Belarus and since Pakistan has no diplomatic relations with Armenia would make it difficult to reach a trade accord, reports Express Tribune.
Officials believe the absence of diplomatic ties with Armenia could inhibit the finalization of the trade deal with EEU.
Pakistan has largely been reliant on the US and EU markets where it tends to export its textile products.
After the signing of a civilian nuclear deal with India, US ties with Pakistan have remained tense and bilateral relations have deteriorated.
Relations with the US worsened after Pakistan and China commenced work on the $60 billion China-Pakistan Economic Corridor (CPEC).
An official said in the current situation, Pakistan risked the threat of US sanctions and in the previous government's tenure, overall exports declined by $4 billion.
As per the official, trade potential with Central Asian states is immense, however, Pakistan's record of enabling bilateral trade with the region isn't that good.
The official added issues of border tax and corruption in Central Asian states contributed to Pakistan failing to make headway on trade expansion.
Also, the official stated that ex-Prime Minister Nawaz Sharif had shown keen interest to increase trade with Central Asian Republics.
Aside Armenia, the official said Sharif had paid a visit to all other countries and promised full support for reaching a free trade agreement (FTA) with the Eurasian bloc.
And former PM Nawaz Sharif had given instructions for reaching FTA with EEU to increase trade with member states and Russia.
"Pakistan wants to tap the potential of trade with Central Asian states and Russia," he said.
On the instructions of the former PM, the commerce ministry forwarded an FTA draft to the Foreign Office to be shared with other countries, however, no response was received during the PML-N tenure.
The official said Pakistan had expressed worries the US could block economic cooperation with the Eurasian region.
Since Pakistan exports major textile items to EU and the US, officials believe both could offer more incentives to keep Pakistan going into the Eurasian fold because of Russia's dominant position there.
Despite this, there is a huge potential for Pakistan to gain access to eastern European and Eurasian markets by reaching FTAs with EEU and Belarus.