Google Inc. is celebrating its 20th anniversary today. The tech giant was incorporated on 4 September, 1998 and has a market capitalization of more than $850 billion. It has indexed hundreds of billions of pages. It has revolutionised digital advertising, online search engine, and perhaps, how we use and utilize the internet itself. If that is not enough, it has also diversified into the smartphone market, created game-changing mobile applications along with creating its own software – the Android. It also mapped the entire globe with Google Maps and made it easier for people as well as businesses to go from one place to another. Now, it is testing self-driving cars.
The Inception of Google
Google was founded by Larry Page and Sergey Brin who were then students at Standford University.
Page and Brin, students at Stanford University in California, developed a search algorithm – at first known as "BackRub" – in 1996. The search engine soon proved successful and the expanding company moved several times, finally settling at Mountain View in 2003. This marked a phase of rapid growth, with the company making its initial public offering in 2004 and quickly becoming one of the world's largest media companies.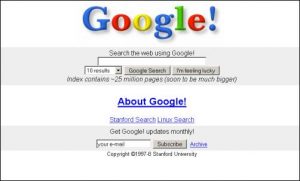 After the IPO in 2004, Google swiftly grew with its market capitalization exponentially surging to value the company at $52 billion in 2005, making it one of the biggest media companies in the world.
Products/Services
Google is not just a search engine as it was at its inception. Google is now a complete technology company that offers a web email (Gmail), a news aggregator, a calendar software, a suite of office applications including word-processing, spreadsheets and photo-editing software, cloud storage for consumers and businesses, a web browser, a website for watching videos, self-driving cars, laptop and desktop computers, a map of the world, a social network, language translation service, online software store, an online video rental store, a video conferencing software, and a service that allows users to pay for things with their phones. The list is not yet complete, however, it gives us an idea of how much the company has been able to achieve since its inception.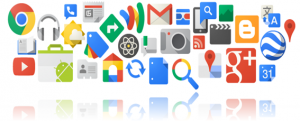 Companies owned, mergers and acquisitions
Google owns more than 200 companies under the umbrella corporation of 'Alphabet'. Google has over the years acquired many companies such as Android Inc – a mobile software company, Picasa – photo editing company, and YouTube – a video sharing platform, to name a few.
Google has also been named among the top brands in the world by Inc.com, being listed among other giants such as Microsoft, Apple, Amazon, Samsung, Facebook, and AT&T.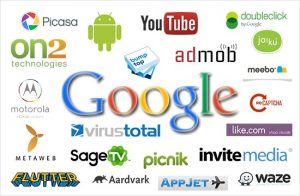 Some of the top mergers and acquisitions made by Google include:
Motorola – $12.5 billion
NestLabs – $3.2 billion
DoubleClick- $3.2 billion
YouTube – 1.65 billion
Waze – $966 million
We can say that our lives now revolve around Google. We use Google Maps to locate an address, we use YouTube to see that video we wanted to see, we use Google search engine to search for the best restaurant to eat at, we download apps from the Play Store to make our lives easier, and we use Google Chrome on our computers to surf the web.
Although the company, from time to time has been at loggerheads with authorities over issues such as privacy and security, it is hard to imagine our lives without Google and its numerous brands, products, and services.