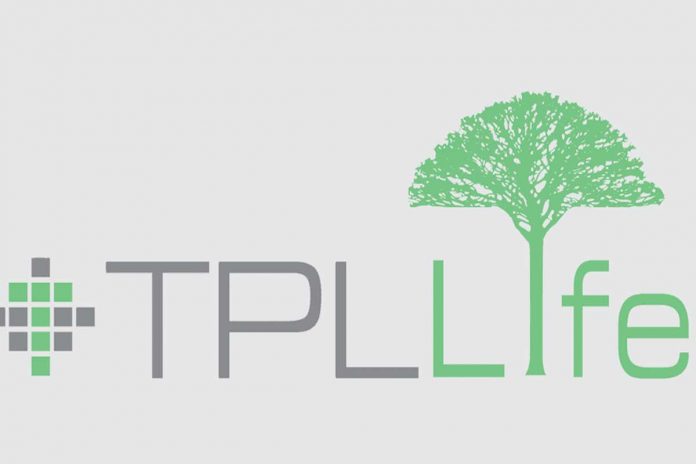 TPL-Life Insurance Company Limited, an under two-years old Life & Health insurance company in Pakistan, launched innovative Insurance products to increase its market share all over the country through creative marketing tactics.
"TPL-Life seeks to confront deep-rooted hindrances in the sector – low public confidence, coupled with a deep-seated mistrust of insurance companies," said its Chief Executive Officer (CEO) Faisal Shahzad Abbasi.  "The company seeks to change expectations of the public of insurers, and create greater awareness of how insurance operates elsewhere in the world," he said in an exclusive interview with the Profit Magazine.
"We are also focusing on increasing level of education with its associated awareness of legal rights, transformed claim payment and make insurance policy documents easy to understand to the general public," Mr Abbasi informed.
Faisal Shahzad Abbasi has behind him 22-years experience, including his years in a foreign bank like ABN Amro, which later became Royal Bank of Scotland (RBS) in Pakistan. Prior to being appointed TPL Life's CEO in 2016 his did a stint with Jubilee Life, where he served as group head, customer experience and marketing.
A subsidiary of TPL Corp, it was founded by Mr Ali Jameel. Presently there are nine Pakistani insurance firms, including TPL-Life, in Pakistan.  
The group had acquired Asia Care Health & Life, a local insurance company, in July 2016 and since then to get penetration in the Pakistani market the management was working on different products for the customers.
"For the last 23 months, our company was busy in developing different projects, and several processes of previous company were also restructured… And [we felt] now is the time to go public with our offerings," said the CEO.  
Pakistan's insurance sector, said he, must work to improve perception of the insurance providers as well as negatives that have plagued its image in our society. Also we need to address the negative concerns of the clients pertaining to insurance services.
"The company has launched health and life insurance products, and made these available in retail outlets, the company's website/mobile app and banking channels etc," said he, adding, "This is just the beginning of our efforts to bring in the much-needed change in life insurance sector. With time, we will gain healthy market share and carve a niche for ourselves with our exclusive offerings and services."
In a short span of time, he contends, the TPL-Life insurance has won the confidence of reputed corporates with its services and is continuing to do so with every passing month.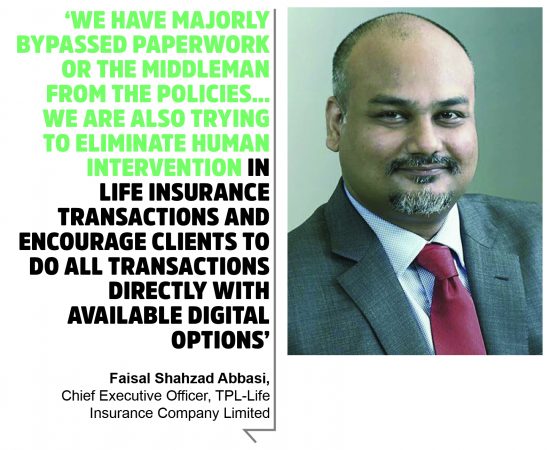 Easy for public:
Abbasi explained that TPL-Life Insurance has rolled-out a transparent mechanism to live by its promises to pay genuine claims promptly, and revamp its structures to ensure that aggrieved policyholder or claimant does not go through cumbersome processes or avenues for redress.
"The majority of those who purchase insurance products do so either because they require some form of protection, or are compelled either by law or other contractual provisions and conditions to buy insurance," he said.
The CEO claimed that we made the acquisition and servicing of life insurance very easy with the tools like the mobile App and WhatsApp. People are very smart today, they pick up trends quickly, understand everything and can select the own products that they actually need.
"We have majorly bypassed paperwork or the middleman from the policies," claimed Abbasi. "We are also trying to eliminate human intervention in life insurance transactions and encourage clients to do all transactions directly with available digital options."
He said that the company has developed solutions to register clients digitally on Mobile Phones and web portals, which will greatly assist clients in choosing life insurance of their choice.
Health Insurance:
The CEO said we are dealing with major microfinance institutions, banks and notable entities for their health insurance requirements.
"If you are insured with our company, you don't need to rely on traditional methods to claim. You can get hospitalized in any of our panel hospitals and experience cashless health services for insured benefits" he claimed.
He further claimed that the company has also introduced instant health insurance product providing reimbursement of medical expenses, while the company had also launched digital OPD solution for corporates, by the name 'OPD Sahulat'.
One of the focal areas is the underserviced healthcare sector, and that explains the initiative to make continuous efforts to enhance customer experience and bring innovation to improvise processes and one-to-one relationship with customers.
Investment Environment:
Life insurance business is well regulated as far as investments are concerned. Client's money is prudently managed and invested keeping in view the guidelines issued by the regulators. Since insurance is a long-term business, majority of investments are done in long to medium term secured assets, such as government bonds, T-bills etc
Replying to a question, Abbasi further said that we do not invest internationally due to local regulatory restrictions.

Technology-based future plans:
The TPL-Life Insurance's purported objective is to bring innovation how life insurance is perceived and serviced in the market. It is striving to introduce new product concepts, including recently-launched raft of plans including specialised cover for bikers named 'Shehsawar', mosquito/water shield; complete end-to-end paperless hospitalisation cover for fatal diseases dengue, typhoid, Naeglaria etc, 'Body Guard', and Instant life cover against accidental risks, including terrorism and a host of flexible life and health insurance solutions at affordable rates.
TPL-Life pioneering of instant scratch card concept life and health insurance backed by technology and ease of enrolment is a source of pride for the company..
"A client can go to a shop and purchase an insurance scratch card and get himself insured via single SMS " he further elaborated; "There is no need for further documentation and acquiring life insurance for oneself is literally a one-minute process".
One of the company's most successful product is 'Shehsawar', costing only Rs 350. "If the client got into an accident from a motorcycle anywhere in Pakistan, the company will pay upto Rs50,000 in hospitalisation charges, and Rs500,000 if there was a casualty."
Millions of people in Pakistan riding on motorcycles, especially in Karachi. Often we hear news of unfortunate bike accidents resulting in injuries and death. 'Shehsawar' was specially designed to cater to this market segment.
The Company's CEO said, "every biker should have this card to get insured with the company especially in wet conditions and foggy weather." The drivers of other vehicles can acquire insurance through "Body Guard' – the other scratch card product, also covering accidental death caused by terrorism.
For customers' ease, these products are also available on company's website –  www.tpllife.com. "We had a great response for our online products during the last year's 'Big Friday campaign', managing to sell 1600-1700 scratch cards over seven days."
Similarly, TPL-Life has also launched scratch card to give insurance cover to individuals on medical grounds like mosquito and water borne diseases etc. The company is giving health insurance cover to indvidual for only Rs 250 for one year. In Pakistan dengue epidemic is a major public threat since 2005, following millions of people at risk, till 2016 almost 71,649 dengue cases are reported with 757 deaths.
All over the country, the TPL-Life has selected over 300 hospitals including 140 hospitals in Karachi. These hospitals are providing immediate medical cover to our clients.
He said, we have also introduced OPD facilities through digital medium for our corporate customers. Our customers can get appointments date from any doctor, get medical tests done, can have video consultation with doctors.
Regulatory reforms:
The CEO TPL-Life Insurance Company said, "Pakistani insurance companies are working gradually towards product innovation." He further claimed that there is a need for swift guidelines formulation for the fast developing digital world involving financial transactions.
He said SECP and the SBP are very supportive and attentive to the developing landscape of insurance domain worldwide and specially Pakistan.
He said that the insurance sector should come forward with tech savvy modern products like other business and it would have to work hard to remove the hardships between clients and companies. The sector should explore launching new initiatives on digital media to bring in more clarity and enhance confidence of the customers. The regulators are supportive but we have to take initiatives to do more.
———————————————————
Salient Products
Water Shield:
TPL Life's exclusive product, the first of its kind in Pakistan, helps clients in the fight against water borne diseases. These very common ailments can affect the best of us with life threatening situations.
The heavy costs associated due to hospitalisation cause financial troubles, TPL Life has launched this exclusive product that helps you during such troubling times. The company is giving insurance cover to client in Rs250 for one year.
Shehsawar:
The TPL Life – Shehsawar Plan is an exclusively designed Insurance Plan for the Shehsawars i.e. Motor Bikers of Pakistan and offers two – fold protection to the Shehsawar i.e. Motor biker against Death or Bodily Injuries due to a Motor Bike Accident.
Cash payment of Rs. 500,000 in case of Death due to an Accident as a result of a Motor Bike Accident 50,000 in case of Hospitalization due to a Motor Bike Accident
Hyper Shield:
Pakistan's first coverage for mosquito and water borne diseases
TPL Life's exclusive product, the first of its kind in Pakistan, helps you in the fight against mosquito and water borne diseases. These very common ailments can affect the best of us with life threatening situations. This product also assists you in the battle against mosquito borne diseases, which is a serious problem with potentially dangerous consequences.
The heavy costs associated due to hospitalization can cause you financial troubles, TPL Life has launched this exclusive product that helps you during such troubling times.
Hospital Cash Assist Plan:
Life is unpredictable and follows no fixed pattern where sudden Illness / Disease or Accidental bodily injuries can visit you uninvited and sometimes leave you financially hurt and highly stressed. With TPL Life – Hospital Cash Assist Plan you can be in control of situations like these.
TPL Life–Hospital Cash Assist Plan guards you and your family against the trauma that you face because of increased financial burden during hospitalization. The cover provides you with fixed benefit for each day of hospitalization irrespective of the actual medical cost. Thus, provides you with complete protection & takes care of additional expenses which are other than – Hospitalization.
Cash payment of Rs5,000 or Rs10,000 per day, depending on the variant, against each day of legit hospital stay.
Bodyguard:
Accidents and terrorism are unfortunately a risk that still lingers on in this country. Life is unpredictable as it is and with all these additional risks, it is imperative that one should have an assistance that safeguards one against such risks.
Keeping this in perspective, TPL Life has designed TPL Life–Bodyguard Plan to help protect an entire family whatever the contingency..