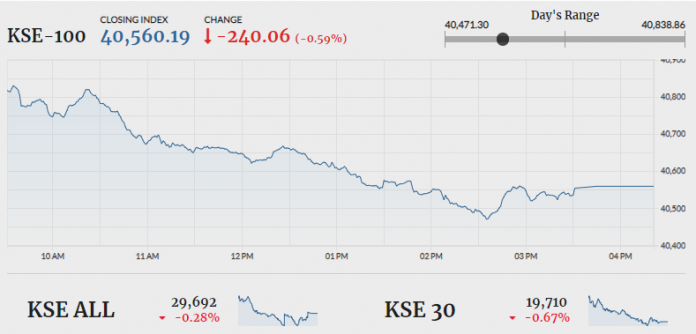 KARACHI: Sentiments don't seem to be changing at the Pakistan Stock Exchange (PSX) anytime soon, as Wednesday witnessed another session where volumes dropped and indices traded in red.
Foreign investors continued to be net sellers with a net outflow of $4.69 million on Tuesday. The KSE 100 index after an initial rise to 40,838.86 dropped by 328.95 to touch intraday low of 40,471.30. Later, it settled lower by 240.06 points at 40,560.19.
The KMI 30 index depreciated by 0.64 per cent and after losing 442.83 points closed at 68,797.48. The KSE All Share Index fell short by 84.65 points and ended the day at 29,692.21. The advancers to decliners ratio stood at 109 to195.
Trading volume declined by 16 per cent from the previous trading session, depicting weak investor confidence, and was recorded at 89.99 million. Unity Foods Limited (UNITY -0.13 per cent) maintained its position as volume leader for one more session exchanging 7.95 million shares. It was followed by Nishat (Chunian) Limited (NCL +1.72 per cent) with 5.64 million shares and TRG Pakistan Limited (TRG -2.78%) with 5.36 million shares exchanging hands.
Macter International Limited (MACTER -4.77 per cent) came flying down after declaring its financials for Financial Year 2018 (FY18). The company declared a final cash dividend of Rs1.85 per share in addition to interim cash dividend of Rs1.40 per share. Sales appreciated by 12 per cent YoY while the earning per share declined from Rs7.01 to Rs6.29.
SS Oil Mills Limited (SSOM -4.48 per cent) also announced financial performance for FY18. The company's sales surged up by 30 per cent YoY, while earning per share depreciated from Rs3.68 per share to Rs2.18 per share. The company also declared a final cash dividend of Rs1.00 per share.
Hafiz Limited (HAFL -5.00 per cent) posted a dividend income of Rs1.75 per share. The company's sales were up by 11 per cent from the previous year, while earning per share fell by 15 per cent YoY (FY17 Rs16.66, FY18 Rs14.13). Operating expenses were up by 10 per cent YoY while the finance cost went up by 39 per cent YoY.