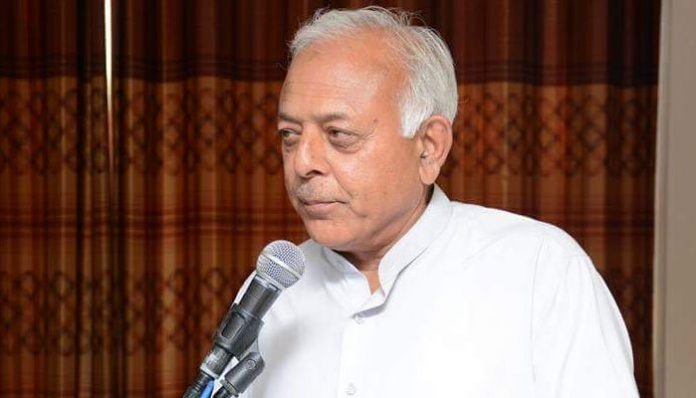 ISLAMABAD: In a striking contrast to his earlier claim, Federal Petroleum Minister Ghulam Sarwar Khan has now confirmed that Pakistan has not made any formal request to the Saudi authorities for grant of 200,000 barrel of oil per day on deferred payments.
According to sources, the petroleum minister said the government "had not made any formal request" to the Saudi authorities for grant of 200,000 barrel of oil per day on deferred payments, adding that the issue was "never a part of the agenda" and that "his words are often twisted" in media.
Earlier, in a meeting with the visiting Saudi delegation, the petroleum minister confirmed that Pakistan and Saudi Arabia have agreed on the establishment of an oil refinery in Gwadar.
Addressing the delegation, led by advisor of Saudi Arabia's Ministry of Energy, Industry and Mineral Resources Hameed Al-Ghamedi, Sarwar said the government needed Saudi assistance in all development sectors, particularly in projects related to energy and infrastructure.
The Saudi advisor on the occasion thanked the petroleum minister and assured complete cooperation of his country to Pakistan. He expressed hope that the visit of the Saudi delegates results in a breakthrough between Pakistan and Saudi Arabia.
Later, talking to media after the meeting, Minister Sarwar confirmed that both parties have agreed to setup an oil refinery in Gwadar, adding that the Saudi investors have also been invited to invest in 10 oil and gas exploration blocks.
He said that the visiting delegation showed keen interest in projects related to exploration and development.
According to sources, the Saudi energy minister would visit Pakistan by the end of this month where it is expected that important memorandums of understanding (MoUs) would be signed between the two countries.
It is pertinent to mention that the petroleum minister on Tuesday had said that the authorities in Saudi Arabia have agreed to Pakistan's request for oil.
The statement, which was made on the floor of the house, came following reports, according to which Pakistan has asked Saudi Arabia for a daily oil supply of 200,000 barrels for five years. It was also said that oil supply on credit was sought for 90 days. However, Ghulam Sarwar told the National Assembly that Pakistan made the request for five years.