Balochistan is known for its abundance in mineral resources. From coal to copper and gold. the southwestern province offers tremendous resource potential.
Mining is a dangerous job where miners are under constant threat from fatal accidents due to cave-ins, poisonous fumes, flooding, gas explosions, dust, chemicals, and electrocution. Thousands of poor miners working in hazardous conditions have lost their lives in terrible accidents underground.
In the small town of Sinjawi, which comes in the district of Ziarat city, and about 130 kilometres from Quetta resides Ali Gul – a computer engineering student.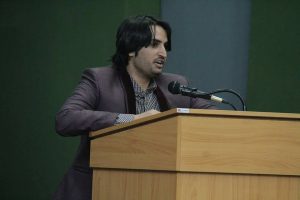 As Ali came close to his final year at the Balochistan University of Information Technology, Engineering and Management Sciences (BUITEMS), his brother, who worked at a coal mine outside Sinjawi, had an accident and was seriously injured. Ali resolved to use his computing skills and knowledge to save miners' lives and ensure their safety in dangerous environments and hence, came up with the idea of 'Smart Helmet'.
Smart Helmet is able to identify multiple gas leakages, track real-time location, analyse health vitals for miners, and also has the capability to inform miners about potentially dangerous areas inside the mines through vibrations, and toggling of colourful lights.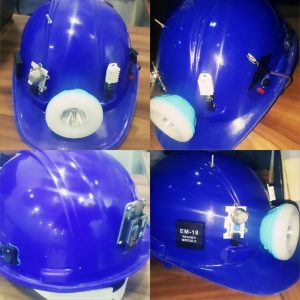 The end-goal of this product is to keep the workers safe and reduce fatal accidents by first generating, and then analyzing data.
The Internet of Things (IoT) enabled Smart Helmet, being incubated at the National Incubation Centre (NIC) in Quetta, and the winner of an Ignite FYP grant detects poisonous gas, monitors body biorhythms and location, and helps guide illiterate and semi-literate miners to safety.
Last week, the Balochistan Chief Minister Jam Kamal Khan, after watching an interview of Ignite CEO Yusuf Hussain on television which mentioned Smart Helmet, tweeted that his government is willing to support the product.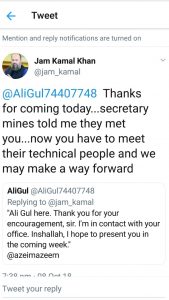 The Balochistan mining secretary Saleh Baloch has already reached out to Ali Gul and has talked about how the government will help in providing a platform, and a go-to-market strategy by supplying Smart Helmet to miners in the province.
The Balochistan CM in a tweet after watching the television interview, said, "Thanks for coming today, secretary mines told me they met you, now you hav to meet their technical people, and we may make a way forward".
Ali Gul, after seeing the CM's tweet, said, "Ali Gul here. Thank you for your encouragement, sir. I'm in contact with your office. InshaAllah, I hope to present you in the coming week".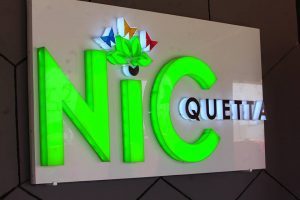 When asked to comment on the project, Ignite CEO Yusuf Hussain said, "The success of Smart Helmet can galvanise the startup and innovation landscape in Balochistan, which NIC Quetta is poised to boost just like NIC Peshawar is doing for Khyber Pakhtunkhwa (KP)".
In an interview with Pakistan Today, Ali Gul revealed how he came up with the idea of Smart Helmet, what he envisions for the product, and how the government has resolved to help him.
"I used to see people getting injured in the coal mines in the area all the time including my elders, and my brother also used to work there and was injured because they (the miners) had no gear to protect themselves", Gul said.
"This then became my final year project at the university. I then participated and won in the Ignite competition held at NIC Quetta which selects projects from universities for funding", he added, saying that his project has since then received praise from all over the country.
Talking about his initial interaction with the Balochistan CM, Ali said, "After i saw the tweet from the chief minister, i immediately replied to him and thanked him for appreciating and encouraging me".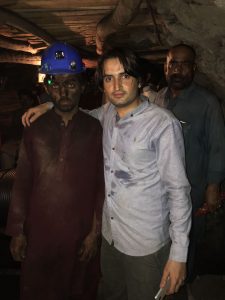 The computer engineering student then explained how the office of the mining secretary got in touch with him and proposed that the government will help him in distributing the final product to 50 per cent of the mines in Balochistan which are owned by the government.
"For me, that is highly encouraging because now i only have to finish the end product, take it through testing, and we can start utilising the helmets for all and save lives", Ali remarked.
When asked about the technical details of Smart Helmet, he said, "This helmet is embedded with gas temperature humidity real-time location systems and heartbeat sensors to detect pulse rates. It gives early warnings of the presence of different poisonous gases. There's a base station to monitor the coal mines' environmental condition and a ventilation fan inside the mines."
Primary technologies used in the development of Smart Helmet include Zigbee, Radio Frequency Identification (RFID), Artificial Intelligence (AI), and the Internet of Things (IoT).
Ali Gul is currently pursuing his Masters in Computer Science from the University of Balochistan. He intends to pursue his Smart Helmet project and vows to protect miners throughout the country.