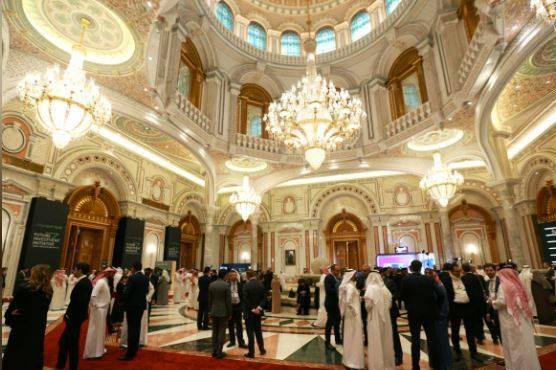 Riyadh inks multi-billion dollar agreements despite a boycott of the event by dozens of high-level western politicians, bankers and top executives.
RIYADH: Saudi Arabia's investment forum was designed to showcase the kingdom's new future away from oil, but it was black gold and old allies that rescued this week's event from the furor over the killing of journalist Jamal Khashoggi.
Riyadh inked multi-billion dollar agreements, mainly energy deals, despite a boycott of the event by dozens of high-level Western politicians, bankers and top executives scheduled to speak at the three-day gathering that ended on Thursday.
Yet the event paled in comparison to the 2017 inaugural investment conference, when robots roamed the venue as the kingdom turned its focus to the promise of new technology and announced plans to build a $500 billion mega city of the future.
Crown Prince Mohammed bin Salman, the de facto Saudi ruler, told Bloomberg earlier this month that Riyadh would announce an "amazing deal" at the Future Investment Initiative (FII) forum this year, vowing "big numbers" in a sector "far away from oil".
But when the final session ended, no such announcement had been made.
"It's going back to old economy while the FII was supposed to be about the future. Old economy coming to the rescue of the new economy," said one participant at the investment conference.
Saudi Arabia signed 25 agreements on Tuesday worth more than $55 billion in the energy, petrochemicals, infrastructure and transportation sectors.
Out of the total, state oil giant Saudi Aramco alone signed memoranda of understanding worth $34 billion with some of its key longtime partners such as France's Total, and international service companies Schlumberger, Halliburton and Baker Hughes.
Asked by reporters about the impact of the Khashoggi killing on Aramco, chief executive Amin Nasser answered with a question of his own, "How much did we sign today?… How much was signed by Aramco? 34 billion dollars."
Another conference attendee said that the lack of high-tech investments was "palpable".
"It was like 'Aramco to the rescue'. They pulled out old deals… put (Energy Minister Khalid) al-Falih, Nasser and Total up on stage, and had them sign stuff that those who know energy already knew."
Total signed deals for engineering studies to build a petrochemical complex in Jubail, where it already has a refinery venture with Aramco on the eastern coast of Saudi Arabia.
It also signed an agreement for a possible investment of a retail service station network with Aramco.
Both announcements are not new and have been in the works for months.
The French oil major's Chief Executive Patrick Pouyanné issued a statement in support of Saudi Arabia, which is facing one of its toughest political crises in decades, before he flew to Riyadh to take part in the event as a panelist.
"Some business leaders have decided that the circumstances do not allow them to visit Riyadh. I respect their choice. Total has never been in favor of sanctions and isolation – for example, against Russia, Iran or Qatar – and nor do we support boycotts," Pouyanné said.