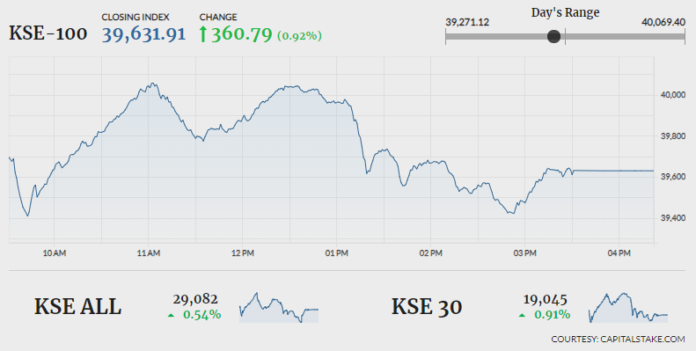 KARACHI: Investors of the Pakistan Stock Exchange (PSX) saw another good trading session on Thursday with indices inching further up.
The trend of foreign investors remained unchanged and they ended as net sellers on Wednesday with a net outflow of $9.68 million.
According to the news reports, the Economic Coordination Committee (ECC) of the Cabinet gave an approval for an increase in average electricity prices by at least Rs1.20 per unit or Rs10.35 to Rs12.91.
The KSE 100 index crossed 40,000 points mark to touch an intraday high of 40,069.40 after gathering 798.28 points. The index settled higher by 360.79 points at 39,631.91. The KMI 30 index appreciated by 1.60 per cent and closed the day at 67,870.50 after gaining 1,067.32 points. The KSE All Share index was up by 156.61 points to end at 29,082.33. The advancers to decliners ratio stood at 196 to 161.
Trading volumes appreciated further from 333.64 million in the last trading session to 343.85 million. The Bank of Punjab (BOP +1.44 per cent) was the volume leader of the day with 25.47 million shares exchanging hands, followed by Lotte Chemical Pakistan Limited (LOTHEM +0.00 per cent) and K-Electric Limited (KEL -3.17 per cent) with 24.47 million and 23.40 million shares respectively.
The largest sector by market capitalization declined, lost 0.28 per cent even though the market trend was positive due to the decline in global oil prices. Pak Petroleum Limited (PPL) was up by 1.42 per cent while Mari Petroleum Company Limited (MARI) and Pakistan Oilfields Limited (POL) were down by 0.95 per cent and 1.49 per cent respectively.
Oil and Gas Development Company Limited (OGDC -0.82) also ended the day in red after the company announced its financial performance for the first quarter of Financial Year 2018-19 (1QFY19). An interim dividend of Rs2.75 was declared by the company. Sales appreciated by 41 per cent QoQ whereas the earning per share improved from Rs3.95 in the same period last year to Rs6.22.
The cement sector managed to gain 2.99 per cent in its cumulative market capitalization. Lucky Cement Limited (LUCK +5.00 per cent) touched its upper-lock for second consecutive session. Maple Leaf Cement Factory Limited (MLCF) appreciated by +4.98 per cent, Pioneer Cement Limited (PIOC) by +3.18 per cent and Fauji Cement Company Limited (FCCL) by +4.65. D G Khan Cement Company Limited (DGKC +2.95 per cent) fell from its upper circuit breaker price after EPS dropped from Rs6.48 in the same period last year to Rs0.95.
Fauji Fertilizer Bin Qasim Limited (FFBL +4.96 per cent) released its financial results for the third quarter of 2018. Sales surged by 61 per cent QoQ, while the company's earnings per share also increased by 663 per cent QoQ (3QFY17 Rs0.11, 3QFY18 Rs0.84).
"The market has welcomed the Saudi package which has eased off the situation Pakistan was faced with of late," said former EFG Hermes Pakistan chief executive Muzammil Aslam.
On Tuesday, PM Khan had struck a 12-month deal for a balance of payments lifeline during a visit to Saudi Arabia, which will deposit $3 billion with Pakistan's central bank and provide a matching deferred payment facility for oil imports.