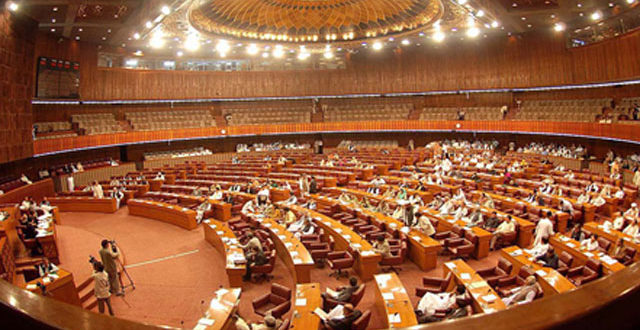 Senator Dilawar Khan says multinational companies are providing cash rewards and luxury vehicles to FBR officials 
ISLAMABAD: The Senate's Special Committee on Causes of Decline in Tax Collection of Tobacco Sector on Tuesday directed the Federal Board of Revenue (FBR) officials to submit within a week the details of their relatives employed by different multinational cigarette manufacturing companies.
The committee, which met with Senator Kalsoom Parveen in the chair, also expressed its annoyance over the absence of the FBR chairman on the occasion and asked the board officials to ensure his presence in the next meeting.
The committee asked the FBR to present details regarding Rs61 billion decline in tax revenue collection from the tobacco sector during the last year, besides furnishing the recommendations for recovering the losses.
Addressing the meeting, Senator Azam Khan Swati said close relatives of FBR's senior officials were working in the multinational tobacco companies on huge salaries, which triggered a conflict of interest.
He called for developing a mechanism to check illegal manufacturing and trafficking of cigarettes, smuggling and illegal movement of tobacco, which according to him were the main causes of loss in the revenue collection.
Senator Dilawar Khan on the occasion informed the meeting that FBR had imposed Rs300 per kg tax on the local tobacco, whereas only Rs22 per kg was being charged from the multinationals on the import of tobacco.
He alleged that the multinationals were providing cash rewards and luxury vehicles to officials of FBR, as the Peshawar Inland Revenue chief commissioner "was using three vehicles provided by these companies".
Senator Khan called for protection of the local tobacco industry by rationalizing taxes on them and providing them with level playing fields in line with other companies. He also asked for taking immediate measures to stop illegal manufacturing of cigarettes in Azad Kashmir and other areas of the country.
Meanwhile, Senator Mushahid Hussain Syed suggested exploring the Chinese markets for the export of local tobacco under the China-Pakistan Economic Corridor.
The senior officials of FBR told the meeting that the 3rd tier was introduced to overcome tax evasion and discourage the smuggling of tobacco.
They said the revenue collection from the tobacco was not reduced due to the introduction of the 3rd tier, and that revenue collection in 2017-18 was recorded at Rs88 billion as compared to Rs74 billion during 2016-17.
They informed the meeting that tax slabs were revised in the supplementary budget and revenue targets were fixed at Rs115 billion for the current fiscal year, adding that revenue collection during first four months of the current financial year grew by 28 per cent.
Senators Sherry Rehman, Muhammad Azam Khan Swati, Mushahid Hussain Syed, Dilawar Khan, Sardar Muhammad Shafiq Tareen and Dr Ashok Kumar attended the meeting.