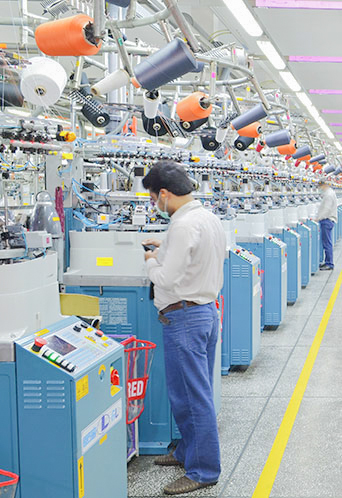 LAHORE:  A manufacturer of socks for Adidas and Nike in Pakistan, Interloop Limited is gearing for the country's largest initial public offering by a private entity.
According to Bloomberg, Interloop intends to raise over Rs6.8 billion ($51 million) for expanding its sock manufacturing capacity by approximately 20% and enter the denim business, said its Chairman and co-founder Musadaq Zulqarnain.
The IPO likely to take place in January next year will see the company offering 12.5% of its stake in the sale and is gearing to increase revenue by 77% over five years, said Mr Zulqarnain.
The Interloop CEO said their capacity was already full and it can see more growth, so will "take that risk" to expand.
The revenue for the last financial year till June 2018 was Rs31 billion, said Mr Zulqarnain.
Speaking to Profit, Pak Kuwait Investment Co AVP Research Adnan Sheikh said, "Considering they have an old and loyal customer in the form of Nike who obviously like their products and whose demand is growing it seems a good move.
However, they would likely face stiff competition entering new segments like denim etc."
"Though the valuation of Rs50 odd billion seems a bit ambitious putting it at a trailing price to sales of almost 1.7 times which is twice that of textile giants like Nishat, Kohinoor, Gul Ahmed etc which all trade at a price to sales of 0.5-1.0," he added.
In a comment to Profit, Topline Securities' analyst Nabeel Khursheed said, "Well to get out of a balance of payment crisis for good, Pakistan must increase its exports and revival of textile sector is the only available option to restore the national economy within the shortest possible time."
He elaborated, "I cannot specifically comment on Interloop but textile is one of the sectors the investors would be interested in, given the government's seriousness towards reviving exports.
I'm sure the Government will come up with special incentives for textile industries in the near future."
This would break the record of the previous IPO for a private company when Pakistan Stock Exchange (PSX) raised Rs4.5 billion in 2016.
Interloop Limited was founded in 1992 and is based in Faisalabad, Pakistan. It employs over 16,000 people and manufactures over half a billion of a pair of socks a year, said, Bloomberg.
The financial advisor to the transaction, CEO Arif Habib Limited Shahid Ali Habib said the sale of 109 million shares will be offered at a floor price of Rs45 per share with a maximum price limit up to 40%.
According to the company's' website, it is one of the world's largest hosiery manufacturers with hosiery being its core business and with an annual turnover exceeding $270 million.
Besides operating in the cities of Lahore & Faisalabad in Pakistan, Interloop also has manufacturing facilities based in Bangladesh and Sri Lanka.
Also, Interloop has a product design/development, marketing & distribution network in Pakistan, Bangladesh, North America and Europe.
The company counts world-renowned retailers like H&M, Target, C&A, Dickies, Tesco, JCPenny, ASDA, LIDL, SportMaster, Penney's, Primark, Payless, Family Dollar among its clients.
And in brands, Interloop is serving Nike, Adidas, Puma, Levis, Reebok, Tommy Hilfiger, Prince, Hurley, Hi-Tec, Umbro, Columbia, Dickies, S Oliver, Yonex, Medipeds and Wilson.
Interloop Limited manufactures and exports socks for boys, girls, ladies, and men for walking, running, skiing, tennis, soccer, and hiking.
It offers dress and casual, infant, and athletic socks. The company serves customers in Pakistan, as well as in South Asia.