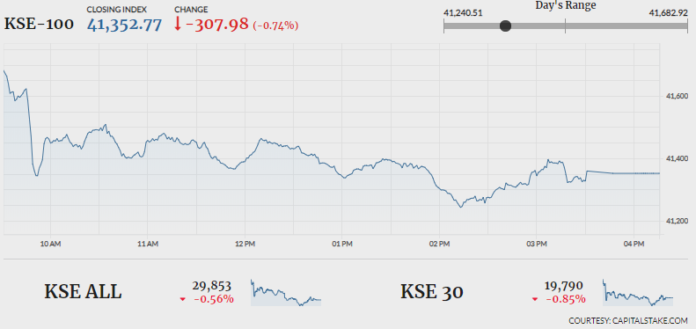 KARACHI: The trade screen on Monday was dominated by the colour red, as the indices started dripping right from the beginning of the session despite positive announcements that Pakistan is due to receive its first tranche of financial assistance soon.
The KSE 100 index declined by 420.24 points to reach an intraday low of 41,240.51. It then settled lower by 307.98 points at 41,352.77. The KMI 30 index fell short by 500.15 points to close at 70,804.28, while the KSE All Share index ended at 29,853.05 after it fell short by 166.90 points. The advancers to decliners ratio stood at 215 to 201.
Trading volumes were recorded at 176.25 million. Lotte Chemical Pakistan Limited (LOTCHEM +0.05 per cent), Siddiqsons Tin Plate Limited (STPL +4.85 per cent) and Dost Steels Limited (DSL +13.44 per cent) were the top traded stocks. The scripts had traded 18.79 million, 14.89 million and 13.68 million shares respectively.
The top gainers of the day included textile weaving sector (+3.32 per cent), miscellaneous sector (+2.14 per cent) and technology and communication sector (+1.34% per cent, while the tobacco sector (-2.22 per cent), jute sector (-1.70 per cent), modaraba sector (-1.53 per cent), cement sector (-1.48 per cent) and chemical sector (-1.39 per cent) were among the major losers.
The banking sector, largest by market capitalisation, lost 1.12pc from its cumulative market capitalisation, as the State bank of Pakistan is expected to announce the Monetary Policy this month. Big players Habib Bank Limited (HBL) and MCB Bank Limited (MCB) depreciated by 1.77pc and 2.27pc respectively. United Bank Limited (UBL -1.10pc), Bank AlFalah Limited (BAFL -0.34pc) and Bank AL Habib Limited (BAHL -1.23pc) also ended the day negative.
The oil and gas exploration sector also lost 0.27pc from its total market capitalisation. Once an Index Giant, Oil and Gas Development Company Limited (OGDC), declined by 0.49pc, Mari Petroleum Company Limited (MARI) was down by -0.17pc and Pakistan Oilfields Limited (POL) by -0.71, whereas Pak Petroleum Limited (PPL +0.22pc) managed to end the day with a slight gain.