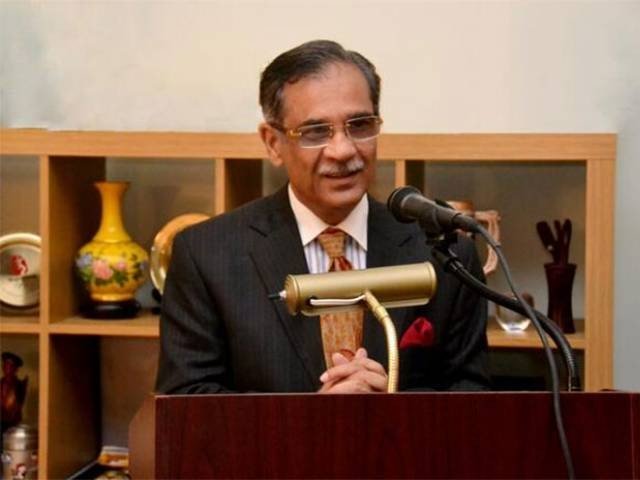 LONDON: The Chief Justice of Pakistan (CJP) Mian Saqib Nisar on Sunday suggested re-levying of tax on the top-up of prepaid mobile phone cards to accumulate funds for the establishment of Mohmand and Diamer-Bhasha dams.
While addressing a dam fundraising ceremony in London hosted by UK Pakistan Chamber of Commerce and Industry on Sunday, Mr Nisar said, "It will not be appropriate to impose taxes to collect funds for the construction of dams, however, we had earlier suspended the withholding tax on the top-up of prepaid cards by cellphone service providers and learnt that through this Rs3 billion were saved per month."
He added, "If the nation allows, then we will re-impose the tax on the top-up of prepaid cards and collect money for the dam fund," reports Geo News.
In June, the apex court had directed cellular companies and the tax regular from collecting various taxes from customers in event of credit top-ups in prepaid phones.
The apex court's decision of suspending taxes on mobile phone cards was reportedly projected to cost the national exchequer a revenue loss of Rs123 billion at the federal and provincial level.
Out of this, Rs75 billion revenue loss was said would be borne by the provincial government and Rs48 billion by the Federal Board of Revenue (FBR).
The tax regulator will be booking a loss of Rs4 billion revenue monthly with the current rate of 12.5 percent tax deducted on a prepaid phone card, which equates to a Rs48 billion yearly loss.
Before the apex court decision, provinces were collecting around 19.5 percent tax on a prepaid phone card, so their revenue collection losses would touch Rs75 billion annually.
In the case of this tax remaining suspended in its entirety for the next financial year 2018-19, the overall accumulated losses in terms of revenue across Pakistan would jump to Rs123 billion.