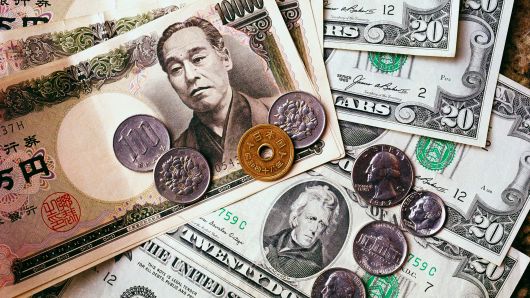 TOKYO: The dollar fell against the yen on Thursday as growing investor aversion to riskier assets hit equities and pushed down U.S. Treasury yields.
The U.S. currency dropped 0.4 percent to 112.72 yen, handing back its modest gains made overnight.
Global equity markets have been shaken and the dollar fell this week after an inversion in a part of the U.S. Treasury yield curve triggered market concerns about economic growth.
Adding to the jitters on Thursday was the arrest in Canada of a top executive of Chinese tech giant Huawei Technologies, fanning fears of a flare-up in tensions between China and the United States just as the two sides are supposed to be resuming trade negotiations.
MSCI's broadest index of Asia-Pacific shares outside Japan was down 1.9 percent and Japan's Nikkei lost more than 2 percent.
U.S. Treasury yields fell, pressuring the dollar.
The 10-year Treasury yield the US fell to a three-month low of 2.885 percent on Tuesday and last stood at 2.890 percent.
Signals from the Federal Reserve last week that it may be nearing an end to its three-year rate hiking cycle have helped trigger the slide in Treasury yields.
The spread between the two-year and five-year Treasury yields inverted this week and the two-year/10-year spread was at its flattest in more than a decade amid a sharp fall in long-term rates.
A flatter curve is seen as an indicator of a slowing economy, with lower longer-dated yields suggesting a potential recession down the road.
Fed policymakers are still widely expected to raise interest rates again at their Dec 18-19 meeting, but the market focus is on how many rate hikes will follow in 2019.
The yen, often sought in times of market unrest, made strides against other peers as well.
The euro lost 0.4 percent to 127.87 yen, the Australian dollar slumped 1 percent to 81.45 yen and the pound fell 0.5 percent to 143.40-yen.
The euro was little changed at $1.1340 after retreating from this week's high of $1.1419 scaled on Tuesday.
The Australian dollar, sensitive to swings in risk sentiment, was down 0.7 percent at $0.7220.
The Aussie was already on a shaky footing after shedding nearly 1 percent the previous day on weaker-than-expected third quarter Australian gross domestic product data.
Sterling had sunk to a 17-month low of $1.2659 at one point on Tuesday after parliamentary setbacks for Prime Minister Theresa May.