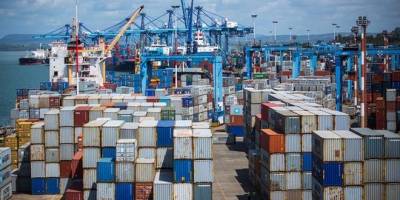 ISLAMABAD: The federal government under the medium-term structural adjustment is planning to bring a number of policies in order to enhance the country's' export by a minimum of 15 percent till 2023.
Officials told this scribe that the government is mulling to introduce National Tariff Policy, Strategic Trade Policy Framework (STPF), National SME policy, bolstering Small and Medium Enterprise Development Authority (SMEDA), Trade Related Investment Policy Framework (TRIPF) and other measures to drive manufacturing sector and export growth.
The ministry has completed work on NTP, STPF, and TIPF besides this; it is also working on NSP and other above-stated initiatives, officials further added that government has shared these plans with the International Monetary Fund (IMF).
Under the NTP, it's been suggested that tariffs should be used as a trade policy instrument rather than a revenue generation tool.
The commerce ministry had presented the policy in a federal cabinet meeting, however, it could not be passed due to reservations of the tax department.
The ministry has proposed to gradually lower down the regulatory duties on tariff in order to improve the competitiveness.
In the National SME policy, it has been proposed to reduce the cost of doing business, improve the institutional interface of the government for businesses, strengthen business development services, improve access to finance and put in place a robust monitoring and evaluation mechanism.
Also, the government is working on a Trade Related Investment Policy Framework under which they want to channelize investment into export-oriented production and competitive import substitution.
Under the STPF (2018-23), the ministry seeks to ensure consistency and predictability of policy.
In addition to this, elimination of the distinction between industrial and commercial importers, reformation of SRO regime and their consolidation, support for integration into global value chains (GVCs) and the establishment of trade facilitation unit (TFU) in FBR is also under consideration.
The ministry has also recommended strengthening SMEDA in order to enhance outreach scope of operations as well as institutional reorganization.
Officials said that ministry is also working to increase regional integration by increasing the share of regional trade in the total trade from 17% to 20% and besides this, they are also working on to increase the share of non-traditional exports from 16% to 30% in five years.
The officials stated that if the above-stated measures are implemented not only exports would increase at an annual rate of 15% till the fiscal year 2023, but this will improve competitiveness and efficiency of the industry, especially export sectors.
Pakistan's exports have remained stagnant around $20 to 23 billion in the last three years and the government has set $27 billion export target and $54 billion import target for the current fiscal year.
Moreover, officials stated the incumbent government is already working to enhance exports as it has reduced gas price to $6.50/MMBTU for five key export sectors (textile, sports goods, leather, carpets, and surgical goods).
Additionally, customs duties on imported raw materials have been reduced as well.
And the government subsidized electricity price for the industrial sector by Rs 3 per unit as well as power tariff for five zero-rated export sectors to 7.5% per KWH to ensure international competitiveness with a total impact Rs 80 billion per year.
Also, the government has disbursed Rs 8.7 billion tax refund and the duty drawback scheme is being revamped at an expected outlay of Rs 24 billion.