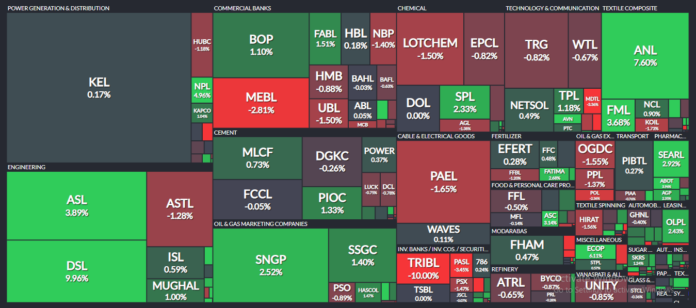 KARACHI: Bearish sentiments surrounded the bourse once again as trading resumed in the absence of a positive trigger after a holiday on Tuesday. Indices continued to wobble, and investors preferred to stay at bay. Consequently, volumes remained low.
The KSE 100 index opened negative and after recovering its losses by mid-day, the index touched its intraday high of 38,358.08. It then drove in the reverse direction, reaching its day's low at 38,168.54 points. At the end of the session, the benchmark index declined by 90.85 points or -0.24pc and closed at 38,218.07 points. The KMI 30 index depreciated by 321.79 points and ended at 63,905.68, while KSE All Share index settled on upper side at 28,509.79 (up by +29.60 points). Out of total traded scripts, 156 advanced while 123 declined.
The overall trading volumes improved slightly from the previous session and were recorded at 88.57 million with 61.08 million coming from KSE 100 index scripts. K-Electric Limited (KEL +0.17pc) was in the lead with a volume of 12.72 million, followed by Aisha Steel Mills Limited (ASL +3.49pc) with 4.46 million traded shares. Next in line was Sui Northern Gas Pipe Line Limited (SNGPL +2.52pc) with 4.16 million shares exchanging hands.
According to news reports, the government has transferred a sum of Rs25.7 billion into the accounts of Sui Northern Gas Pipe Line Limited (SNGPL) and Sui Southern Gas Company Limited (SSGC +1.06pc) to pay for the promised subsidy in gas in order to equalise the prices across the country.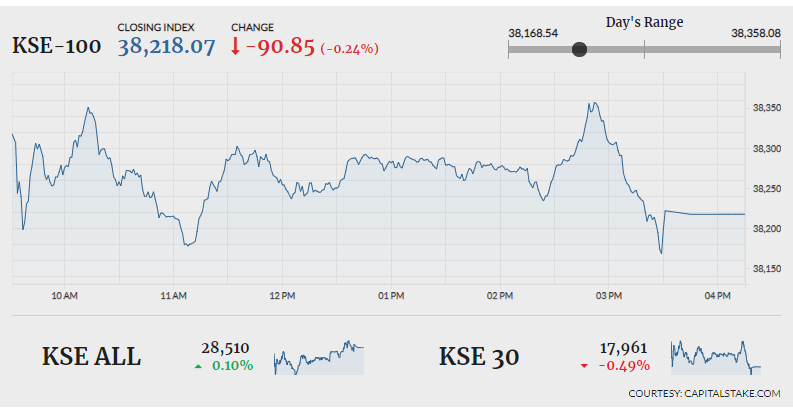 The tobacco sector gained 2.31pc in its cumulative market capitalization. Philip Morris Pakistan Limited (PMPK +5.00pc) touched its upper-lock, Pakistan Tobacco Company Limited (PAKT) +1.62pc also ended the session in green, whereas Khyber Tobacco Company Limited (KHTC-0.07pc) ended negative.
Shahmurad Sugar (SHSML -0.45pc) declared its financial results for Financial Year 2017-18 (FY18). The company announced a final cash dividend of Rs7.00 per share. Sales appreciated by 43%pcYoY, while earnings per share also improved from Rs0.34 in the same period last year to Rs 2.47 in the current year.
Habib Sugar Mills Limited (HABSM +2.38pc) released its financial performance for the year ending 30th September 2018. A final cash dividend of Rs2.75 per share was declared along with the financials. Sales were up by 9pc YoY while earning per share surged up by 62pc YoY (FY17 Rs3.72, FY18 Rs6.01).