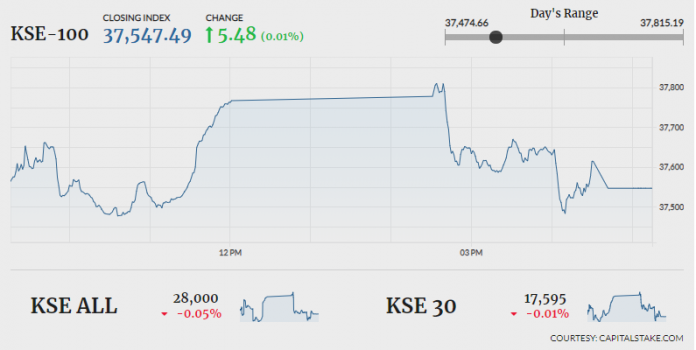 KARACHI: The investors of Pakistan Stock Exchange (PSX) observed a volatile session on Friday where indices, after oscillating in both directions, ended the day flat. Trading volumes continued to remain low.
Moreover, as per the recent data released by the State Bank of Pakistan, foreign exchange reserves held by the central bank declined by 2.28pc on a week-on-week basis with reserves now standing at $7.29 billion. The third $1 billion tranche from Saudi Arabia is also expected to arrive this month as per news reports. On the political front, the crown prince of the United Arab Emirates is expected to visit the country soon while the prime minister is currently on an official tour to Turkey.
The KSE 100 index reached its intraday low of 37,474.66 soon after the session began. After recovering its losses, the index touched its intraday high of 37,815.19 (up by 273.18 points) after the Friday prayer break. It finally settled at 37,547.49 after gaining 5.48 points. The KMI 30 index was down by 136.50 points and closed at 62,178.56, while the KSE All Share index fell short by 13.60 points, ending at 28,000.04. Out of the total traded scripts, 135 advanced and 136 declined whereas 28 remained unchanged.
Trading volumes remained low and were recorded at 64.43 million with 37.89 million coming from KSE 100 scripts. TRG Pakistan Limited (TRG -1.16pc), Pak Elektron Limited (PAEL -1.21pc) and Kohinoor Industries Limited (KOIL +6.19pc) were the top traded stocks of the session. The scripts had traded 5.19 million shares, 3.29 million shares and 3.02 million shares respectively.
Top gainers of the day included the textile weaving sector (+3.09pc), investment banking sector (+2.48pc), miscellaneous sector (+2.03pc), technology and communication sector (+1.84pc) and synthetic and rayon sector (+1.12pc).
On the other hand, close-end mutual fund sector (-5.00pc), tobacco sector (-3.74pc), food and personal care products sector (-2.14pc), jute sector (-1.70pc) and paper and board sector (-1.38pc) were among the major losers.
The banking sector, largest by market capitalization, managed to gather 0.41pc in its cumulative market capitalization. Habib Bank Limited (HBL) was up by +2.02pc, United Bank Limited (UBL) by +1.70pc and Standard Chartered Bank (Pakistan) Limited (SCBPL) by +4.63pc. MCB Bank Limited (MCB -0.33pc), however, closed slightly negative.