KARACHI: Bulls took over Pakistan Stock Exchange (PSX) on the first trading session of the week. Stocks rallied, appreciating over 900 points in intraday trading, following the assurances from the Abu Dhabi crown prince that his country would help Pakistan come out the prevalent financial crisis.
Investor confidence improved significantly after the announcements regarding a loan of $3 billion (on 2.8pc interest rate) and oil credit facility worth $3.20 billion were made.
According to a report published on Monday by Fitch Solutions, the central bank would keep the interest rate unchanged at 10pc in the next monetary policy due this month.
The KSE 100 index benchmark crossed over 38,000 and reached its intraday high of 38,626.80 after gaining 1,070 points. It finally settled higher by 1,014.91 points or 2.70pc at 38,562.40. The KMI 30 index appreciated by 2,258.27 points or 3.63pc to close at 64,436.83 points, while the KSE All Share index was up by 529.08 points, ending at 28,529.12. Out of total traded scripts, 202 advanced while 100 declined.
Article continues after this advertisement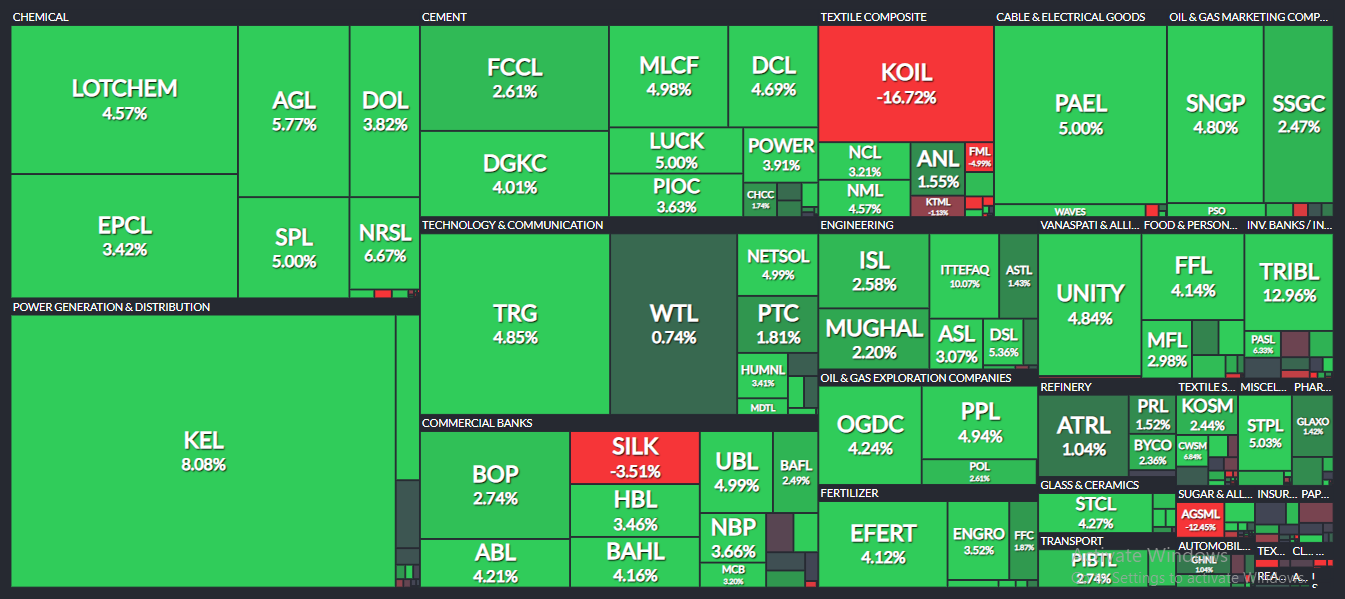 Market volumes were recorded at 157.10 million. K-Electric Limited (KEL +8.08pc) led the volume chart with 22.85 million shares exchanging hands, followed by TRG Pakistan Limited (TRG +4.85pc) and Lotte Chemical Pakistan Limited (LOTCHEM +4.40pc). The scripts had traded 7.72 million and 7.37 million shares respectively.
Top gainers of the session included the power generation and distribution sector (+4.75pc), vanaspati and allied products sector (+4.07pc), oil and gas exploration sector (+3.80pc), cable and electrical goods sector (+3.44pc) and cement sector (+3.09pc). On the other hand, woolen sector (-2.08pc), food and personal care products sector (-1.90pc) and jute sector (-1.70pc) remained on the losing side.
The oil and gas marketing sector gained 2.49pc in its cumulative market capitalization. Pakistan State Oil Company Limited (PSO) was up by +4.00pc, Sui Northern Gas Pipe Line Limited (SNGP) by +4.80pc, Hascol Petroleum Limited (HASCOL) by +2.56pc and Sui Southern Gas Company Limited (SSGC) by +2.47pc. Shell Pakistan Limited (SHEL -2.48pc) on the other hand failed to end positively.