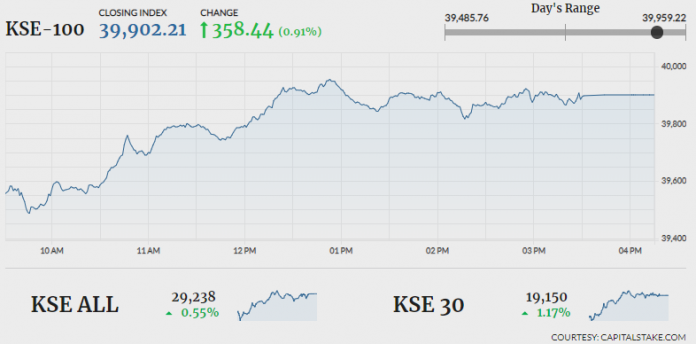 Index has surged by 5.02pc since Jan 1
KARACHI: The Pakistan Stock Exchange (PSX) piled up gains for another session as the prime minister is currently on a visit to Qatar.
According to media reports, the premier is expected to seek reduced price and deferred payment terms for the import of liquefied natural gas (LNG). The rise was also triggered by investors and analysts anticipating a reduction in taxes across different sectors in the mini-budget, which would be announced tomorrow (Wednesday).
The KSE 100 index rallied 415.45 points to 39,959.22 during the day before it settled higher by 358.44 points at 39,901.21. The index has gained 5.02pc till date during the year. Meanwhile, the KMI 30 index accumulated 549.65 points to close at 67,012.68, shying away from its intraday high of 67,260.91. Moreover, the KSE All Share Index inflated 159.54 points to close at 29,238.40. A total of 189 scripts landed on the higher side while 114 slipped.
Investor confidence remained narrow with total volumes of 136.14 million. TRG Pakistan Limited (TRG +4.85pc) led the chart with 14.14 million shares exchanging hands, followed by Fauji Foods Limited (FFL +4.31pc) with a volume of 9.89 million, and K-Electric Limited (KEL +0.91pc) with 9.59 million shares swapping hands.
Excitement of the mini-budget was evident once again in the automobile assembler sector. Ahead of the budget, Honda Atlas Cars (Pakistan) Limited (HCAR +5.00pc) swelled up by 34.60pc in a week while Pakistan Suzuki Motors Company Limited (PSMC +5.00%) rose 17.35pc.
Financial result announcements continued from The Attock Group. Pakistan Oilfields Limited (POL +0.36pc) declared financials for the second quarter of 2019. There was a jump of 94pc YoY in sales arising from increased crude oil prices and devaluation of the rupee. This led to a sharp rise in earnings per share from Rs14.17 to Rs7.85. The management approved a cash dividend of Rs20.00.
Attock Petroleum Limited (APL -4.66pc) was floored intraday after announcement of results for the same quarter. Though sales saw a boost of 53pc YoY, higher operating costs dragged earnings per share lower by 62pc YoY, as they dropped from Rs14.87 in the same period last year to Rs5.58. A cash dividend of Rs10 per share accompanied the results.