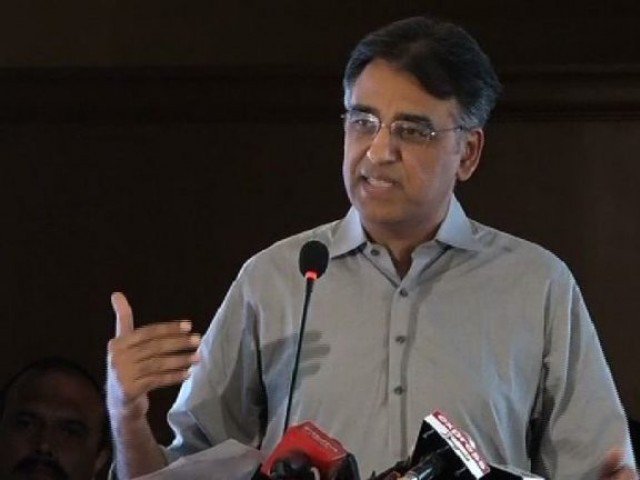 Finance minister says usual negotiations with IMF currently underway, but 'govt will only take decisions that benefit economy'
ISLAMABAD: Finance Minister Asad Umar has said that the government's reforms package was aimed at promoting domestic supply, which would subsequently reduce the country's dependence on imports.
The finance minister, who was accompanied by Adviser to Prime Minister on Commerce Razzak Dawood and Minister of State for Revenue Hammad Azhar for a media conference on Thursday, admitted that there was a shortfall in revenue collections during the first five months of the current fiscal year owing to reduction in petroleum prices and cell-phone card taxes.
However, he added, the shortfall would be overcome as a ban on non-filers with regard to purchasing of cars up to 1,300cc has been lifted.
Umar said if the amendment in Gas Infrastructure Development Cess (GIDC) Bill is approved and implemented, it would also help boost revenue collection.
However, the government was more focused on bringing about structural reforms in the Federal Board of Revenue (FBR) instead of only focusing on enhancing tax collections, he added.
"If we go after revenue collections only, it may be beneficial on a short term basis, but structural reforms would have long term benefits," he remarked.
He said that third issue the country was facing that investment to GDP ratio was as low as 15-16 percent which needed to be enhanced up to 25-30 percent but added that only investments would not help overcome economic problems, there is need of national savings.
The finance minister said that the number of tax filers has increased by almost 34 percent, from 1.1 million to 1.45 million, adding that the government was focusing on utilizing modern technology for tax collections instead of stifling the taxpayers.
The minister was of the view that Pakistan was lagging behind in economic growth and there were just a few counties which are now behind Pakistan in growth, so there is need to work hard to put the country on the development path.
He said that the new journey of economic growth and development has started with the announcement of the reform package.
To a question whether the government plans to go to International Monetary Fund (IMF), the minister said that the government "would do what is good for the economy".
"Good or difficult, the government would take decisions that benefit the economy. Whatever happens, we will not hide behind the IMF. The government is currently engaged in usual negotiations with IMF," he added.
The minister said that the government would initiate a scheme for small traders, initially in Islamabad, which would make it easy for them to pay fixed taxes.
He said that two to three categories would be developed in the capital city on the basis of income, adding that if successful, this would be replicated in the entire country.
He was of the view that there was a need to incentivise the private sector so that job opportunities could be created and economy boosted.
To a question, the minister said that the "own" money paid on the purchase of new vehicles was totally unacceptable.
To another question, he said that the fiscal deficit has been targeted at 5.6pc whereas revenue collections at Rs4395 billion. The finance minister said that the government would soon release a five-year framework aimed at reducing debt to GDP ratio and dependence on external debt.
He said that the debt to GDP ratio had jumped to 72 during the tenure of last government, adding that tax on profit of investment, instead of actual investment, would help promote businesses. With respect to Pakistan Steel Mills (PSM), he said that different options were under consideration.
"The production capacity of PSM would go to three million tons and dependence on imports would be reduced, as local iron and coal would be utilised," he said, adding that governance was the main issue of public sector enterprises, which would be addressed.
Meanwhile, Abdul Razaq Dawood said that a committee constituted for the rehabilitation of PSM would submit its report in March.
State Minister Hammad Azhar on the occasion informed media that three data banks currently being used by the FBR were not integrated with each other, so efforts are underway to improve the FBR system. He said that there was need of introducing technological solutions.