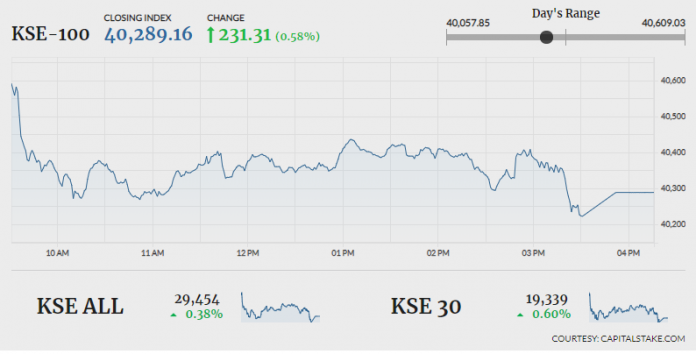 KARACHI: The Pakistan Stock Exchange (PSX) continued its winning streak for the fifth successive session with bulls dominating trade screens all day long. Investors' confidence improved significantly following the announcement of second mini-budget.
As per the new finance bill, the government has abolished 0.02pc withholding tax on trading. Moreover, the capital losses which could previously be carried forward for one year can now be carried for up to three years under the capital gains tax (CGT) system.
Reaching its intraday high and crossing the 40,500 mark, the KSE 100 index benchmark touched its day's high of 40,609.03 after gaining 551.18 points as soon as the session began. It closed positive at 40,289.16 (up by 231.31 points). The KMI 30 index gathered 177.63 points and settled at 67,344.31, while the KSE All Share index accumulated 112.59 points, closing at 29,453.93. Out of 361 traded scripts, 161 advanced, 171 declined while only 23 remained unchanged.
The overall market volumes increased by a massive 37pc and were recorded at 245.87 million. Pakistan International Bulk Terminal Limited (PIBTL +7.23pc) led the volume chart with 32.70 million shares exchanging hands, followed by The Bank of Punjab (BOP +0.00pc) and Pak Elektron Limited (PAEL -2.17%) with 24.61 million shares and 18.01 million respectively.
The banking sector, largest sector by market capitalization, gained 1.10pc in its total market capitalization after the declaration of the new bill. Big players MCB Bank Limited (MCB) and Habib Bank Limited (HBL) gained 2.59pc and 2.35pc respectively, while United Bank Limited (UBL +1.20pc), National Bank of Pakistan (NBP +1.47pc) and Meezan Bank Limited (MEBL +0.90pc) also closed with decent gains.
Honda Atlas Cars (Pakistan) Limited (HCAR -4.53pc) declared its financial performance for the third quarter of fiscal year 2018-19. The company's sales declined by 2.31pc YoY, while its earning per share declined by almost 58pc YoY. The distribution cost and administrative expenses increased by 85pc YoY and 14pc correspondingly resulting in decline in profits.
Top gainers of the day included transport sector (+3.58pc), textile weaving sector (+2.98pc), tobacco sector (+2.80pc), miscellaneous sector (+2.80pc) and modaraba sector (+1.96pc), whereas the engineering sector (-2.74pc), jute sector (-1.70pc) and close-end mutual fund (-1.28pc) ended as losers.