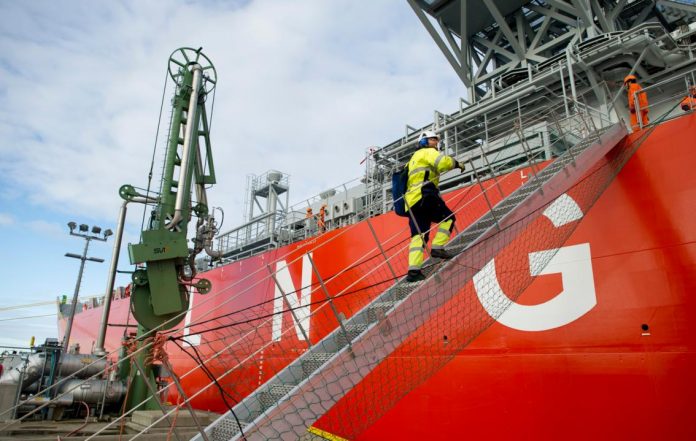 ISLAMABAD: Pakistan LNG Limited (PLL) has ensured the supply of additional cargoes of Liquefied Natural Gas (LNG) to the country at lower rates after a successful tendering process, it was reliably learnt on Thursday.
Official sources in energy ministry on condition of anonymity told Pakistan Today that PLL has completed the tender process for the supply of LNG to the country in the month of March and April 2019.
They said that eight companies submitted their bids, while four out of eight bidders were evaluated as lowest in a very transparent and efficient manner.
They added four LNG cargoes will arrive here in Pakistan in March and five are scheduled for the month of April to meet the energy requirements.
PLL has successfully ensured the supply of LNG cargos at lower rates in comparison to the LNG price (13.37 percent crude price) of Qatar being offered to Pakistan State Oil (PSO) for LNG supply, said sources.
Sharing details of the rates of various commodity importers submitted to PLL for LNG import to Pakistan, the sources shared PLL has secured two cargos of LNG for March and three LNG cargos for April through a fair tendering process.
They said that Gunvor International has submitted lowest rate of 12.82pc (percentage of Brent contract price) for one cargo to be supplied on 3rd-4th March 2019 while Vitol Bahrain E.C also submitted the lowest rate of 12.59% fora second cargo of LNG to be imported on 17-18th March 2019.
Likewise, SOCAR submitted rate of 12.2008% for one cargo to be supplied on 02-03 April, 2019, while Petronas submitted rate of 11.8700% for one cargo which will be supplied on 13-14 April 2019 and SOCAR also submitted the lowest rate of 11.8724pc for a third cargo to be supplied on 26-27 April 2019 to the country, said sources.
It is relevant to mention here that currently, PLL is obtaining LNG supply of two cargos each month from the international commodity importers on a five-year contract.
According to sources, supplying each cargo of LNG to power plants instead of supplying furnace oil to them is saving approximately $30 to 35 million.
They added with efficient management, PLL has to some extent saved $150 to $200 million for the national exchequer.
PLL has revised the tender documents and made some amendments to create competition among the bidders, said sources.
They added that PLL has got changed the tender clause of bid validity from 60 days to 15 days only.
"PLL management with its best negotiation skills has so far managed LNG import as per demand and has many times saved the country from million dollars penalty, as it had to cancel the import of agreed LNG cargos due to less demand of LNG by the Power Division," sources said.
Sources further said that the LNG terminal of Pakistan Gas Port Consortium (PGPC) will be utilized fully by starting working (re-gasification of 600 million cubic feet per day of LNG) at full capacity. T
They said that approximately Rs5 billion was paid additionally to PGPC as capacity charges due to under-utilization of its LNG terminal during the past year.
However, now LNG terminal of PGPC will run on full capacity as PLL has made additional arrangements for LNG import to the country.
It is pertinent to mention that six LNG cargos are also being imported by Pakistan State Oil (PSO) from Qatar at expensive rates, while PLL has been arranging LNG cargos from global commodity traders at much lower rates compared to Qatar's LNG price.