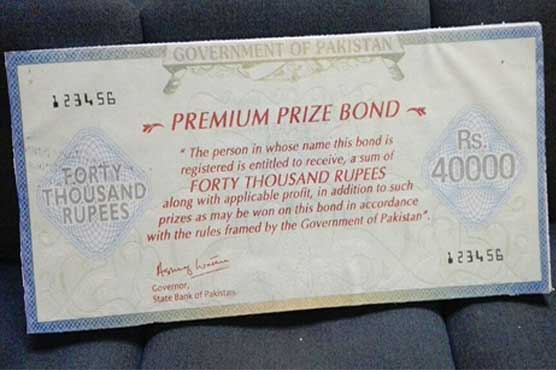 ISLAMABAD: The central bank is set to cease the issuance of Rs40,000 denominated national prize bonds starting Friday, which will enable to seal a gap which allowed people to legalize their black money.
According to an internal notification issued by the State Bank of Pakistan (SBP), it is set to terminate issuance of fresh bonds of Rs40,000 denomination from its offices starting February 15th, reports Express Tribune.
And the issuance of fresh bonds has been ceased and earlier investments won't be impacted as a result of this notification.
SBP issued the notification following the federal governments' order to the Central Directorate of National Savings (CDNS) to end the printing of Rs40,000 bonds.
The Rs40,000 bond is the highest graded prize bond out of a total of eight denominations starting from Rs100 to Rs40,000.
On the Rs40,000 denomination bonds, there was a first prize of Rs75 million.
This decision of the government will help alleviate worries of the global watchdogs, who remained doubtful about the investment of bank money via these bonds.
Till November last year, all types of prize bonds had attracted an investment of around Rs910 billion and around 27.5% or Rs249.5 billion was invested in the Rs40,000 graded prize bond alone.
And the Rs15,000 graded prized bonds attracted an investment of Rs168 billion from the public.