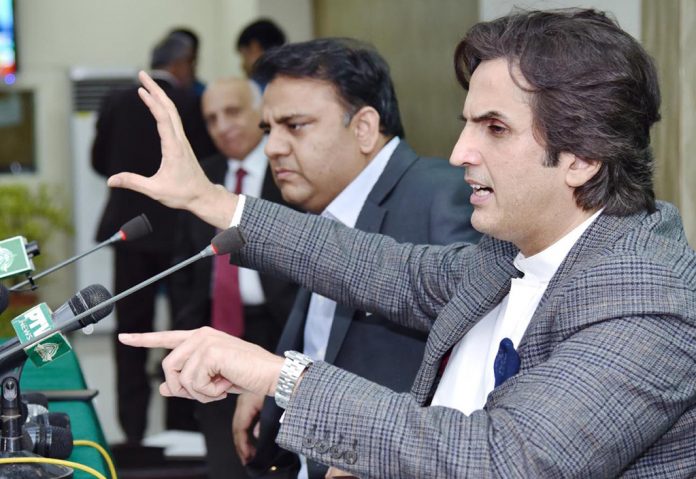 Minister says the govt envisages bringing down the consumption level from 93pc to 83pc and lifting the savings from 10pc to 17pc
WB official says Pakistan needs to manage its population otherwise the situation may not change even by 2047
ISLAMABAD: Planning, Development and Reform Minister Makhdoom Khusro Bakhtiar said on Monday that structural reforms are imperative to expedite economic growth and take the Gross Domestic Product up to 6.7pc by 2023.
Addressing the launching ceremony of the World Bank's flagship report '[email protected]', he said if the country continues with the usual business, the growth would remain around 4.5pc by 2023, however, with structured reforms, it could be projected at 6.7pc.
The minister reiterated the government's resolve to bring about administrative reforms, which are needed for sustainable growth and promotion of businesses.
He said the role of the government is to create an enabling environment for the private sector businesses, adding that the government is "one of the economic players with 20pc stakes, however, it has a duty to facilitate the other 80pc by providing an enabling environment".
He said the government is focusing on the promotion of knowledge-based economy, and, in this regard, has been striving hard to create a close liaison between academia and industry.
Bakhtiar opined that human capital development is a significant contributor to the progress and prosperity of any country, as it contributes 65pc in the growth of high-income countries and 40pc in low-income countries.
He said that no country could grow without energy security, adding that the government envisages promoting clean green energy by utilising renewable energy sources.
"No country could grow with an accumulated consumption level of 93pc, savings of 10.1pc and ranking of 137th in the 'ease of doing business' index," he remarked.
The minister said the upcoming five-year plan envisages bringing down the consumption level from 93pc to 83pc and lifting the savings from 10.1pc to 17pc, besides promoting ease of doing business.
He mentioned that the population growth from 1998-2017 remained at 2.4pc but was targeted at 1.8pc during the last five-year plan.
"Despite low projections, the population growth remained around 2.2pc in the last five years," he stated, adding that the incumbent government envisages bringing it down to 1.8pc through robust policies and awareness campaigns.
He said that a regional equalisation development strategy would be included in the next five-year plan and expressed optimism that Pakistan would achieve more progress than indicated in the World Bank report.
"If peace is restored in Afghanistan and the region, then Pakistan, due to its geostrategic importance, would be able to expand the radius of business activities not only to regional but also to Central Asian Republics.
He lamented that SAARC, which could have helped promote regional economic growth, had been made hostage by India's belligerent attitude, expressing the hope that collective wisdom would prevail to promote regional growth.
Addressing the occasion, World Bank Group's South Asia Vice President Harwig Schafer said Pakistan's economy has a bright future with a potential to grow at 8pc. He, however, emphasised that Pakistan needs to manage its population "otherwise the situation may not change even by 2047".
The World Bank vice president, in his address, noted there were many progressive countries that had a similar outlook to that of Pakistan, adding that transparency and accountability ate the prerequisites for sustainable growth.
He said Pakistan and the World Bank have been working together since 1947 and this journey would continue unabated. He hoped that Pakistan would become a middle-income country by 2047.
Japan International Cooperation Agency Vice President Takao Toda on the occasion highlighted the importance of investing in human resources, which would bring about economic prosperity.
World Bank Group Country Director Patchamuthu Illangovan presented the salient features of the bank's report and highlighted the importance of investing in children and women, besides improvements in the private sector, exports and governance.