'The fuel-efficient vehicle comes as a relief for car users amidst high inflation and deteriorating economy'
ISLAMABAD: Suzuki's Alto is set to disrupt the local automobile market, and with good reason. It was launched nationwide on Saturday amidst high hopes from consumers and some despair from the car importers.
On April 12, Pak Suzuki Motor Company Limited introduced its all-new Alto at the Pakistan Auto Show 2019 in Karachi. Since then, if not from before, this '800cc Mehran's replacement' has been all the hype among Pakistan's car enthusiasts – primarily those concerned with fuel efficiency.
Pakwheels CEO Sunil Manj opined that since the new Suzuki Alto is giving a fuel average of approximately 20km/litre with a 3-year/60,000km warranty, it will come as a relief for car users in Pakistan amidst high inflation and deteriorating economy. "It is the first Pakistani car in the 660cc category and is promising a good after-sales service and fuel efficiency," he told Profit.
The 660cc R-series engine comes with modern design and spacious interior in three variants – the Suzuki Alto VX (without AC), Suzuki Alto VXR (with AC) and Suzuki Alto VXL AGS (with AC and automatic transmission). The advanced safety features include Dual Front SRS Airbags, Anti-lock Braking System, and keyless entry with immobilizer. Some powerpack features are also available for those wishing to top up the technology in their rides, including electronic power steering, electric windows, electrically adjustable retractable side-view mirrors, and touch screen multimedia player with screen mirroring option.
The starting price is said to be slightly north of Rs900,000 with an upper cap around Rs1,250,000. Alto comes as the replacement of Suzuki's iconic hatchback Mehran that remained the company's top-selling car for three decades, before being discontinued in April this year.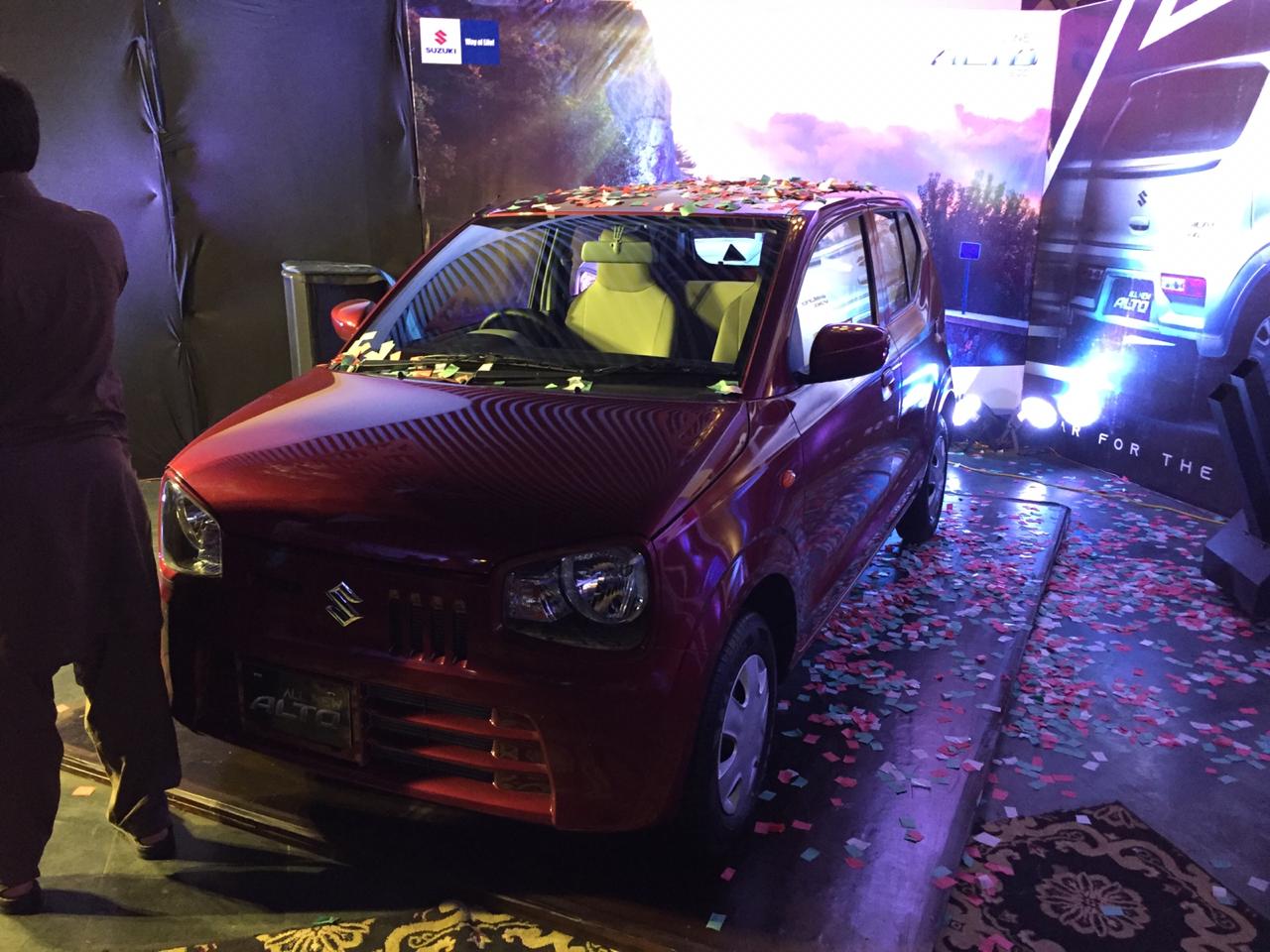 One of the primary factors that kept Mehran as Suzuki's top-selling product was the easy availability of spare parts – one of the biggest and most expensive challenges faced by Pakistani automobile customers with respect to imported cars. Keeping up with their Mehran's success model, Suzuki reportedly has already shared the parts supply schedule with their vendors and the orders for parts have also started to deliver.
However, despite all the hype, there are some sentiments of uncertainty from the car dealers. A car dealership owner based out of Karachi, Ayan Muzaffar, said that the hype is all because consumers are mistaking this new Alto as the replacement of the previous Japanese Alto.
"What they don't understand is that the quality and the engine specs of this new Alto are going to be different since it is a Pakistani manufactured car," he told Profit. He said that it should not be considered a replacement for Mehran either because the starting price of the new Alto is higher than the maximum price bar for Mehran, and that too comes without AC.
Another car importer Wasif Safdar said, "Cars like this that were previously produced elsewhere only come to Pakistan after they have been discontinued in the countries that introduced them first. However, if Suzuki can deliver on its promise of after-sales services then the new Alto can indeed be of major benefit to customers because no other zero-metre car is available at the price they are offering."
Younas Jan, a businessman and loyal customer of Pakistani brand automobiles, said, "Suzuki made its name in the local market because of the easy and cheap company services. The repair and maintenance cost of Mehran was remarkably lower than any imported car and the same is expected from the new Alto."
In today's economy, he said, a car at Rs1.2 million is a steal in Pakistan and the hype is therefore perfectly justified. He also believes that more than the end consumers themselves, the actual boost to Suzuki's new Alto will come from car sellers who will themselves find the car easy and profitable to sell.
"With the launch of Suzuki, it can be fairly assumed that this new car will not only come as a relief to Pakistani customers with its affordable price and easy maintenance but might also bring some challenges for car importers. However, it will not be a hammer down on imported cars," said Wasif Safdar. "Approximately 7,500 cars are imported every month and unless the local industry brings their production capacity up to that mark, and start reducing the delivery from six months to maybe one month, the demand for imported cars will also continue."
Previously, Suzuki had announced pre-booking with Rs500,000 and at the launch event on Saturday, the company announced 30 winners who will avail zero per cent balance payment upon their pre-bookings before June 15. Those who pre-booked would also get special introductory price benefit. According to the latest press release issued by the company, the new Alto will be displayed at over 165 Pak Suzuki dealerships in more than 95 cities nationwide.