LAHORE: Following the recent ban on the controversial Coca Cola ad that referred to Pakistanis as "extremists", most of the country's marketers have voiced their opinions in favour of the ad on social media, saying that such a ban by PEMRA on Coca Cola's #ExtremistPakistani campaign would curtail creativity in the market.
As per details, the beverage giant was slapped with a ban by the Pakistan Electronic Media Regulatory Authority (PEMRA) only a few days after it aired its 'Extremist Pakistani' TVC.
In a recent survey conducted on Pakistan's largest Facebook page for the marketing community, it was observed that a majority of the participants, 128, believed that PEMRA's decision to ban the Coca Cola ad "would create barriers for brands to think out of bounds". Of the total, as many as 65 participants felt that the ad's content was inappropriate while 29 thought that the brand should challenge PEMRA's decision in a court of law.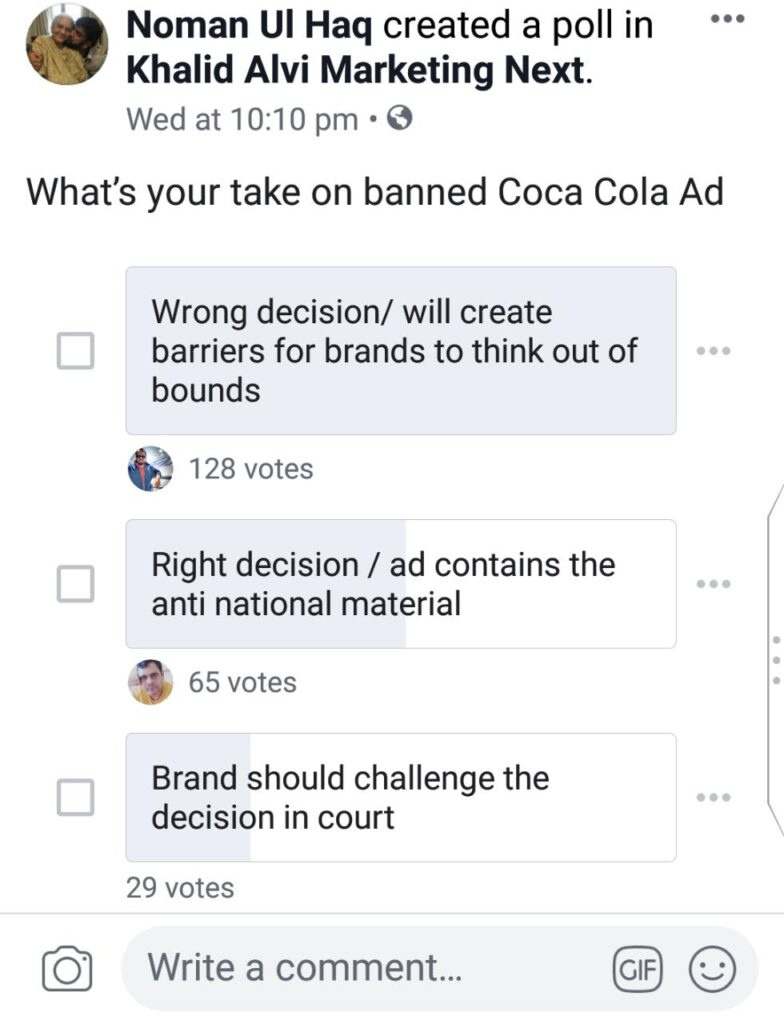 According to PEMRA's statement on July 30, "It has been observed that Satellite TV channels, FM Radios and Distribution Service licensees are airing a TVC of Coca Cola. The content of the advertisement is not only offensive but also tantamount to demeaning the Pakistanis, as a nation."
Jazbaat ki inteha, ehsasaat ki inteha, dosti ki inteha, mezbani ki inteha aur uss se bhi ziada Pakistani hone ke jazbay ki inteha – yehi sab tu hai what it means to be #ExtremelyPakistani! pic.twitter.com/A3Hwz002mi

— Coca-Cola Pakistan (@CokePk) July 24, 2019
The statement further added, "PEMRA is continuously receiving complaints and criticism from the general public through Pakistan Citizen Portal and PEMRA Complaints Call Centre on subject TVC. The public at large is criticizing theme of this advertisement which is promoting negative perception against Pakistan and Pakistani nation world over."
The letter concluded, "Now, therefore, telecast of "Coca Cola" TVC is hereby prohibited under section 27 of PEMRA (Amendment) Act 2007 with immediate effect till the time its content is reviewed, and controversial content is omitted from the TVC. In case of non-compliance, legal action shall be initiated under Section 29, 30 and 33 of PEMRA (Amendment) Act 2007."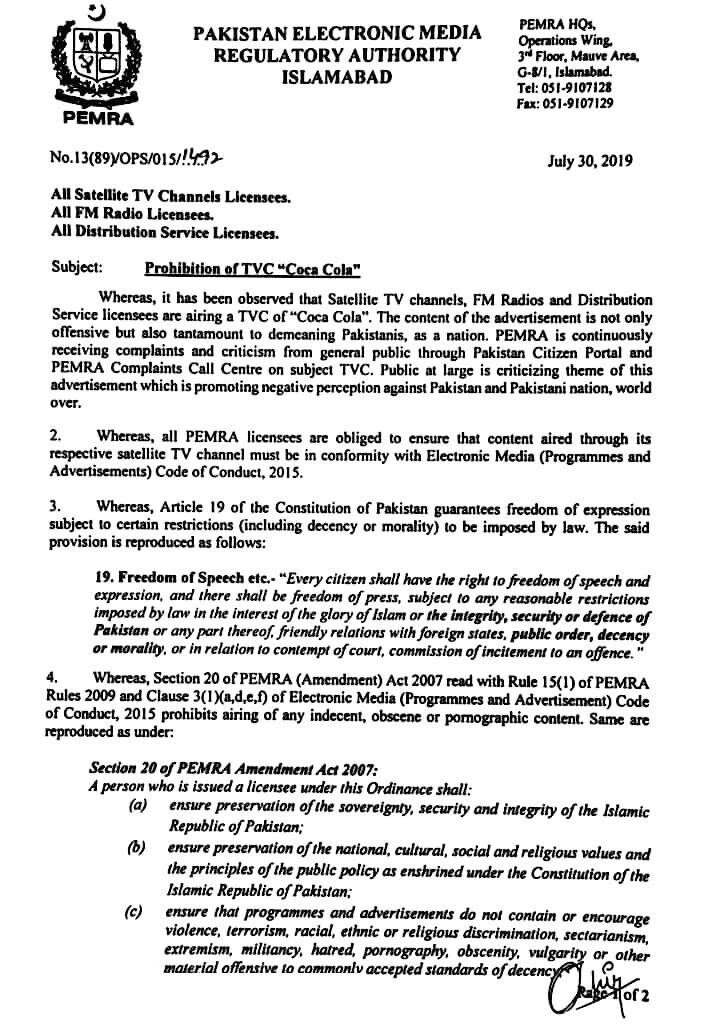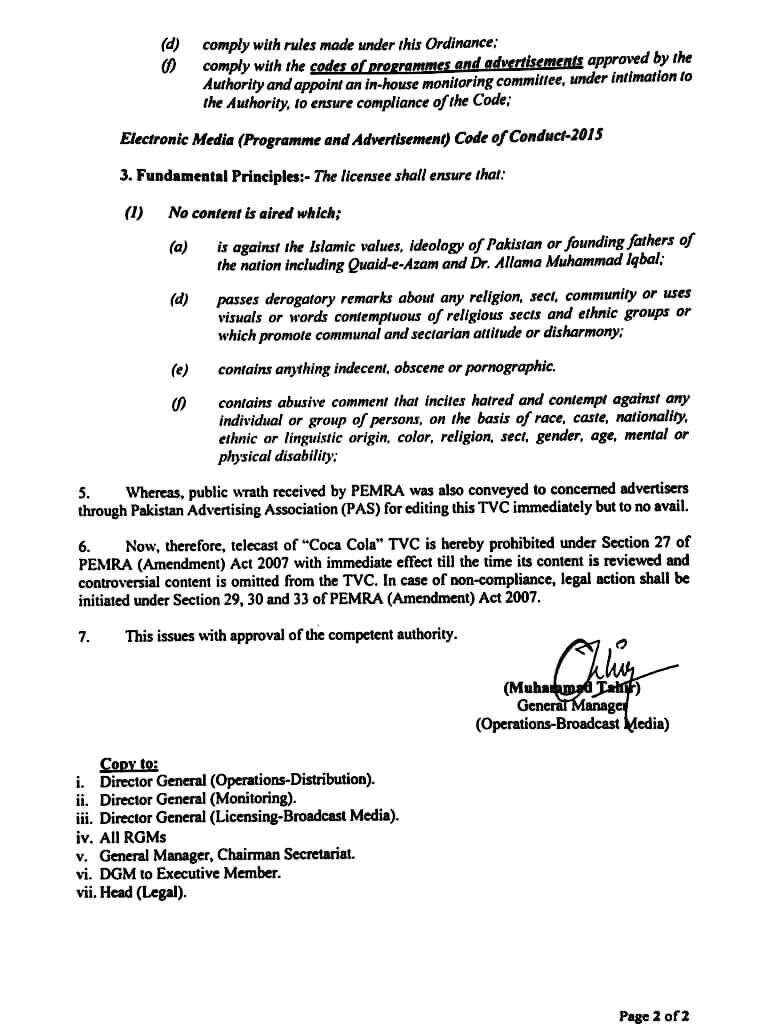 The ad was initially met with somewhat mixed reactions from the general public with many renowned personalities voicing against the ad.
Famous singer turned politician, Jawad Ahmad tweeted, "The new #Coke Ad is an ugly interpretation of the word 'Extremism'. It shows how low can marketing of a brand stoop to, just to make more money. It is dumb & immature of marketing team of Coke to use such a highly socially sensitive word so non-seriously just to sell their bottles."
The new #Coke Ad is an ugly interpretation of the word 'Extremism'.It shows how low can marketing of a brand stoop to,just to make more money.
It is dumb & immature of marketing team of Coke to use such a highly socially sensitive word so non-seriously just to sell their bottles. pic.twitter.com/FLh0oP4DTn

— Jawad Ahmad (@jawadahmadone) July 28, 2019
Meanwhile, political activist Raza Haroon tweeted that crossing out Pakistani with extremist as if it were a synonym is absolutely wrong. And further went to say that it seems as if Coca Cola was endorsing the negative propaganda against Pakistan.
Why cross-out #Pakistanis and replace with #extremists as if synonym? Bad choice. May well be unintentional but it seems like endorsing the negative propaganda against #Pakistan 🇵🇰. Please review. @CocaCola @CocaColaCo pic.twitter.com/jaTPoYcfxe

— Raza Haroon (@mrazaharoon) July 25, 2019
The general public also seemed irked over the ad and took to twitter to share their thoughts.
This sums up the quality of human resource our top institutions are producing, hired by brands like coke, eventually approving a trash campaign by a trash creative team. Worry some to imagine what sort of generations are to follow, @CokePK deserves Shame.

— Adeel Asif (@aadeelasif) July 28, 2019
@cocacolapk you need to hire well educated content writer.
When it comes in relationships we are sincerest, when you consider hospitality then we are affectionate and we are passionate about our jobs, duties and goals.
MIND YOU we are not extremist. We are passionate https://t.co/tDkovYN7Xn

— Saeed Khan (@Saeed_Thinks) July 28, 2019
Heavy handed nature of advertising tells me that the agency and marketing team tried a little too hard and completely failed. This is a disastrous ad. #coke pic.twitter.com/xgH7ZbeNUB

— E.J (@ejopinion) July 30, 2019
Yet, not all was lost and was negative. In the midst of serious opposition from the public and a ban being placed on Coca Cola, others seemed to back Coke's initiative, stating that it is a brilliant way to fight the stereotypes against Pakistan and Pakistanis.
This decision is so poorly reasoned. Any Pakistani who's traveled abroad knows how we're generally perceived (thanks to the state's jihadist adventures since the 80s onwards). The ad actually attempts to counter those negative perceptions about Pakistanis. How's that 'offensive'?

— Haider Imtiaz (@mhaiderimtiaz) July 30, 2019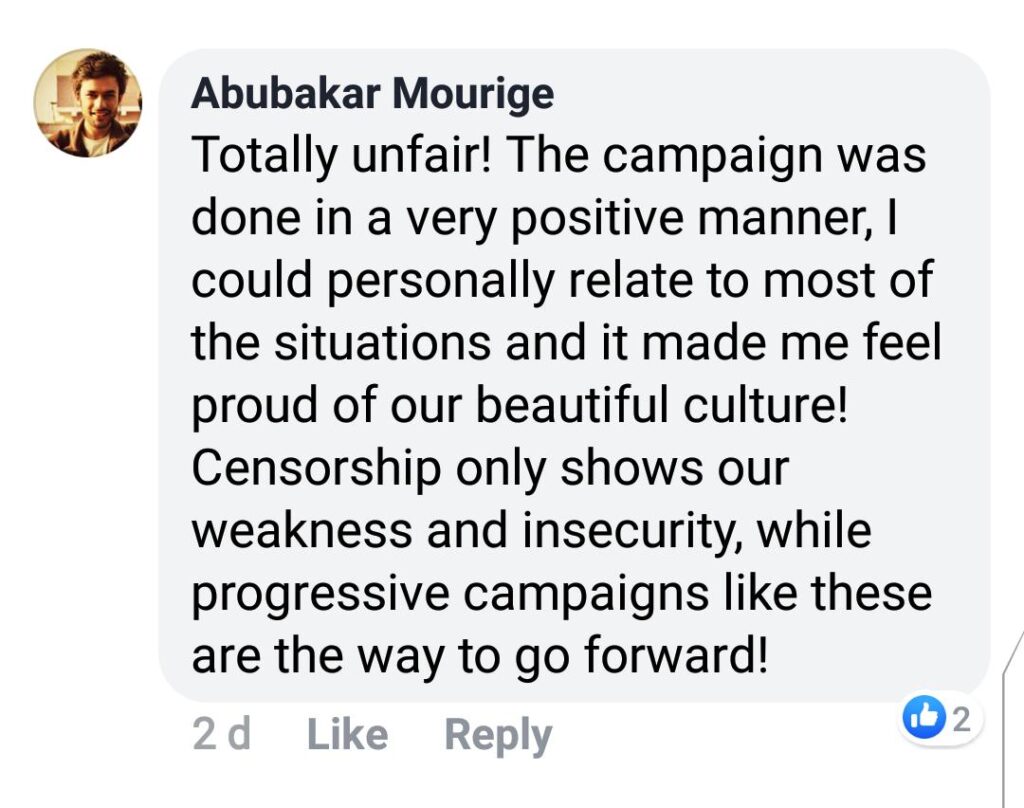 This is a brilliant ad for Pakistan's image.. Hats off, hugs and kisses to the scriptwriter! Please have an English version released and hit social media with it. Please do a collaboration with @sayedzbukhari. We can combine it with tourism and make a brilliant ad campaign.

— Mariam's Madness (@mariamsmadness) July 29, 2019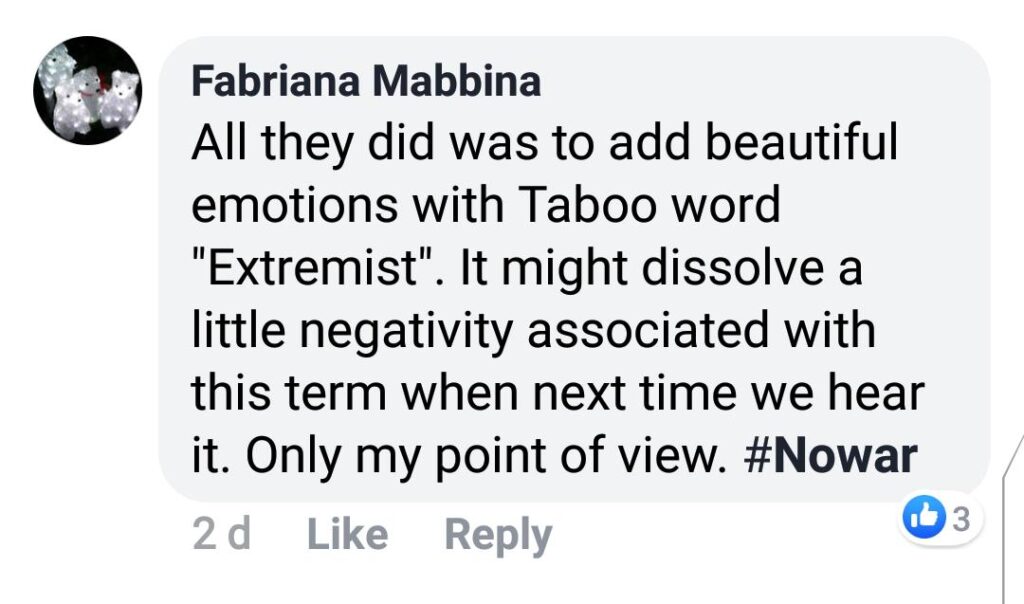 Yes we are extremely emotional nation, we enjoy each & every moment to the full, together
Love my Nation & Coca Cola#ExtremelyPakistani https://t.co/RWuuaxC6NG

— #HudaNama (@Asparklingspark) July 24, 2019
Attempts were made to get their official version from Marketing Director for Coca Cola, however, by the time of filing of this story no comments could be obtained.
Watch the full ad here: