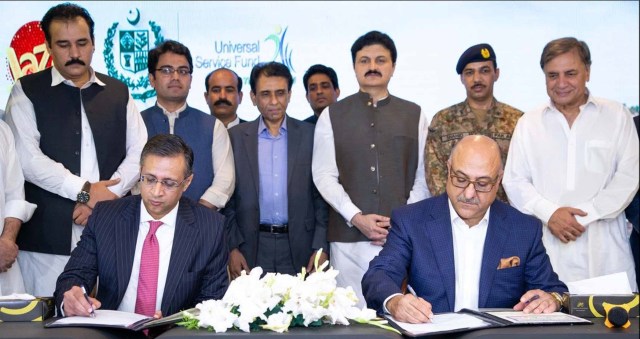 Continuing its partnership with Jazz to develop cellular access in underserved regions, the Universal Service Fund (USF) has awarded a new contract worth Rs90 million to the leading digital communications company.
This contract has been awarded under the Broadband for Sustainable Development Project in South Waziristan. In this regard, a signing ceremony took place between USF CEO Haaris Mahmood Chaudhary and Jazz Chief Corporate and Enterprise Officer Syed Ali Naseer. IT & Telecom Dr Minister Khalid Maqbool Siddiqui was the chief guest on the occasion.
As part of the deal, Jazz will work towards providing cellular access to the people of South Waziristan. The idea is to provide reliable and cheap cellular services across the country, particularly in remote areas.
Speaking at the ceremony, Khalid Maqbool Siddiqui acknowledged USF for launching multiple projects for the socio-economic uplift of people living in the unserved and underserved areas of Pakistan.
In order to take this further, USF would now be paying special focus on empowering the people of South Waziristan through its projects, he added.
"Unfortunately, the locals in South Waziristan had been victims of terrorism in the past and now deserve all the opportunities they were not able to avail earlier," the minister maintained.
Through this project, he said, services would be provided to a population of 0.64 million people.