In 1963, Yusuf H Shirazi was striking out, and everyone was telling him it was a bad idea. Here was a man that, until a year ago, had followed the trajectory of every South Asian parent's dream. He had studied hard, graduated with distinction, landed a private sector job in the duration that he was preparing for the prestigious civil service examinations, and was finally inducted into the federal service as an income tax officer. 
And at his very prime, at the relatively young age of 34, he decided to quit, leaving a languid life of public service and all its accompanying trappings, in exchange for a small but successful brokerage firm he ran with his older brother out of a room at the Karachi Stock Exchange. After a year of making his brokerage a successful endeavour, he was ready for more. 
As he began the process of launching his own group, one of the questions that had him cornered was what the new group would be called. Symbolism was not lost on Yusuf Shirazi. He was a keen reader and laboured over what the perfect name would be to best encapsulate just what he wanted to do with this group, and the ethic he wanted to bring to the world of Pakistani business. 
Despite all the thought he put into it, inspiration for the group's name came from unexpected quarters. When he was still in the process of launching, a South African friend, seeing the amount of work he was undertaking, likened Yusuf Shirazi to Atlas, the ancient Greek titan condemned to hold the celestial heavens on his shoulders for eternity. The name struck, and thus the Atlas group was christened. 
One can quite see why Yusuf Shirazi was likened to Atlas. For starters, he was a very large man, physically imposing with an impressive height and breadth, and a crudely handsome face for good measure. But his gait and gusto were only as vast as his largess and love for learning. 
Yusuf Shirazi was a man that carried many burdens in life, forming the Atlas Group and laying the foundations for multiple industries in the country. A mainstay in the world of Pakistani business since the early 1960s, Shirazi died on October 20 this year in his adopted city, Karachi. He was 91. As this titan of industry finally rests his weary shoulders, Profit takes a look back at the life, the times, and the man that was Yusuf H Shirazi. 
 A scrapper from Sahiwal finds his first love 
It is as Punjabi a trope as it can get – the bildungsroman of a small-town boy making his own way in the world against all odds, armed with little more than a desire to make something of himself. Born the eighth son to a landowning family in 1929, Yusuf H Shirazi knew from his earliest days that he would not inherit much. Primogeniture was perhaps not the law of the land, but certainly practiced by many large landowning families of the time.
Perhaps it was this that cultivated in him a stringent, almost Calvinist work ethic that drove him to the heights he reached all his life.
Yusuf Shirazi was sociable and outgoing from his childhood. But the schoolboy charm was only a veneer to the deeply studious, and constantly curious young boy he was in his school days. He did excellently in school, and even back then enjoyed a healthy appetite for reading and writing. At Government College Sahiwal, he passed his intermediate examinations with flying colours, topping the board.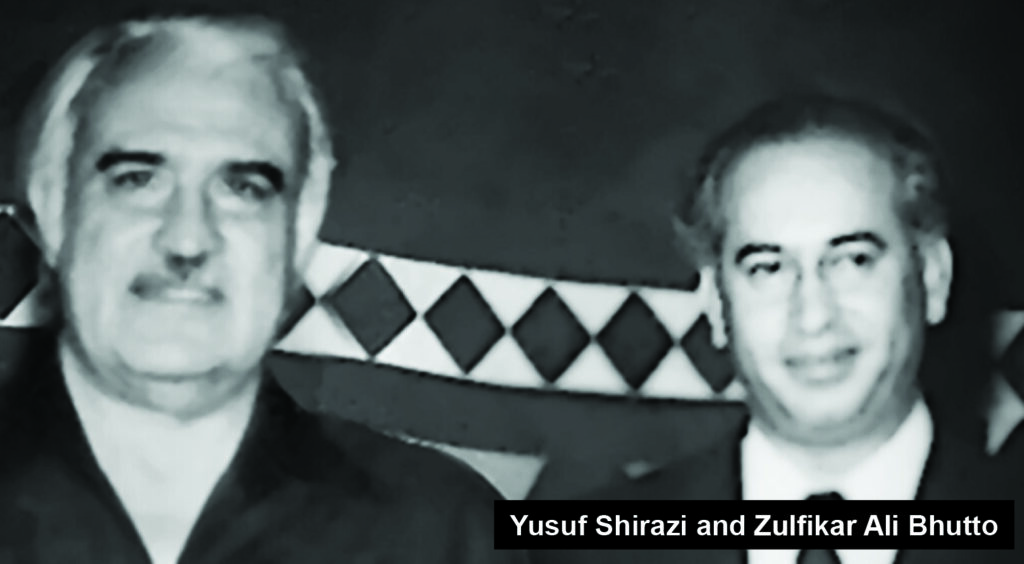 The next stop in this coming of age story was Lahore, as Shirazi moved from his native Sahiwal to attend Forman Christian College for his Bachelors. His association with the capital of the Punjab would continue as he explored the different fields he wanted to study, going on to pursue post graduate degrees in Persian and Math from Punjab University after his Bachelors. 
It was after securing his education that he found his first calling, what he would call his first love. A first love he would eventually have to abandon, but one he remained faithful to until the very end in his own way – journalism. Fresh out of university, he joined the then vibrant Pakistan Times. He would eventually move on to work for Nawai Waqt, and study law at Punjab University at the same time. 
Here he first rubbed shoulders with the giants, the bulwarks, the Atlases of print media. Those he counted among his friends included the likes of Hameed Nizami, the legendary newsman to whose legacy this magazine and its parent publication are dedicated. Eventually, public service would come calling, and Yusuf Shirazi would make the practical decision to switch from journalism to income tax, but his passion for the field would remain the same. 
All his life, he would make it a point to personally know the many editors of Dawn, and would continue his friendships with the Nizamis, M A Zuberi (publisher of Business Recorder) and others. And while he may have withdrawn from the affairs of the Atlas Group near the end of his life, leaving different parts of his empire for his sons to manage, he continued to write as a regular columnist for multiple English dailies. 
One wonders what he would have thought of the state of the media today, especially the print media that he so loved and cherished. The twin death blows of censorship and pulling of ad revenues by the government has left the industry near crippled, and an agonizing, damning rot has well and truly set in. For a man like Yusuf Shirazi, who appreciated and loved the sanctity of the written word in addition to being a business titan, the state of the media must have been disheartening. It is disheartening enough for those of us already disenchanted, and Yusuf Shirazi remained enchanted until the very end. 
But the thrill and magic that the life of a newspaperman can offer had to be put on the backburner, because in 1953, Yusuf Shirazi was inducted into the federal service as an income tax officer. His first posting was in Shikarpur, a historic city in its own right, but no match to the luster and allure of Lahore. But his stay in Shikarpur would not be a long one, and he would soon be posted to the second city he would make his own – Karachi. And this one, he would finally call home. 
 The business story begins 
In 1962, after nearly a decade in the income tax department in Karachi, Yusuf Shirazi with his usual diligence and work ethic had become a point man. So when he was assigned that year to compile a report of the top 20 groups in Pakistan, something clicked in him, and he approached the assignment with the zeal of a newshound on the hunt for a story. 
He interviewed the top businessmen in Pakistan extensively and in excruciating detail, asking the difficult questions and going above and beyond the call of duty. This was not a mere assignment for him, this was one last opportunity to play reporter.
As all reporters know, however, an unfortunate part of the job description is being a pest. You question and you nag and you e-mail and WhatsApp until the person you need to talk to is frustrated into submission. It is a testament to Yusuf Shirazai's interpersonal skills that he came out of the assignment not just with his report, but also the admiration of some of the biggest businesses in Pakistan instead of their chagrin.
He was now on good terms with the Adamjees, the Dawoods and the Habibs. But the friendship that stood the test of time the most was the one he formed with Mian Muhammad Yahya, the father of Mian Muhammad Mansha, chairman of the Nishat Group.
By the time he was done with this extensive assignment, Yusuf Shirazi was beginning to get the feeling that he had a flair for business. So, against all advice and common sense, he abandoned the civil service in 1962 to start his first group: Shirazi Brokerage Ltd, which he operated with his brother from a small room at the Karachi Stock Exchange. 
While he was still getting his firm off the ground, he was engaged by his friend Mian Muhammad Yahya, who asked him to join his company as an executive director, another role he excelled at. During this same time, he was also asked by Lt General Habibullah Khan to join Ghandhara Industries as a Director, another post he served at well into the 1980s. By the time Mian Muhammad Yusuf and Lt General Habibullah died, he became like an uncle to their heirs, and to the other business heirs of Pakistan. 
But after this first year-and-a-half in which he ran the brokerage and served as an executive director and director for Nishat and Ghandhara, Yusuf Shirazi went all in, forming what would come to be the Atlas Group.
As he focused on Atlas, he became the first Pakistani to gain licensing for the manufacture of motorcycles in partnership with Honda Motors of Japan, along with Syed Wajid Ali, the brother of Syed Babar Ali. Together, the two families set up the motorcycle industry in Pakistan, and the Atlas Group saw a meteoric rise.
Honda itself was formed in 1948, but by 1955 had become the leading Japanese manufacturer of motorcycles. So, in 1962, when Atlas Autos signed an agreement with Honda, the Japanese company was only 15 years old. Pakistan at the time was the fifth largest country in the world behind China, India, the Soviet Union and the United States. Honda came to India in 1995, and brought motorcycles there in 1999. In Pakistan, Honda brought motorcycles in 1962, and cars in 1992, entirely due to the efforts of Shirazi.
The first two factories that Yusuf Shirazi set up were in Lahore and Dhaka, and he soon rose in the eyes of the business community. In 1968, he was unanimously elected the President of the Karachi Chamber of Commerce, and is to this day the only President elected consecutively for two terms in the office. 
Then, in 1971, disaster struck on a national level. The independence of Bangladesh meant that half the country was now another nation, but it also meant that all the private industry set up in erstwhile East Pakistan was now no longer available to them.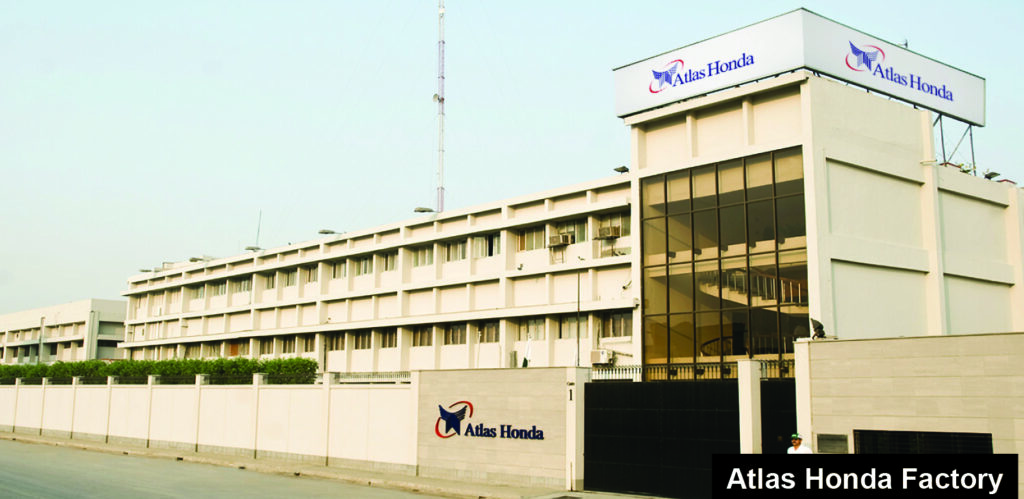 For West Pakistani businessmen, a lot of the loans for their assets in the East were serviced in the West, which resulted in a mass defaulting. In this time, whether out of consideration for the state of the nation or personal principle, Yusuf Shirazi and the Atlas Group were among the very few to continue making their loan payments, even though they had lost the Dhaka factory. 
From this point, it was a case of building from scratch again, but by this time he was widely admired and respected by the business community. Perhaps it was his good karma from before or his close relationship with the Prime Minister, but the Atlas group managed to survive Zulfikar Ali Bhutto's nationalisation spree relatively unscathed.
The rebuilding effort he was now embroiled in encompassed more than just motorcycles, and he soon became a founding father of four of Pakistan's industries, racking up an impressive portfolio. In the auto industry, he made at least 20 partnerships in Japan, turning Atlas Honda Motors into the unmissable giant it is today.
He also had success in financial services, with Atlas Assets Management and Atlas Insurance (originally founded by Allama Muhammad Iqbal and bought by Atlas in 1980), even if Atlas Bank was not the most successful venture in the world. He also delved into the trading sector, forging links with General Electric before moving on to power generation with Atlas Power. 
 The business ethic 
In his death, Yusuf Shirazi has left behind an enviable empire. But from financial services to automobiles and power generation, one of Yusuf Shirazi's most admirable qualities was his commitment to fostering good business environments. 
Most corporate heads develop a pretense to philosophy or letters at some point. It usually has to do with free time or swollen heads, but Yusuf Shirazi had a knack for the artistic and the profound from an early age. In his years at the helm of Atlas, he wrote for the benefit of all his employees the doctrine of 'The Atlas Way' – the core principle of which was his belief that "what comes from society must be shared with society." Coming from anyone else, one might scoff at the statement, but coming from Yusuf Shirazi, there might be an inclination to believe in its raw earnestness. 
After all, he was always a man committed to the things he loved the most. Much like he continued to write columns for English newspapers, his passion for learning and belief in the power of education endured all of his 91 years.
Twenty-five people have already been sent to Harvard as part of his initiative to send two persons to the American varsity to be trained each year. He also formed the Harvard Club of Pakistan, and remained a founding member of both LUMS and GIK, in addition to his many philanthropic efforts through the Atlas foundation. 
The passing of Yusuf Shirazi leaves a hole in the world of Pakistani business. He was no longer particularly active in the circles he once dominated, but he remained a kind, grandfatherly, imperious figure watching over everything. He was still sharp as a tack, writing columns until the very end. 
Ayn Rand's most famous book was titled 'Atlas Shrugged' and discusses the fall through of Atlas shirking his responsibilities. Yusuf Shirazi did not shrug his entire life, carrying his celestial spheres with dignity. In death, his labours completed, he has gently passed the burden on to the shoulders of his sons, Aamir Shirazi, Saquib Shirazi, Iftikhar Shirazi, and Ali Shirazi who are running different sides of the business. Whether they will live up to the legacy of their father is yet to be seen. For now, the legend is cemented, and Atlas finally rests.