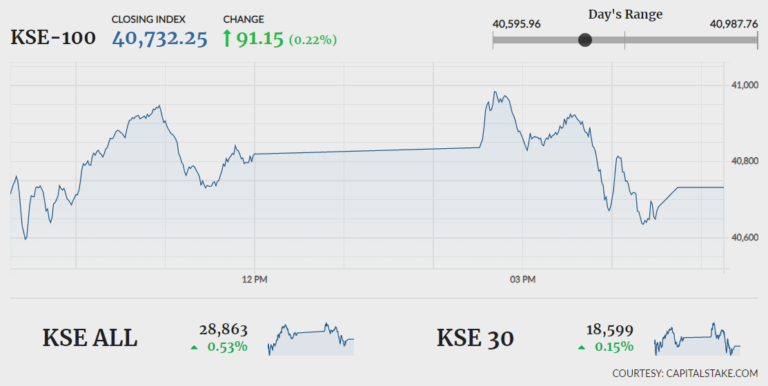 KARACHI: The Pakistan Stock Exchange (PSX) ended an indecisive trading session on Friday with slight gains, as the indices swung both ways in search of a clear direction before closing in the green zone.
Foreign investors turned out to be the net buyers on Thursday with a net inflow of $1.46 million.
On the economic front, the Asian Development Bank approved an emergency loan of $1 billion for Pakistan to provide immediate support to the country's finances. In addition to this, the ADB also approved $300 million policy loan for the energy sector reforms in Pakistan.
The benchmark KSE-100 Index recorded its intraday low at 40,595.96 during the initial trading hours. The index then took a U-turn and touched its intraday high at 40,987.76. It closed higher by 91.15 points at 40,732.25. The KMI-30 Index gained 239.15 points to settle at 64,210.49, while the KSE All Share Index ended higher by 151.74 points at 28,863.44.
The overall trading volumes remained decent and were recorded at 416.92 million (down 18pc on a daily basis). Unity Foods Limited (UNITY +6.24pc), Fauji Cement Company Limited (FCCL +2.58pc), Maple Leaf Cement Factory Limited (MLCF +0.17pc) led the volume chart. The scripts had exchanged 53.51 million, 31.96 million and 18.77 million shares, respectively.
Sectors that helped the index close in green included oil and gas exploration (+64.35 points), food and personal care products (+30.12 points) and insurance (+23.70 points). Among the companies, Pak Petroleum Limited (PPL +33.93 points), Bank AL Habib Limited (BAHL +30.37 points) and Hub Power Company Limited (HUBC +26.18 points) remained the top point contributors to the index.
The oil and gas exploration sector added +1.14pc in its cumulative market capitalization. Pak Petroleum Limited (PPL +1.87pc), Oil and Gas Development Company Limited (OGDC +1.22pc) and Pakistan Oilfields Limited (POL +0.88pc) closed with decent gains.