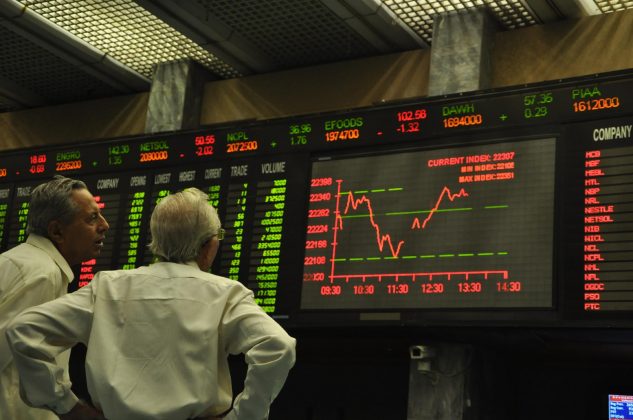 LAHORE: The Pakistan Stock Exchange (PSX) witnessed a mixed session on Wednesday whereby indices swayed both ways. The market was pulled down by local investors who ended net sellers as $1.64 million. Local mutual funds resorted to net selling of $4.08 million while foreign investors closed as net buyers.
The KSE 100 index swung between intraday high of 41,920.62 points and low of 41,389.60 points before it settled lower by 164.95 points at 41,603.71 points. Other indices followed a similar trend, KMI 30 ended down 521.49 points and KSE All Share Index dropped 284.42 points. Out of the total scripts, 104 advanced at end of the session and 211 declined.
The total market volumes fell significantly from the previous session and were recorded at 276.20 million. This was also below its 5-day average of 308.80 million. The chart was led by The Bank of Punjab (BOP +2.54 per cent), volume 15.98 million, Unity Foods Limited (UNITY -2.51 per cent), volume 14.27 million, and Fauji Foods Limited (FFL -3.27 per cent), volume 13.28 million.
Major culprits for the decline in the KSE 100 index were the oil and gas sectors. oil and gas exploration sector with its 15.04 per cent weight in the index pulled it lower by 135.80 points and the oil and gas marketing sector with its 4.67 per cent weightage added a negative 31.09 points.
Habib Sugar Mills Limited (HABSM -4.87 per cent) traded near to its floor price post announcement of financials for 2019 despite posting a 27 per cent growth in revenue. Earnings per share were reported at Rs8.02, up 33.40 per cent compared to SPLY. The board also approved a cash dividend of Rs2.75.
On the economic front, Foreign Direct Investment (FDI) increased to $850.1 million in first five months of FY2020 compared to $ 477.30 million in SPLY. In November 2019, the net FDI stood at $200.10 million down 30 per cent compared to $285.39 million in November 2018. The financial businesses segment along with power sector attracted the top investment. Meanwhile, Norway and Luxembourg made the highest investment in the month of November.