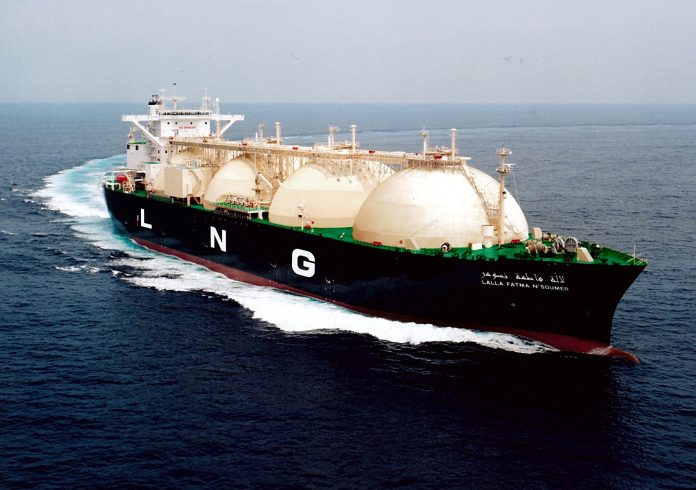 LAHORE: The federal government is considering deregulating the LNG sector by allowing the private sector to import gas that is presently available at the spot price of $3/mmBTU in the international markets, Pakistan Today has learnt.
The price of Asian LNG hit a record low of $3/mmBTU this month that has made the long-term LNG contracts, the country had earlier signed, highly expensive and unattractive.
Contrary to Pakistan, India was purchasing the LNG at around $3/mmBTU.
Sources in the textile industry, who were part of a high-level meeting on Wednesday, said the federal government had made a commitment to the exports sector that the LNG sector would be deregulated and the private sector would be allowed to import LNG directly.
The meeting was chaired by Prime Minister's Adviser on Commerce Abdul Razzak Dawood and attended by Power Minister Omar Ayub Khan, PM's Special Assistant on Petroleum Nadeem Babar, Economic Affairs Minister Hammad Azhar, Punjab Governor Chaudhry Muhammad Sarwar, APTMA office-bearers, leading exporters and textile millers.
Talking to this scribe, APTMA Group Leader Gohar Ijaz confirmed this development, saying that the government should allow free import of LNG that is available at the spot price of $3/mmBTU globally.
Agreeing with Ijaz, APTMA Punjab Chairman Adil Bashir said the government's commitment to deregulate the LNG sector would enable the textile sector in Punjab to import cheaper gas at competitive rates and rationalize their cost of production.
"The government should provide maximum facilitation to the industry as this avenue will give a much-needed boost to new investments and exports," Bashir added.
Sources said that even if the government didn't allow the free import of LNG to the exports sector, it would still be cost-effective and available at around $4.5/mmBTU.
They said due to a long-term contract with Qatar, Pakistan was paying a very high price of LNG at 13.37pc of Brent, while Pakistan LNG Limited (PLL) contracts with Gunvor Limited and Eni SPA were at 8.594pc and 11.95pc (of Brent), respectively, which costs around $8.5-10/mmBTU to SNGPL and SSGC.
The same costs around $11.2/mmBTU to the exports industry but as the government is providing subsidy to the exports sector, it costs $6.5/mmBTU.
If the government allows exports sector to import LNG, it could save around Rs23 billion — being provided to SSGC and SNGPL as subsidy to cover up the cost," sources noted.
In addition, it will also boost the industry and make it regionally competitive with India, Bangladesh and China.
On November 28 last year, PM's Special Assistant on Petroleum Nadeem Babar had informed the ECC that an earlier attempt made by the government at highest level regarding reduction in LNG prices was not acceptable to Qatar.
Babar recalled that during Prime Minister Imran Khan's visit to Doha in January last year, the then finance minister Asad Umar had requested Qatar to reduce the LNG price that was being supplied to Pakistan under a 15 years contract, but Qatar refused.
According to sources, the premier and his economic team are now trying their level best to renegotiate its long-term LNG contract with Qatar signed during the PML-N's tenure, which is not cost effective in the current scenario.
They said that the PM, during his one-day trip to Qatar on Thursday, was likely to take up the issue with the Qatari authorities as the long-term LNG contract was not financially viable for Pakistan.