For anyone who has lived in Karachi, particularly in the 1990s and late 2000s, the current scenes in Pakistan's largest city are a familiar sight. Rangers are patrolling outside markets, shops have been shuttered, and schools have been ordered closed. 
But unlike other hartaals, the roads are still open. And the quasi-lockdown is not just being enforced in one locality, or one neighbourhood- it is across Karachi, across Hyderabad, across Sindh. And unlike other hartaals, it will not end with just a phone call from London. It will end with a vaccine cure, and at a much heavier cost.
This is Karachi's – and soon, Pakistan's – self-imposed corona hartaal. With the number of COVID-19 cases at the time of writing now reaching 510 with 3 confirmed deaths, the gravity of the situation is only just dawning upon us. Recently, the Chief Minister of Punjab, Usman Buzdar, was infamously quoted in Dawn asking the seminal question, "So how does this corona bite again?" While no one is accusing the Chief Minister of being a towering intellectual giant, you can take it to the bank that he will not be making that same mistake anytime soon.
So in these stressful times, who do we look to? Well, there are two significant events in Pakistan's COVID-19 timeline.
First, Prime Minister Imran Khan addressed the country on Tuesday, and talked to journalists on Friday. 
His comments are notable for two aspects. One, in an attempt to perhaps calm the nation down, he came off as extremely relaxed. "Aap ne ghabrana nahi hai (do not panic)" – which inspires little confidence. PM Khan did not think the virus was too much of a risk, since 97% of those who get it recover from it, never mind that the mortality rate for Covid-19 has gone up to nearly 11% as the crisis hits the gas. 
His second notable talking point was corollary to his initial sense of chill, that cities will not be shut down. "If we shutdown the cities – people are already facing difficult circumstances – we will save them from corona at one end, but they will die from hunger on the other side," he said. 
The Prime Minister's argument was that Pakistan was not in the same position as the United States or Europe, that we could not possibly hope to afford a shut down. He is correct to an extent, there is great poverty in Pakistan, and the fear is that people might starve. The government seems to have taken this decision quite early, having considered a shutdown when Pakistan was at 20 cases, but seems to be adamant that it will not happen now. 
Separately, on Friday, he said, "There is a reason for this. Our situation cannot be compared to, for example, Italy; their per capita income and their [economic] situation are much better than ours. If we impose a nation-wide lockdown, we fear for our daily wage workers and labourers. What will they do for the next [few] weeks?"
In his quest to save people from poverty, and keep the economy afloat, the prime minister is allowing cities for now, to function. There have been no severe travel restrictions by air yet, restaurants and shops in Punjab are still open, and Friday prayers across the country are still allowed (will the Council of Islamic Ideology please wake up?). Only the province of Sindh has imposed some restrictions on shops and malls, and even there Chief Minister Murad Ali Shah has requested voluntary social distancing.  
The second significant event is the recent measures the State Bank has taken. 
On Tuesday's monetary policy announcement, the central bank cut the policy rate by 75 basis points, from 13.35% to 12.5%. The bank also announced two new measures to provide subsidised credit to industry: the Rs100 billion Temporary Economic Refi­nance Scheme (TERF) for non export-oriented sectors, and the Rs5 billion Refinance Facility for Com­bating COVID-19 (RFCC), which will allow hospitals to get loans from banks at a 3% interest to get equipment needed for hospitals.
Then on Friday, the State Bank announced six different relaxation for exporters suffering from the delay. These include relaxing the requirements to avail credit, allowing for longer times for payments and export import proceeds, and longer time to ship goods.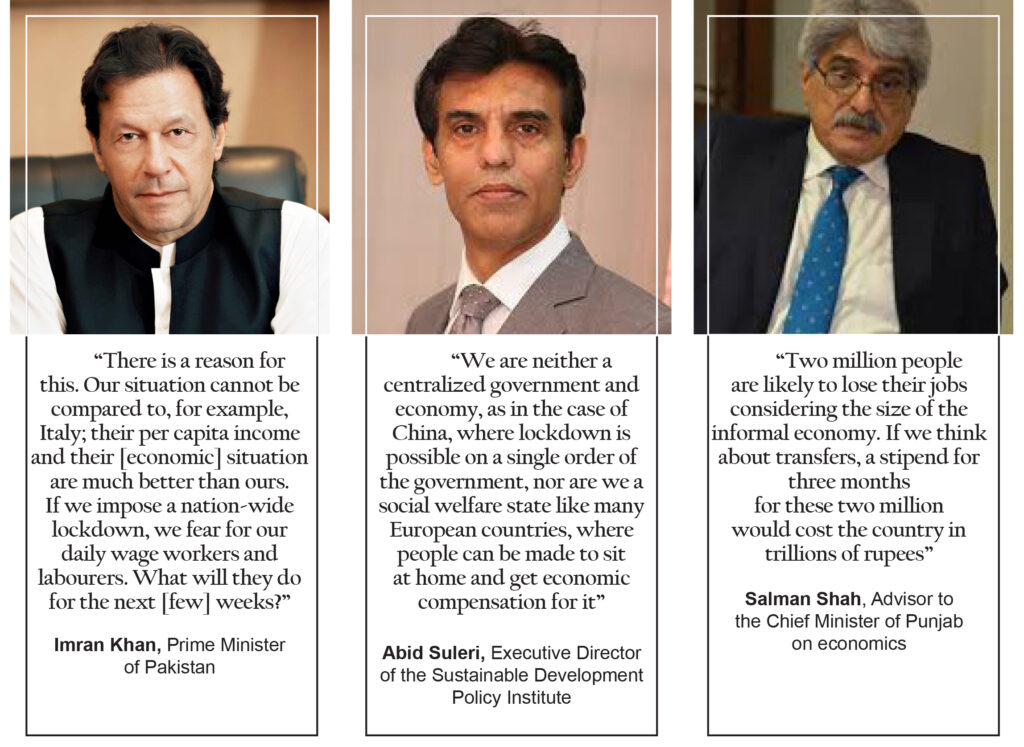 Profit took these two events and posed some questions to Pakistan's economists, policy experts and business leaders: what do they think of these measures? How are businesses being impacted? As salaries are affected and people's bank accounts deplete, how do we prevent poverty? And what are some effective ways of your business surviving pandemic?
First, the economists and policy experts
Abid Suleri, the Executive Director of the Sustainable Development Policy Institute,  said that he appreciated the decision not to take a full lockdown. "We are neither a centralized government and economy, as in the case of China, where lockdown is possible on a single order of the government, nor are we a social welfare state like many European countries, where people can be made to sit at home and get economic compensation for it." he explained. 
He did, however, say that if a lockdown becomes essential, then the Government of Pakistan will have to ensure that daily wage earners can sustain the lockdown. He advocated methods such as releasing advance payments for BISP beneficiaries; using some proxy indicators, like the number of electricity units consumed, to provide tariff relief; and mobilizing individual philanthropists to provide to society. 
Suleri was less enthusiastic about the State bank's business-as-usual measures. For him, with the recent experience of stock exchanges around the world, the State bank should have realised that market sentiments cannot be improved by slashing the interest rate. "You cannot hope to manage this, not even by slashing them to zero as in the US, only while dealing with a pandemic." 
Instead he wanted the SBP to focus on defining the worst and best case scenarios for the spread of COVID-19, and also hopefully bargain with the IMF for flexibility on the monetary target slippage.
Interestingly, he also wanted to encourage philanthropists."Pakistan is a nation of philanthropists," he said. "Right now, we should encourage corporations and the private sector to play their role and divert their CSR funds for that purpose. We should organize a community of volunteers under a nodal ministry to do this."
On the bright side, he noted that investment, research, and hiring in the medical sector should flourish. The government could also gain some fiscal cushion through decreased oil bills. "I am envisaging that the government would save $5 billion in oil import bill. This should help the government in compensating for revenue loss and be able to boost some positive sentiments." said Suleri. 
Meanwhile economist Salman Shah, the current advisor to the Chief Minister of Punjab on economic affairs, was conflicted about the idea of a lockdown. "Two million people are likely to lose their jobs considering the size of the informal economy. If we think about transfers, a stipend for three months for these two million would cost the country in trillions of rupees.," he said. 
Worryingly enough, he was concerned about Ehsaas' ability to tackle a problem this large. "The need is many times more than what Ehsaas has," he explains. "The Informal workforces in SMEs, and small micro-businesses probably have no access to banking. We will have to devise ways to accommodate them." 
He also called for the SBP to be innovative, as cutting an interest rate at this time will not spur any investment. He called for the arrangement of a lot of working capital at a lower cost, in order to truly increase investment. 
Looking to the future, Shah said retail and value chains will change forever. "There will be a lot more digitalization going forward, a lot more alternative means for delivering goods and services, online shopping The changes have been coming over the years, but this will accelerate it. Offices will also have to reduce a lot of unnecessary meetings".
Once Pakistan survives the pandemic, Shah expects a lot of opportunities ahead. "Oil prices will lay low for a time, and global production will be more diversified – Pakistan should get a share of the diversification. CPEC will become more important if we are to finish it soon."
Asad Zaman, member of the Monetary Policy Committee of the SBP, said that he thought the SBP did what needed to be done. Regarding the interest rate cut, he said: "Even some economists were arguing that the interest rate needed to be 8%. The interest rate needs to be higher than the inflation rate, for the real interest rate to be positive – for an economist to suggest otherwise is really an outrageous political statement."
He also argued that the crisis represented a massive opportunity for the government to implement radical change. "We could institute large scale social welfare, just like PM Khan has been wanting to do:  
According to Naveed Iftikhar, adjunct faculty at Lahore University of Management Sciences (LUMS), thinks that PM Khan should have clearly spelt out resource allocation and mechanisms to spend the public money to fight the pandemic.
"He advised avoiding fear. It is understandable as a premier he has to suggest avoid panic. But he was also supposed to lay out his plans to boost the confidence of people. I think we need to limit economic and social activities for at least 3-4 weeks." said Iftikhar. 
He also said a comprehensive social protection package should be announced for almost 30% of the bottom households in the economy, with a mix of cash and food supply. 
Adnan Haider, Associate Professor of Economics at IBA, went so far as to say that a lockdown was economically feasible, and should be done immediately. "If he [PM Khan] goes for a strict policy, poor and daily wage workers will suffer most. Let us not forget that 24.7% of the population is living below the poverty line, which means their monthly income is less than 4000 rupees. In public policy, you have to make choices. Sometimes, less evil is an optimal one." he said. 
Now, the business people
Usman Gul, the CEO of Airlift, said he expects major cities in Pakistan to enter a state of complete lockdown over the next two to four weeks. His company is one of the few that was quick to act, shutting down a service that was based on the opposite of social distancing.
"As cities are locked down, businesses will either need to or be forced to, suspend services and operations. In the case of corporate workers, this will likely result in individuals working from home. In the case of the most marginalized segment of society, we will see a clear impact on income in the form of lost jobs or less work."
He called for relief funds set up jointly by the private sector and the government to lessen the blow of catastrophe. 
Nauman Lakhani, country manager at Dun and Bradstreet Pakistan, which provides data and analytics to businesses, also expressed disappointment with the State Bank. "The central bank again here could have done more as it was expected in the market and demonstrated by other economies. Historical low-interest rates are common now vs 75bps reduction is quite low. The economic stimulus needed for Pakistan is high." 
Lakhani expects the state bank to announce further cuts and economic measures in the coming weeks. 
"The domino effect of the closure of shops, malls, offices, buses, trains, and especially SMEs will have a ripple effect on the economic degradation. We are dependent on China for a large portion of our trade. If those import-related trade is not affecting the economy, then they should be disallowed or curbed to reduce the import bill post normalization." Lakhani added, 
Interestingly, he said that businesses are still optimistic. "Pakistani people and Pakistani firms have seen many economic cycles. We as people are quite passionate about charity. If we can support Afghanistan at this time, then why not our own people? I do not remember in the recent history of hunger being an issue."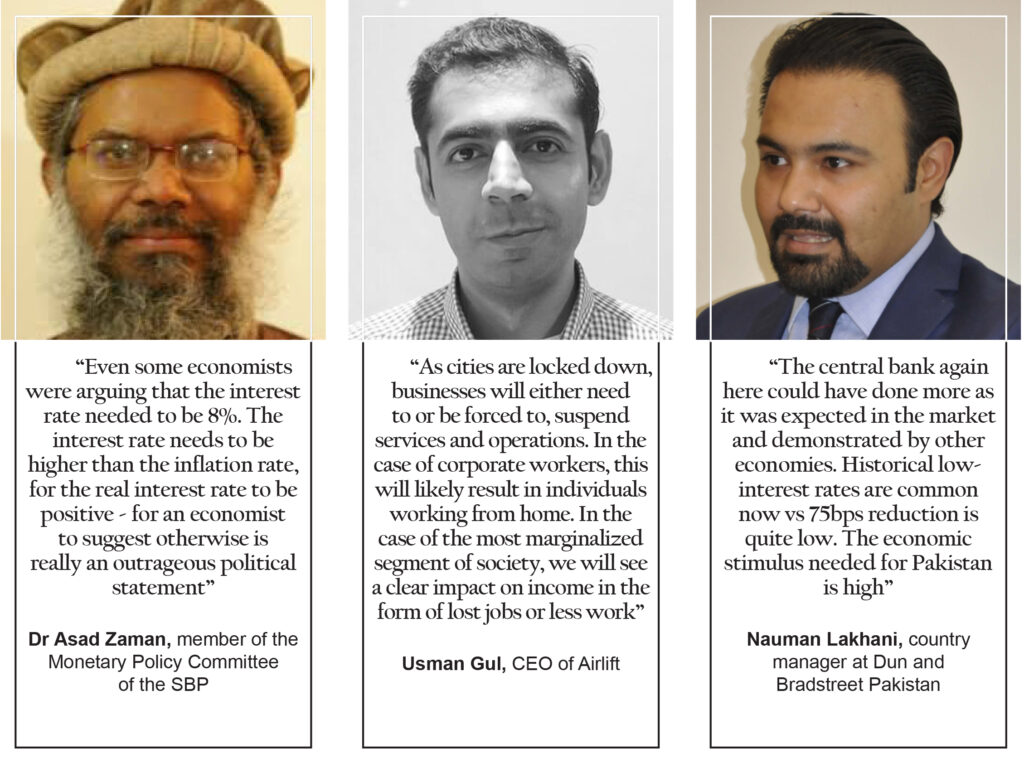 Asfandyar Farrukh, the Managing Director at Hub Leather was concerned about the drop-off in consumer spending expected because of the virus. In particular, he was concerned about the impact it would have on the already frail retail sector.
"Retail revenues for non-food and non-medical items in parts of the country have been below 50% for over a week now due to partial closures and are rapidly shrinking towards zero sales. Retail is the front-end of many associated businesses such as raw material manufacturing, weaving, dyeing, stitching, assembling and several service-oriented businesses that rely on retail," he said.
Farrukh also highlighted that retail contributes around 16% of the total workforce of Pakistan. "It is not possible to pay salaries with zero revenue. If there is no substantial relief from the government and landlords within a few days, the majority of this sector could go bankrupt and many other sectors may go down with it over the next few weeks and months."
While he was more positive about the SBO, he did think loans for new investments seemed like wishful thinking: "The SBP needs to immediately divert its focus from encouraging loans for new investments (TERF), which are not expected) to urgent cash flow support for already established businesses in the form of easy zero-interest loans and credit facilities before they shut down and cannot reopen."
Wasif Sikandar Butt, Director at clothing brand Maria B, believed PM Khan's speech was realistic. "As a textile brand we understand the thousands of people depend on daily work in the entire textile chain to make ends meet. If the Government can come up with a plan to ensure provision of basics goods to the most vulnerable – then learning from other countries we should go for a short but complete shutdown to tackle this effectively."
He was however, gravely concerned about the retail sector: "The current meltdown in the retail sector has resulted in a complete drying up of cash flows especially for the non-food and grocery segments. In the coming days we will need strong policy support from the SBP to ensure businesses have emergency access to liquidity and waivers on debt repayments to banks."
He went on to say that this was the biggest crisis the retail sector had ever faced. According to Butt, . clothing and shoes businesses are now experiencing a 50 to 70% drop in sales, and most businesses will not have sufficient sales to even cover salaries, let alone rents, taxes, or bank payments. " Our supply chains which include spinning, weaving, processing and embroidery are grinding to a halt due to liquidity crisis and lack of further orders from the retail sector." he said. 
Moving forward, Butt said the government must intervene: "We just have to look at what steps other countries have already announced to help retail businesses such as Government backed rental waivers, tax and utility waivers, interest free loans etc. Once business owners see that their losses have been reduced with government help then then no business would want to let go of their employees."
Shahid Nazir, the CEO of Masood Textile Mills (the 10th largest textile exporter of Pakistan), said that the release of DDT funds was appreciated, but was quite inefficient. "The government must release funds to exporters on account of pending sales tax and income tax. Support is also needed from the government for compensation on account of payments to workers without production." He also said that the SBP is expected to freeze markup and defer principal repayment of commercial banks from exporters. 
Adil Bashir, the chairman of APTMA Punjab, said he was disappointed by the State Bank. "Inventories have started to build up due to cancellation and delays in shipments and the export oriented sector cannot bear such high interest rates. The SBP should waive interest rates for three months and freeze all repayments till the Coronavirus situation improves. This meager reduction in interest rates will lead to large scale closures if inventories do not move."
Veqar ul Islam, the director of Jaffer Business Systems, and policy board memebr of the SECP, thought the PM's speech was an enagaging one, but was concerned about the implications of a lockdown. "It is a tough call. Damned if you do, as you kill poor and daily wagers with hunger and unemployment. Damned if you do not, as you risk more people getting infected. I personally believe a two weeks lockdown may be a better idea, but then I may not be showing a lot of consideration to the poor in coming up with this conclusion," he said. 
As for the State Bank, he was less enthusiastic: "I am clearly disappointed with the small decrease in interest rates. Around the world, rates are cut to provide stimulus to the economy. These are not normal times. I have not experienced anything like this in my life. In abnormal times you do not make normal decisions and follow a cookie-cutter approach."
Speaking on businesses, he said that just about everything will be affected. "Slow down is visible and you can literally feel it by the hour and day. Businesses will cut down on expenses to sustain these difficult times, they will delay hirings and any expansion plans. Layoffs are a real possibility."
But is there also a possibility for innovation? Says Islam: " We can leapfrog into a new era which we have been avoiding for long. As we speak businesses have moved to Remote working, schools have moved to online learnings, the health system is working with remote support, even Govt is working remotely like PM having a meeting of coordination committee digitally. I would like to see these become a lifestyle once we are out of this. We can actually cover the distance of lost decades in the next few months to match with the top nations of the world"
Ammar Habib, head of APAC Investments, i5 Capital, was in the minority of those who viewed SBP positively. "From my conversations with business owners, high-interest rates have been one of the key pain points during our austerity measures in 2019. Lower borrowing rates should hopefully get business expansion into motion."
He, too, was conflicted about the effect of a shutdown of the economy. "The more you lock down businesses, the more you affect the economy. The less you lock down the more strain you put on hospitals. As a citizen, you hope the government is making calculated decisions."
Moving forward: Profit's guide to your business surviving the pandemic
While there is a 97% chance of recovery from the coronavirus, the same cannot be said about businesses. It is in the best interest for business owners to take the devastating prognosis with a pinch of salt and adapt their businesses accordingly. 
The coronavirus might be around for many years, with a chance of it being a seasonal occurrence too in the future. Thereby, businesses need to adjust accordingly. Businesses will have to step up, not only to curb the cost of their operations, but also the external costs on the economy.
So how should a Pakistani business fight off a global recession worsened by a pandemic? According to recommendations set about by PriceWaterhouseCooper, businesses should:
Plan
Envision the worst case scenario and create a plan accordingly. While it would be convenient to live in a bubble, the possibility is far from possible. Having an emergency preparedness plan is an excellent way to give your company a sense of direction during difficult times. This will help lay out rules and efforts that are to be undertaken.
In order to calculate risks, stay updated with the number of cases discovered, deaths, and recoveries to understand and position plans. Understanding where the curve peaks and the mitigation measures that are being undertaken will help. This research will also keep you informed about bans and relief given by the government.
The most important way to tackle the problem is to stay two steps ahead. Speed is key at battling the repercussions of the disease. Businesses, now more than ever, need to be proactive than reactive with their policies and plans.
Work from home
Regardless of whether you have a work from home policy or not, what better time to test it than when the government encourages social isolation? Depending on the industry and nature of work, the evolution of technology makes it easier for employees to work remotely. 
It is suggested that employees that can work from home should work from home. This is in order to reduce their exposure to the virus and thereby curtailing the spread. 
Keep your employees safe
A business cannot function effectively if its workforce lay at the perils of a deadly virus. While that should not be the only motivation for you to take care of your employees, businesses need to ensure that safe working conditions need to be provided for individuals that cannot work from home. Stocking up on disinfectants and hand sanitizers is important. 
Regularly requiring desks, floors, door knobs, etc to be sanitized and disinfected is essential too. Along with rules being implemented that curtail the need for meetings, and completely ban any physical interaction such as handshakes, high fives, hugs, or fist bumps.  
Not only will employees appreciate the extra effort the business is putting in to keep them safe and healthy, but will also ease their minds regarding fear of catching the virus. 
Effective dispersion of informations
In order to remove the air of uncertainty and confusion, timely updates and dissemination of information to managers and subsequently to employees will not only improve productivity but will also ensure morale during these difficult times in the nation.
Make use of relief from the government
The government is working on a number of policies that will help cushion the blow on businesses. With the State Bank of Pakistan working towards easing the impact on the economy by beginning a cycle of easing, businesses can now renegotiate rates with banks. 
Working Capital management
If you do not actively use or refer to your short term cash flow forecast, this is the time. A three month rolling cash flow forecast can help plan in advance for any shortage that is to arise. This also gives you the chance to act prior and hedge positions in FX. 
Furthermore, this gives businesses the chance to understand when they will need to raise cash and will keep partners and shareholders better informed. 
Prioritizing payments in terms of urgency is also important. Identifying what key payments are to be made prior are essential to avoid further supply shocks. 
Businesses further need to identify surplus assets they have in case the need for immediate liquidity. 
Supply Chain
Set out sufficient lead times considering your inventory position. Businesses can use relevant models for this. In addition, as a form of contingency, you will need to identify alternative suppliers and alternative inputs that can be used in the production process. 
If you import, you will have to take into mind new border regulations and also take into account the spread of the virus in that country. 
Sales Strategy
Your sales strategy will need revision in light of the business environment and the purchasing power within the economy. Staying in business is a long term affair and thereby, businesses need to understand that protecting customer relations in times like these are in the best interest for the firm.
Corporate Social Responsibility
Businesses have the opportunity to give back to society. Corporations that produce disinfectants and sanitary products could help members of society through the distribution of some of their products. 
Data integration
What better time to integrate data into the business operations than now? Devising data models to understand your finances, sales, supply chain, and consumer behavior will not only help beat the virus, but give you an edge in business. 
-With additional reporting by Hassan Naqvi