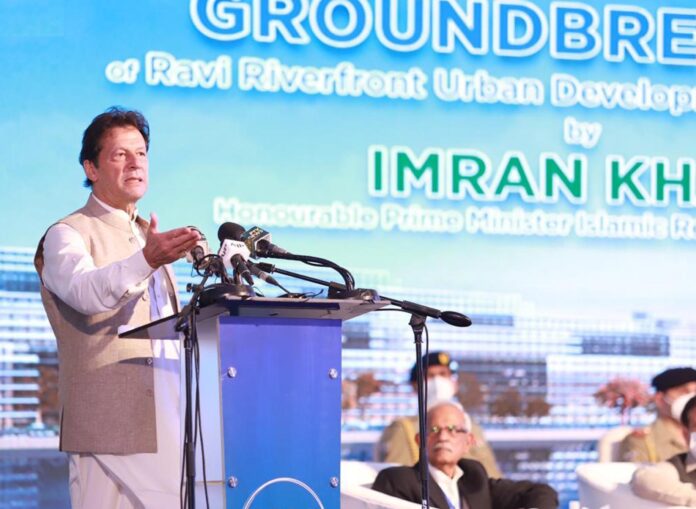 –PM performs groundbreaking of Ravi Riverfront Urban Development project
–CM Buzdar says dream of largest project in country's history being materialised
LAHORE: Prime Minister Imran Khan performed the groundbreaking of Ravi Riverfront Urban Development (RRUD) project on Tuesday.
Speaking on the occasion, the Prime Minister said this will be the planned city equipped with all the latest facilities. He said that six million trees will be planted in it.
The prime minister said that the people at home and at international level are evincing their interest in this mega project. He directed the provincial government that there should not be any delay in the execution of this project and assured the federal government's full support in this regard.
The premier said that the government will provide basic infrastructure in this new city project whilst the rest of the city will be raised from the investment. He said that this city will have separate centres for information and technology and education.
PM Imran said that there will also be affordable housing in the city to accommodate the poor people. He said the that government is also giving loans on low-interest rates so that the salaried class, labourers, and low-income groups could own their houses.
The prime minister said the vision of Naya Pakistan is to lift the people out of poverty.
"Establishing a new city is not an easy task and you will definitely face difficulties and barriers. However, this new city is the need of Lahore and Pakistan. Neither anyone has cared about those living in 40 per cent rural areas of Lahore nor pursued town planning after thinking about the poor people," he said.
The PM said that the pace of construction of Ravi Riverfront project possesses importance and the federal government will provide maximum assistance for removing all barriers in the urban development project. "The project will be completed with the coordination of the private sector and the Punjab government will complete its infrastructure. The country will witness huge foreign investment through the Ravi Riverfront project which is being initiated under a comprehensive plan," he said.
Speaking on the occasion, Chief Minister Punjab Sardar Usman Buzdar said that it is a historic opportunity that PM Imran has laid the foundation stone of the Ravi Riverfront Urban Project and the dream of the largest project in the history of the country is being materialised.
The chief minister deplored that the plan of this project was envisaged seven years ago but the past rulers could not start it because the projects aimed at bringing real changes in public lives were not their priorities.
The CM said that the government will develop a 46-kilometre long lake in the bed of River Ravi. It is an environment-friendly project and more than 6 million planted trees will considerably reduce environmental pollution. Along with it, a barrage and wastewater treatment plant will also be installed for water and the rainwater will be stored in the lake, he added.