If we were to claim that there was one single man whose presence could jolt Pakistan's news media industry out of its slump and get it back up on its feet, you might laugh. But this is exactly the kind of reverence that some sections of the industry hold for Inam Akbar. "If he were to be released, he has so many strategies, and so many ways to fix problems that his mere presence will calm the unrest in the media industry," says twice former federal information minister Firdous Ashiq Awan in a 2019 interview. Mubasher Lucman, a senior television anchor, has similar views. And they are not the only ones calling for charges against Inam Akbar to be dropped.
But who is Inam Akbar? 
For years, there has existed a great, intricate, web of connections between news media organizations, political parties, government institutions, bureaucrats, and advertising agencies that has been ruling the entire media industry in Pakistan. At the center of it all has been one man, Inam Akbar, who has been exerting a great gravitational pull that has kept the entire media industry up and running. The perception is that anything he touches turns into gold, and one of the reasons for the news media industry being in crisis is the absence of him and his appropriately named advertising agency, Midas. 
The story of Inam Akbar has seen dizzying highs and now abysmal lows.Outside of those involved in the business of the media, particularly the news media, he has kept a relatively low profile. Most people will have heard of Mir Shakil ur Rehman, Salman Iqbal, or even Mian Amir Mehmood as the big players in Pakistan's media industry, but for anyone that has been involved in the business end of journalism or media, Inam Akbar has time and again overshadowed them all. As owner of few of the country's largest advertising agencies, with most of the government and real estate accounts on his client list, he was really the one that held the purse strings. 
Today, he is nowhere to be seen. The once mighty figure that made the owners of large media houses and politicians dance to his tune is currently out on bail in a number of corruption references filed by the National Accountability Bureau. His main advertising agency, Midas, has gone from the largest advertiser in Pakistan to being suspended and blacklisted by the All Pakistan Newspapers Society (APNS) and Pakistan Broadcasters Association (PBA). And Inam Akbar has gone from the puppetmaster practically bankrolling the country's entire media industry to being the biggest defaulter in the industry's history. 
Article continues after this advertisement
As the media industry grapples with the largest bad debt it is likely to book in its entire history, they will have to reflect on a man that started off by astounding them with his brilliance, lured them in with his connections, and then, before they even knew it, had them stuck in a loop of defaulting payments, strongarming them into 'discounts,' and convincing everyone that Midas (and more importantly Inam Akbar himself) was too big to fail. 
One thing is for sure, it did all start out with brilliance. Over the years, Inam Akbar would apparently perfect the art of bribery, and leverage personal relationships to make himself and his advertising agency larger than life. But as a number of media personalities point out, the news media industry owes a great debt to Inam Akbar because of the special talent he had for convincing the government and real estate moguls to spend money on news media advertising, an ability he used to its maximum potential and then some. Where did Inam Akbar come from? How did he become the biggest advertiser in Pakistan? And more importantly, what made him go from mythical proportions to notoriety in the industry that was for years codependent with him? The story starts a generation before Inam Akbar, and it starts in a newspaper office. 
Shaky foundations 
The lifeblood of journalism and advertising has long been tied together. Ideally, newspapers and television channels should not be dependent on revenue from advertisers considering it might taint their reporting of events that involve their advertisers. In Pakistan, this is much worse, because the largest advertiser is the government itself. 

But because of this unfortunate alliance that does exist, when most journalists get tired of the low-pays (or the no-pays) and are disillusioned by how disempowered they are, advertising is one of the professions they can very easily transition into from journalism. That is exactly what happened to Ghulam Akbar (born July 1939), who was the father of Inam Akbar. 
At the age of 22, he joined the Daily Kohistan as the magazine editor and was promoted to the Karachi bureau chief within a year. He quickly rose in the ranks, being promoted to the dual role of general manager and executive editor. This is where he first started to meet, interact with, and befriend the founder of Orient Advertising, S.H. Hashmi. It was also soon after this that his first son, Inam Akbar, was born in June 1963. 
For a while, things were good. Ghulam Akbar was at the top of his game after more than a decade in journalism, but the arrival of the Bhutto administration in 1971 meant everything was changing. Akbar felt the squeeze of what can politely be described as Bhutto's not-so-friendly press policies, and at the peak of his career, bid farewell to journalism. But work he still had to, and right in front of him was his lifelong friend S. H. Hashmi. So in 1974, Ghulam Akbar joined Orient Advertising as the head of Northern operations. It was also here that the career and life trajectory of Inam Akbar would be sealed.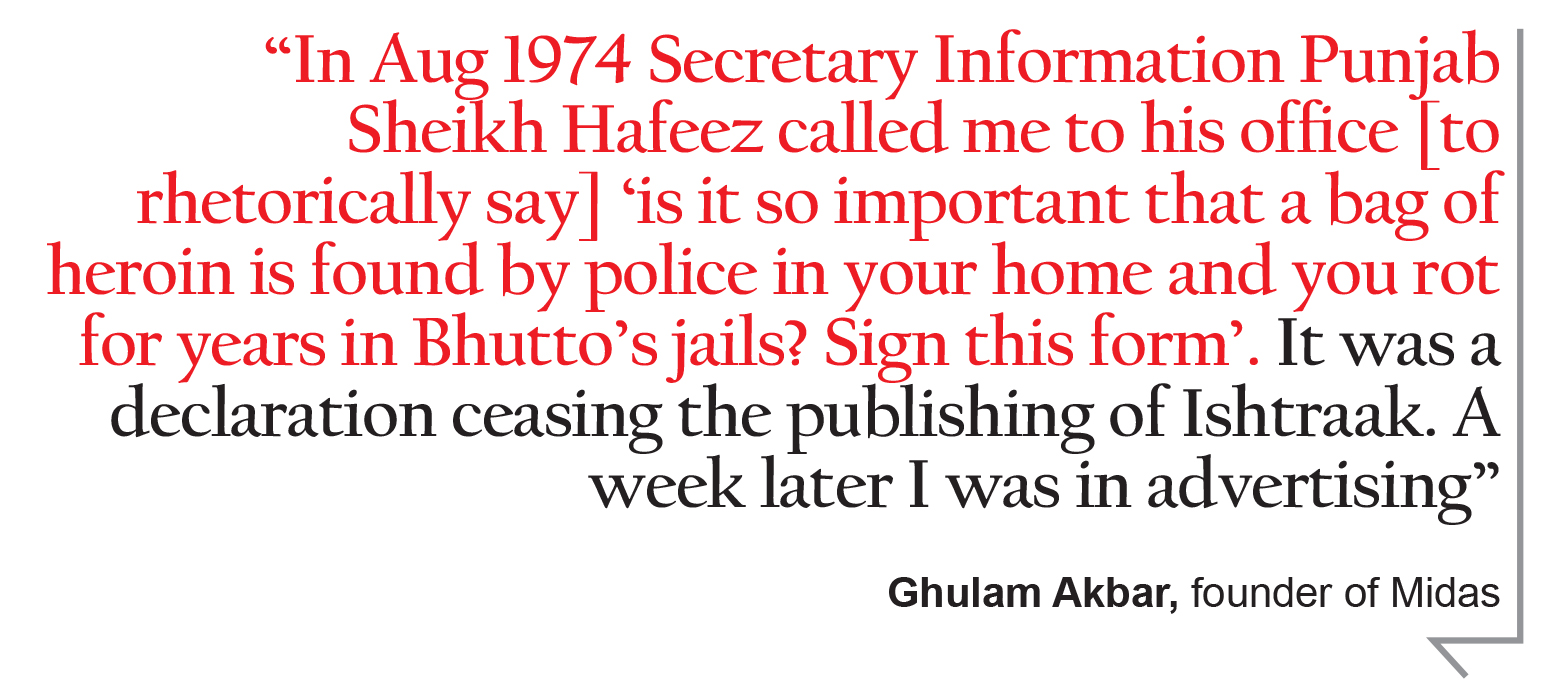 "In Aug 1974 Secretary Information Punjab Sheikh Hafeez called me to his office [to rhetorically say] 'is it so important that a bag of heroin is found by police in your home and you rot for years in Bhutto's jails? Sign this form'," said Ghulam Akbar. "It was [a declaration ceasing the publishing] of Ishtraak. A week later I was in advertising."
After seven years with the advertising agency, Ghulam founded Midas Pvt Ltd on the 21st of April 1981. The business was inaugurated formally by Nawaz Sharif and Raja Zafarul Haque on the 4th of June 1981. By 1985, after completing a bachelor's in engineering from the University of Engineering and Technology in the mid-80s, Inam Akbar joined Midas Pvt Ltd at the age of 22, the same age at which his father joined the Daily Kohistan as the magazine editor. By 1986 and 1988, his brothers Aftab Akbar and Nadeem Akbar also joined the family business. 
The brothers took to the business like fish to water, and satisfied that he would be leaving Midas in good hands, Ghulam Akbar handed over the reins to Inam in 1991, after exactly a decade at the helm. Ghulam Akbar went on to Midas Media Services in 1991 while his wife Shameem Akhtar founded Midas International that same year. Within a decade, brothers Nadeem Akbar and Aftab Akbar ventured off on their own, forming Midas Communications and Midas Entertainment in 2000. But it was clear, Inam was now in charge, and his skill was outweighed only by his ambition. 
It was also around this time that the agency took over political advertising for the Pakistan People's Party, the very party whose government had forced Akbar out of journalism. However, Inam was a different man, and Benazir was a different kind of leader, so the arrangement worked. Over the years, Inam would go on to cultivate relationships with nearly every single political party in Pakistan, and Midas would get their business with the exception of the Pakistan Muslim League-Nawaz (PML-N), despite Mian Nawaz Sharif innaugurating Midas. During the Musharraf era, Inam Akbar woul grow close to and conduct business for the Pakistan Muslim League-Quaid (PML-Q), while at the same time maintaining his relationship with Benazir Bhutto and Asif Ali Zardari.    
Eventually, when Musharraf was finally pressured into leaving office and holding elections, it would be Midas that handled the PPP's election marketing campaign. So when the PPP came to power again in 2008 after more than a decade-long wait, lucrative government contracts awaited Midas. What also awaited them was a PML-N government in Punjab that was seething at Inam Akbar. The result was chaos, and Inam thrived in the midst of the madness. 
Political connections aren't enough
Here is how it all works. The government wants to advertise so that its perception among the public improves. It wants attention paid to its schemes and projects, and because of this it needs someone that can curate ad campaigns and then spread them through newspapers and television channels for them. They hire an advertising agency to do this, which does all the work in making the campaigns and ads, and acts as the go between for the government and media organizations. It then takes a cut from the deal. 
This was the first thing that Inam Akbar was incredibly good at: convincing politicians that they needed to advertise and getting them to spend cleverly on the news media. "Inam has this natural gift that his clients would heed his advice. This and Inam's ability to see beyond the present were the secrets to his success. He used to talk about digital media when the rest of the industry was still not convinced on cable television," explains Rizwan Ashraf, a senior media sales professional. "And then he would back his ideas with investment and sometimes he would incur loss as well, but that did not deter him from taking risks." 
But things are not as clear-cut and simple as they appear. As was discussed recently in an earlier Profit feature, corporations in Pakistan treat media as a commodity and try to get it as cheap as possible. Media agencies that want to pay employee salaries on time and generate a profit secure backdoor deals with media owners, restructuring deals on the front end and back end to accommodate all of these realities. Essentially, what this means is that they fudge receipts and try to get as much out of it as possible. In a way, this has become necessary for advertising agencies to survive.
And when the government advertises, things are a little bit different. You see unlike the significantly smaller cuts that corporations give to the agencies, the government gives a set 15%. The problem is that while the government is giving this much commission to the agency, to actually get contracts, agencies have to grease the wheels a little and pay off the necessary bureaucrats and politicians that need to sign off on such things. This is the second thing Inam Akbar had become a master of over the years. According to a source who wished not to be named, Inam took this game to a new level " He would not just take good care of some of the senior people in the government departments but also junior officers who might (or might not) reach a position of authority one day," the source claimed.  

During an audit of the accounts of Abdul Majeed Shahid, Punjab's former director-general public relations in the tenure of the Pakistan Muslim League-Quaid (PML-Q) regime, Rs 632.59 million in fake invoices were unearthed, all of which were connected to Midas Pvt Ltd, the full-service advertising agency owned by Inam Akbar. While Inam may have had the political connections that got him advertising business, offices like that of the DGPR can still make your life a living nightmare, and it is easier to simply bribe them off as well. 
But then the problem arises that if you are bribing everyone from the DGPR to the smallest cog of the information ministry, then you are bleeding a lot of cash. Especially since these officials often demand to be paid off in advance instead of after the advertising agency receives its payments from the government. Getting these payments, by the way, is no easy task. The reality of the market is that the government sometimes delays dues by one to two years, and every media agency needs to hedge its investments and bets against these delays which impact the time value of money. 
Assuming the allegations of bribery are correct, so how did Inam Akbar off-set the costs of having to bribe everyone and their grandmother in addition to the government delaying payments by years at times? Easy, he started strongarming the media organizations by pressuring them into giving him 'discounts' with veiled threats about no longer giving them business, and then not passing on the information about the discounted prices to the government, and pocketing the extra amount the government was paying. 
Codependence conundrum 
Imagine this for a scenario. It is 2008, you own a small newspaper, and you have been doing business with Inam Akbar for years. The PPP is in power and you know that he is close to President Zardari. Midas sends you an advertisement that was to go on page three in black and white and says please adjust this in colour on page 1 but for the same price. You know what is happening. The government is paying Midas, lets say, Rs 200,000, as per rates approved by the government for your newspaper. For this ad you are supposed to get Rs 170,000 and Midas is supposed to keep Rs 30,000 as commission. 
Instead, Midas is paying you Rs 57,000 (the rate for a page three black and white ad let us assume), and pocketing the rest of the Rs 143,000, depriving you of Rs 113,000 that should in principle be yours. Why would you ever agree to this? Well, for starters, Midas holds the strings to the government's advertising budget. Then there is the fact that Midas owes you money for previous ad campaigns. And if you make Inam Akbar and Midas unhappy, you may never see that money again. You need Midas. You need Inam Akbar. You know this. He knows this. Your marketing manager haggles on the phone for a bit and Inam's media manager benevolently lets you keep Rs 80,000. You think that might pay a few salaries and accept it quietly. The government never finds out. 
This is what it comes down to. Inam Akbar's business was dependent on him giving bribes and keeping lots of people happy – an expensive endeavour. So he decided he would make his profits at the expense of the media organizations that had no other option but to cozy up to him. Except as time passed, things kept getting worse. The cuts that Inam was taking and the 'discounts' he was demanding from media organizations kept growing larger. At the same time, his power, influence, and the amount of money he owed to media organizations kept growing, which meant suspending his business was out of the question. Inam Akbar and Midas had officially reached the 'too big to fail' category, and he knew this was the case and took full advantage of it. (As per APNS records, his advertising agencies owe more than a billion rupees to the newspapers and the figure is expected to be much larger for the television industry.)
And at this point, it was not just government ads that he was bringing. Few of the largest real estate advertisers in Pakistan including Bahria Town were his main non-government clients. "Inam has risen to where he is due to three factors: the first is his knack for doing political advertising for various political parties and figures, the second is his knowledge of how governments work and how to create and develop advertising for government departments, and the last one is his skill in real estate advertising," said Sarmad Ali, the managing director at the Jang Media Group and the person in charge at APNS. With all of these connections, Inam Akbar had made himself indispensable to the news media industry. 

"Over the years he has acquired and established a group of advertising agencies [such as] Evernew Concepts, X20, Creative Consultants, and so on. I think there are eight agencies under the group," Sarmad adds. Wherever you looked, it was the hand of Midas and Inam Akbar. In the absence of business partners and stakeholders that would question and second guess every decision, Inam Akbar set out with an ambitious expansion plan, one which would hedge itself against the very nature of the media and advertising industry. 
The crash 
To recap, Inam Akbar was a shrewd advertiser that figured out very quickly that even if he had connections in the government (which he had plenty of), there was no way he could grow his business without paying people off. And the only way to manage that expense was to technically shortchange the government by manipulating media organizations to take less money than they were supposed to be getting from the government, and pocketing the change.
The only problem was that while this system worked and made him arguably the largest advertiser in Pakistan, it also made him enemies. In 2008, when he managed the election campaign of the PPP, he ran a number of ads that were considered by the cadre of the PML-N to be crass and below the belt. So while the PPP coming to power paid off big time for Midas with their continued patronage and both federal and Sindh government ads in their pocket, they had a staunch opponent in Punjab, where Shehbaz Sharif would rule with an iron fist for the next ten years. 
And because Inam Akbar had been close to the PML-Q government that had preceded the Sharifs, he had done a lot of work for them. At this point we must say again that the structure of the government is fundamentally flawed and bribery is built into the system. Many of the media agencies other than Midas that were hired by the successive administrations were not much better, but according to some the trend setter for this racket of bribery and shortchanging was Inam Akbar. 
Because of the many projects he had done for the PML-Q, Shehbaz Sharif ordered inquiries and started digging into the activities of Midas. Was this motivated in some part by revenge? Absolutely. For all his 'good administration rhetoric and performance, Shehbaz Sharif is notoriously petty. Sources told Profit that when Shahbaz Sharif became chief minister of Punjab in mid-2008, he halted payments owed to Midas Pvt Ltd due for projects done for the PMLN-Q such as the Punjab Crorepati Scheme and work for Bank of Punjab. But were the allegations based on reality? Most likely, yes. 
In fact, despite this vendetta, the PML-N actually wanted to work with Inam Akbar for the 2013 election. However, his loyalty to the incumbent government remained, and according to another source, charges were accelerated against Akbar because of his refusal and a new wave of NAB cases hounded him. In 2012, the government of Punjab reportedly approached the Supreme Court, federal, and the three other provincial governments for the recovery of millions of rupees allegedly embezzled by Midas Pvt Ltd, which worked for the provincial information department from 1996 to 2007-08. It is alleged that Midas Pvt Ltd managed to get fraudulent and bogus payments worth hundreds of millions of rupees from the Punjab government on the basis of fake invoices and in collusion with some public functionaries.
Among the fake invoices unearthed worth Rs632.59 million, was an amount of Rs208.657 million pertaining to the Punjab development funds' advertisements, which represents a total of Rs94.386 million and Rs114.271 million in print and electronic media campaigns respectively, pertaining to the Punjab Development Fund (PDF) Crorepati Scheme in 2004. On the charges of embezzlement, Punjab's Anti-Corruption Establishment (ACE) registered a case against eight accused, including Inam Akbar and Abdul Majeed Shahid, the latter of which evaded ACE and fled to Canada.
Despite these proceedings, Midas and its sister agencies continued to do business with the government, as evidenced by various testimony, and the agency is listed as one of the beneficiaries of the Rs300 million secret fund, earning Rs.37 million for a media campaign titled "Benazir Bhutto Song".
The legal complexities manifest 
From here on out it was a case of falling dominoes. Inam Akbar had been the man in the media industry for decades, and suddenly there was an avalanche of court cases he was getting buried under. And while he has turned into the focal point for criticism, he represents the larger issues with advertising in Pakistan. Because other media agencies continue to use the same tricks of the trade that were perfected by Midas. If it had not been Inam Akbar, sooner or later, it would have been someone else. 
In November 2015, the first real sign of Inam Akbar being in serious trouble cropped up when he was removed from a flight and told he had been placed on the Exit Control List (ECL). On the 6th of September 2018, NAB filed a corruption reference against former Prime Minister Syed Yousaf Raza Gillani and others for allegedly misusing their authority in an illegal publicity campaign which caused millions of rupees loss to the national exchequer. 
According to NAB, Midas Pvt Ltd violated Press Information Department instructions regarding media campaigns and undertook an entire electronic media campaign without getting any written release orders from the Ministry of IT nor from Universal Services Fund, serving an Rs 128 million bill for payment. Violating the Public Procurement Regulatory Authority (PPRA) rules and policy guidelines by the Ministry of Information and Broadcasting and PID, there was no competition held for formally awarding the media campaign, NAB claimed. 
"NAB does not understand how the advertising industry works," said a source. "They expect you to manage the 15% you have a right to and deal with it. They don't know or choose to ignore that a government-side or advertiser client-side decision-maker is taking an upfront cut of the deal so she can be worthy of a Canadian immigration scheme. NAB chooses to ignore the reality of the business and should be holding those accountable who accept the bribe rather than those that have to pay the bribes, who are the real victims in any scenario."
Aftermath 
In the face of all of this, Inam Akbar has remained stoic, and is trying to keep up appearances. Once thought impossible, his agency Midas has been suspended, and during a Sindh Committee meeting held in January 2018 by the Council of Pakistan Newspaper Editors, the efforts of the courts and NAB which led to the arrest of Inam Akbar was lauded.
Speaking with Profit, Inam Akbar said that all the allegations against him may have been the result of various stakeholders being upset over not finding the gains they expected from his business dealings. Next year he plans to be back in full bloom again and hopes that his relationships with the industry should have new parameters. 
"The general perception is that there is no agency in Pakistan that doesn't use women, alcohol, money, or influence in order to sway the outcomes of their business dealings," said Inam Akbar in an interview with Profit. "They all may be doing it but the publishers of newspapers who voice these charges and also call me corrupt are the same ones that print advertisements in a couple of hundred copies and charge as if they have printed in many many a thousands of copies." 
Inam Akbar has a point. The racket of dummy newspapers and magazines which publish only a few hundred copies, and some television channels with little to no viewership, mostly  being run by influential journalists and anchors, blackmail the governments into advertising with them at exorbitant prices. So what is wrong if an ad agency is able to blackmail these blackmailers?
Inam Akbar told Profit that he in his individual capacity has served a large number of clients in practically all the sectors. That being said, due to international network affiliations taking the business of multinationals, he chose to focus his efforts where big money is, acknowledging that dabbling in campaigns for politicians, government and social sector, real estate developers, agriculture and education sector grew his business.
"Media has largely been concentrated in Karachi, so the idea that a Lahore-based agency becomes this big doesn't go well with some people," he said. "The media agency owners in Karachi never had taken Lahorite very seriously or may even have been disturbed due to my rise. I may have failed to fulfill the expectations of media owners in Pakistan but still claim that the media has always needed a catalyst to generate its business and I was that catalyst. Taking me out hurt them and now they know it."