Of the many lies that Pakistan Studies textbooks tell children in this country, one of the most frustrating ones is about the country's potentials. We bring this up every possible chance we get precisely because it is these misrepresentations that lead to people in earnest believing Pakistan is a jackpot waiting for the right person to come along and help it realise its potential. 
So everytime we see a rosy picture painted about the country's production of sports goods and surgical equipment from Sialkot, or its mangoes and textiles, our reaction is one of frustration. Yes, Pakistan is an agricultural economy, yes it is rich in minerals, but so are many other countries. The one thing we are the largest exporter of is lawn, and even that we refuse to export to its biggest market. 
The example this week of a rosy Pak-Studies picture that is not so rosy is Balochistan. Pakistan's largest province by land mass, rather than its long history of political turmoil and neglect by the center, students are taught about the many minerals and resources that exist in this province. They are taught about the warm waters of the Gwadar port that gives access to sea trade not just to Pakistan but large parts of Central Asia. Its potential with regards to the China Pakistan Economic Corridor has also been a shining beacon for the 'PakPositive' blogger types. 
The real question is, with all of its political uncertainty, does anyone actually want to invest in Balochistan? The answer is yes, and leading the effort is the Balochistan Board of Investment and Trade (BBoIT), a provincial development institute that has become functional in recent years, and has performed commendable. In the last 3 years, the institution has taken some solid steps to initiate and spread the words about the benefits of investing in Balochistan. The institute has portrayed a clear vision of what Pakistan, especially Balochistan is about to become in near future.
Profit interacted with some officials of the BBoIT to dig out the actual proceeding, methodology and initiatives of the department.
The beginning
Article continues after this advertisement
Here is the first thing you need to know about the BBoIT. It does not have a very particular jurisdiction about what sectors it is working in. The body is simply the focal organization that organizes efforts for the economical progression and prosperity of Balochistan by facilitating the investors and promoting trade and investment.
Say, for example, you are a foreign investor (or for that matter even a local one) interested in doing business in Balochistan. You could be interested in anything, whether it is using the Gwadar port or investing into mineral mining, energy production, livestock farming, fisheries, agriculture, or even tourism or housing for that matter. Who do you get in contact with? Before the formation of the BBoIT, you would go straight to the relevant ministry, whose processes would be knee-deep in bureaucratic red-taping. Now, you can simply reach out to the BBoIT and they will facilitate any moves you want to make or answer any questions you may have.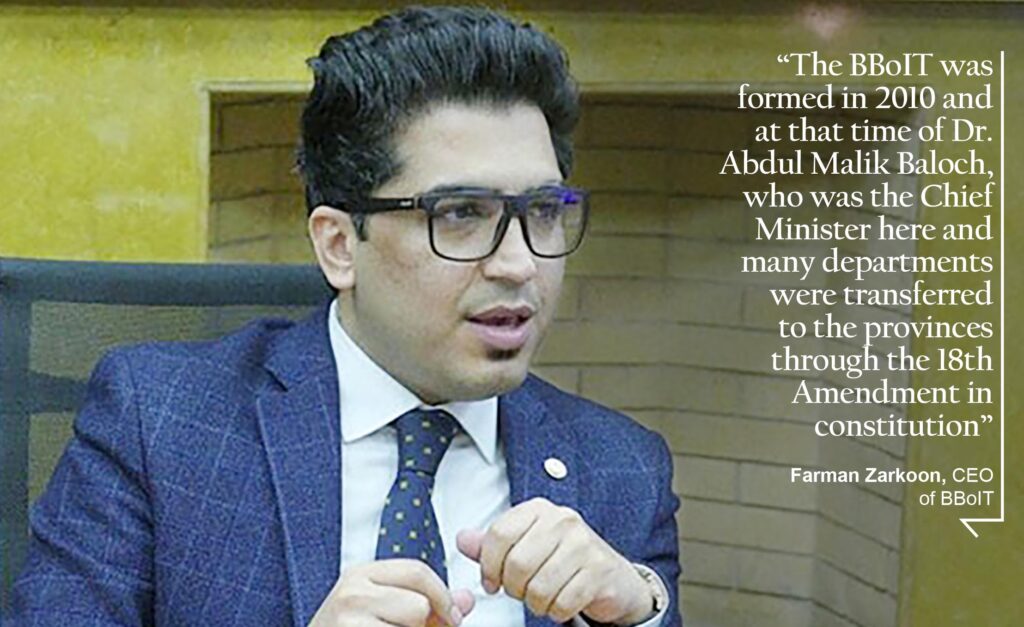 "The BBoIT was formed in 2010 and at that time of Dr. Abdul Malik Baloch, who was the Chief Minister here and many departments were transferred to the provinces through the 18th Amendment in constitution. At that time, the need was felt that Balochistan itself had seen the facility of investors coming in certain sectors and there was also a need for an organization that could help the investors, facilitate them in dealing with technical capabilities and rules and regulations that is why this organization was formed," explains Farman Zarkoon, the CEO of the BBoIT. 
"Prior to the 18th Amendment, there was only the Federal Board of Investment, which assisted all sectors. The main objective of BBoIT is to promote investment and Balochistan has investment opportunities and potential. When an investor comes directly, they may have concerns about the commercial viability of the projects. So we're working on an investment guide. We are identifying all the gaps that investors can fill and that can lead to success for both of us. We are prioritizing according to the needs of the investors, we want what the investors want. We all know that we are endowed with natural resources while there were some things that we knew but we never took advantage of. As we have a large population of young people skilled in IT who are fluent in English." 
"BBoIT is giving special consideration to investors both local and foreign whereas some specific schedules are developed for foreigners. They have been given some incentives from the government. If we talk about the foreign investors, purchasing land here was considered a difficult task for them, which the board has made extremely easy. Similarly, staffing was required to obtain technical and administrative services from abroad, for which obtaining a Pakistani work visa is no longer difficult," explains one source in the BBoIT. 
Essentially, the argument is that Balochistan is a great investment opportunity but that investors shy away because they are worried about inefficiency in getting started and security issues. It is the BBoIT's role to make sure that no investor feels that investing in Balochistan is difficult for them. And one of the main target investors the BBoIT wants to bag are foreign investors. "The government has given certain relaxation for issuing work visas to foreigners. Pakistan has been successful in making bilateral investment treaties with 47 countries. Furthermore, tax has become the concern of many investors. The Pakistan government has agreement over avoidance of double taxation with 52 countries. Similarly, to facilitate the foreign investors, the government further has taken some initiative to assist them." 
As our source explains, other measures have also been taken. Things like making the procedure for registering foreign companies go online. Payment of taxes, integrated borders, custom clearing systems, have all also been shifted online. In addition to facilities, incentives attract investors. Certain relaxations are provided in GST in Balochistan region as regular GST implemented overall Pakistan is 17 percent but in Balochistan it would be 15 per cent. Pakistan has been successful in making trade agreements with different countries including China, Malaysia, Mauritius, Indonesia, Iran, USA and South Asia free trade area. These are all attractive propositions for investors, especially since the main draw is Gwadar port, which is the trump card of the BBoIT in their attempts to convince investors. 
Gwadar factor 
"Gwadar is in the eyes of all and sundry after the collaboration with China over the CPEC project. The surety of ownership of land is given to the foreign investors. 23 years of not just tax relaxation but tax holiday is being provided in our investment policy. Moreover, in addition to all the prior mentioned facilities, the investor will be exempted on custom duties for construction and operation 100 percent." 
There is a lot to be discussed in regards to the country's Gwadar policy. Because right now, it is essentially to get whoever can bring money there to do exactly that. It is a question of creating ease of doing business, and some policies specifically target this objective. Leasing land for upto 99 years is a point that attracts all potential local investors in Pakistan. The status of the power sector and energy cannot be undermined for industry as Balochistan is bringing out energy from renewable resources like solar, geothermal, micro-hydro and wind systems. From solar and wind based plants, 50 MW energy is in feasibility stage and in this regard A G-2-G (Government to Government) project between Pakistan and Saudi Arabia is agreed. Another project Aramco Refinery worth 9 Billion has already been signed between the two governments. Nearly 80 percent of the total fish catch from the Balochistan coast is exported to the Middle East, South Asia, Central Asia and many other international destinations. With these statistics, one can calculate the scope of fisheries on the coastline of Balochistan. Fishing has been the major occupation on the Makran coast for generations. 

"Balochistan is an unexplored land. Many tourists are interested in visiting far flung areas but as there is no such established industry, therefore private investors and companies are interested in investing and exploring the region. Balochistan is home to some of the most beautiful tourist destinations in Pakistan," our source added.
However, on the other hand the project head of BBoIT, Abdul Mannan, informed Profit that in terms of investment, Balochistan is being considered to become the province that brings in the largest investment. "In order to understand the role of our institution [BBoIT] it is important to understand where it works. Balochistan is the largest province of Pakistan consisting of 44 per cent of land and its geo-statistical location makes it more attractive and beneficial as it connects with the international borders of two other countries, Iran and Afghanistan. It also connects with all three provinces (Punjab, Sindh and KPK) of Pakistan.  Other than land, if the sea scenario is considered, out of the entire coastline of Pakistan, the 720km coastline falls in the region of Balochistan which is above 70 percent of the total coastline," explains Mannan. 
"CPEC is the most major current project on the coastline which is being developed in Gwadar and Gawadar is the gateway to CPEC. Investment is coming in different sectors and industries in the Gawadar region as the largest Asian port is about to become real. Other than this mega project, certain other projects are in process. In the term of economy, there is a vast development in the sectors of Mineral, agriculture and livestock." 
But it isn't just Gwadar that they are pouring their efforts into, as Mannan explains. However investing in Gwadar means that the potential of other things in Balochistan will also be unlocked. Referring to the mineral sector, Mannan believes that Balochistan is rich in minerals and compared to Pakistan, Balochistan has the highest mineral resources. "There exist more than 50 different types of metallic and nonmetallic minerals in Balochistan including Rico dick, Iron, manganese and coal. Companies are investing in abstraction and processing. Livestock sector, which has attracted many people and companies in recent months, is acquired by the market in a large amount on a daily basis. If the sector of livestock of Balochistan is discussed, it would be very interesting for all to know that 22 per cent production of livestock of the whole country is coming from Balochistan, and this is true not just for camels, goats, and sheep, but also for poultry. 
"Similarly, 52 per cent of the whole number of sheep in Pakistan are in Balochistan. The meat and milk production and processing attract industries through the statistics. The byproducts of livestock are raw material in many industries as well. On the other hand, when we consider the agricultural sector, Balochistan produces 13 million tons of food annually. The most famous agricultural sector goods include apple, grapes, cherry and pomegranate." 
Foreign and domestic investors 
While Mannan and others at the BBoIT were open to the media, they were still cagey about the details of exactly who these people were that were investing in Balochistan. However, while there are extra perks and incentives for foreign investments, there are also domestic investors, particularly from the relatively nearby Karachi, which is the only other coastal city in Pakistan. 
"Many people from Lahore, Karachi and all over Pakistan are investing in different sectors. Local investors are generally more interested in the coastline, iron mining, and cement resources," he said, indicating that the investors might be players that are already present in the iron and steel industry or the cement industry in Pakistan. Manan explains the efforts of the BBoIT by saying that it has become functional in a short time span as the institution has progressed by leaps and bounds in 2018 and 2019, but in 2020 machinery of different steps stopped and it has affected projects but with the advancement of technology BBoIT remains playing its role sufficiently. 
"The department integrated with different platforms via webinars and workshops. An initiative is underway as the department is planning to publish a book which contains 22-25 major or as people may refer to mega, projects. It will include specific details and things which attract investors," he said.
Investment in Pakistan, especially foreign investment, is talked about and there are claims that this investment is coming to change the destiny of the country, but in practice it does not appear to be so mature. According to Mannan, there is a problem with investors following through, and most of the investment in Balochistan is also in-pipeline process but not on-ground investments.
"The Board works hard to reach out to foreign and local investors and tells every potential investor the potential of Balochistan. BBoIT has shared its guidelines, projects and statistical analysis with embassies and certain banks. Mediums like embassies and banks play sufficient roles and interact with both parties (BBoIT and foreign investors) and the department interacts with them via webinars these days. On the contrary, local investors are attracted via different modems including calls, meet-ups, and inviting them to certain workshops. Some departments help to spread the word especially in highlighting the projects. Board of investment of other provinces and chambers of commerce of different cities filter the potential investors," he said. So at this point, the board is clearly not a stage where investors are coming to them but one at which they are reaching out to investors, which makes their job all the more important and difficult. 
When asked that for the purpose of promotion of industries and special sectors, the government takes certain actions and makes policies. In Pakistan SEZs (Special Economic Zones) are established for industries and certain corporate companies and in such zones certain facilities are provided including cheap electricity, Tax holiday and low land rates with premium facilities with the mere purpose to promote sectors, Mannan replied that 2 projects of SEZ were underway.
"Bostan SEZ and Lesbala SEZ and some private companies will also be accommodated in these areas. A Chinese company has recently gained limelight for establishing a liquor production unit in Pakistan. Prior to this, the same company has established a power plant, two cement units and currently an oil processing unit is under development," he informed.
About the matter of land procurement Mannan elaborates that Balochistan is a very vast region but the population census in this province is very low comparative to other provinces of Pakistan. "A huge amount of land is available to be occupied here in Balochistan. BBoIT works to facilitate the investors if some investors are interested. Land is available and most of it is unexplored for a long time, Companies usually are interested in development on unexplored lands. The government even provides them land on lease but the procedure and rules are followed in every case. Interested companies, especially foreigners, have queries about systems and procedures for how they approach the BBoIT," says Mannan. 
He further adds that more than 100 queries they have received from the day of operation beginning of BBoIT and currently the Chief Operating Officer of BboiT Farman Zarkun is in meetings of certain boards and investors. In minerals, oil is considered a major source as news cum rumours have been circulating for a long time about mega pipeline projects and Mannan put some light on the matter and informs that oil is not being dug anywhere in Balochistan.
On the other hand, Farman Zarkoon, CEO of the BBoIT, said that various sectors are available for investment in Baluchistan and numerous incentives have been provided by the government for investment in these sectors. "A large number of international countries are ready to invest in Balochistan. We have more than 40 international companies operating, including Gwadar alone, with more than 24 foreign companies already operating. We are working on an investment guide. Following the example of USAID, the World Bank and the European Union, we are also developing various policies to facilitate investors that will be helpful in long-term projects. As the Chairman of our Board is the Chief Minister here, this organization is taken very seriously and all the institutions support us."