It would be a shake-up if it were unexpected. By now, the changing of the guard is more routine than it is earth-shattering news at the offices of Pakistan's largest mobile wallet JazzCash. Over the past seven years, the fintech arm of Jazz has seen heads of various departments run it, and two CEOs changed over a period of about two-and-a-half years. 
The latest in the list of CEOs passing through the conveyor belt that is the top position at JazzCash is Atyab Tahir, who decided to step down from his position with immediate effect less than six months after his appointment. He has been succeeded in an acting capacity by JazzCash's CFO Murtaza Ali, who will be assuming charge of one of Pakistan's premium fintech companies and one of Veon's most ambitious business ventures for the second time. 
In fact, the situation is strange enough that as someone with an acting charge , Ali already has more time at the helm than Atyab. Ali has previously served as an interim head of JazzCash for 8 months following the departure of Erwan Gelebart. Erwan served as JazzCash CEO for a little over a year months and reportedly resigned citing personal reasons when he was in Japan. Before Erwan, the company's head of Digital Financial Services which ran the JazzCash project, Nadeem Sheikh also left after serving a short duration. 
That makes Atyab's departure the third in quick succession in recent time, and that has raised more than a few eyebrows given the mysterious circumstances in which the resignation has gone down. While the company has become quite used to an interim CEO coming in and taking the reins while the bosses at the Jazz head office determine who will come in next, Atyab's exit from the company seems to have been in less than ideal circumstances.  After all, Atyab was supposed to have been brought in to fix things at JazzCash, and with a CV that boasts time as the former head of MasterCard with a background in digital banking at HBL, questions are being raised over whether it was Atyab that did not fit into the culture at JazzCash or whether JazzCash is simply not a conducive environment for a CEO. In the wake of the exit, the rumour mill has churned its tales and an underhanded blame game has been played. 
The official announcement was made as past announcements have also been made, in a three-four sentence long email sent to company employees by Jazz CEO Aamir Ibrahim, who has survived all nine of the CEOs that have run the show at JazzCash over the past seven years. So what is the story behind the alarming turnover rate of CEOs at JazzCash, and more importantly how has it been affecting business?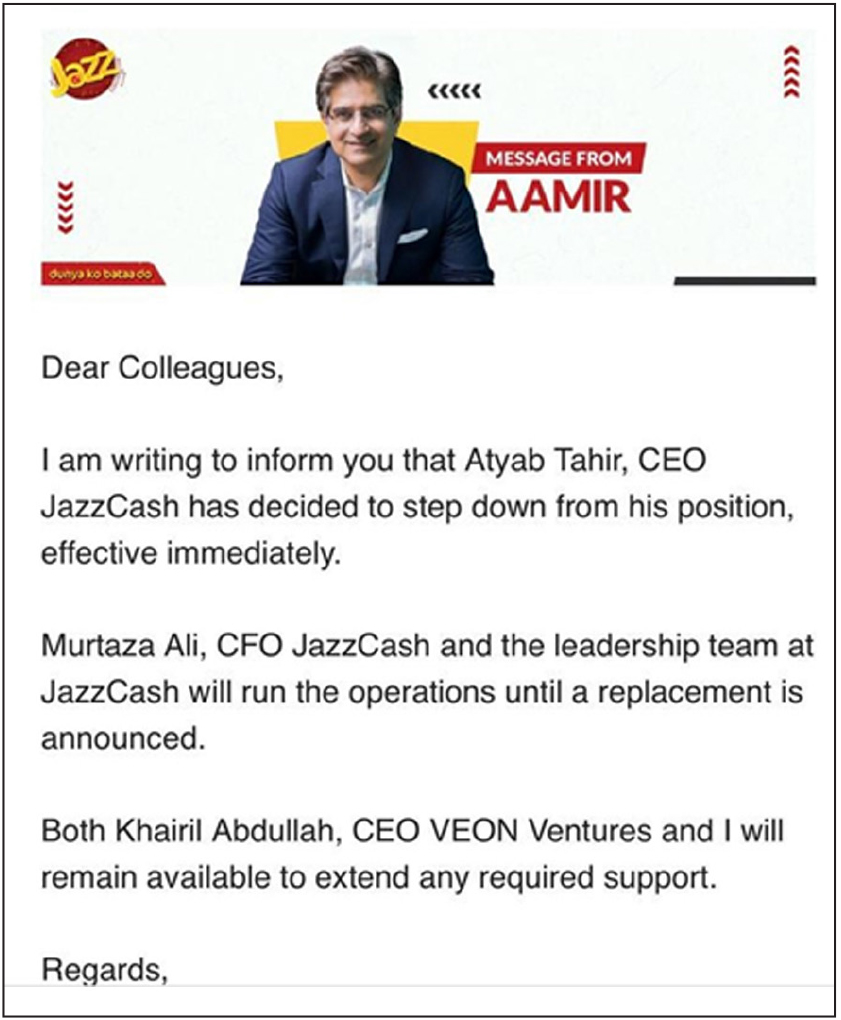 Article continues after this advertisement
Atyab resignation
So what happened? While the official version from Jazz maintains that Atyab resigned over personal reasons, high-ranking officials say that he was asked to resign and the run-up to the resignation was, of course, not a friendly one. It was a mix of a tussle with the higher management of Jazz over business plan execution, heated exchanges, and accusations of bad behaviour. 
Sources told Profit that it seemed like Atyab had a bone to pick with almost everyone in Jazz's senior management. As time went by, it became extremely difficult for those involved with JazzCash's operations to work with the new CEO as he was considered to be a "Cultural Misfit". The disagreements led to full-blown arguments most notably with Jazz's HR department's personnel, ADC and Channel head and Product and Strategy head who left citing disagreements with Atyab as the reason. 
This, coupled with the fact that there was no significant progress on the operational front, led to Jazz's executive management officially inquiring about the matter which ultimately led to Atyab's resignation. Profit reached out to Jazz for a comment, the Telco maintained, "Atyab Tahir has resigned from his position due to personal reasons. We wish him success in his future endeavours." 
JazzCash's aggressive growth targets
While cultural conflict is cited as the reason for the exit of the outgoing CEO of JazzCash, as per sources, a pertinent factor to consider for the high management turnover for the financial services giant are aggressive growth targets. 
It is no secret that Jazz is betting on its Mobile Financial Services (MFS) wing to turn things around in an otherwise stagnant telecom market. However, this optimism has translated into a strategy that is based on a highly ambitious and, at times, unrealistic growth strategy. (Read more about it in Profit's article: JazzCash, Mobilink's favourite child?)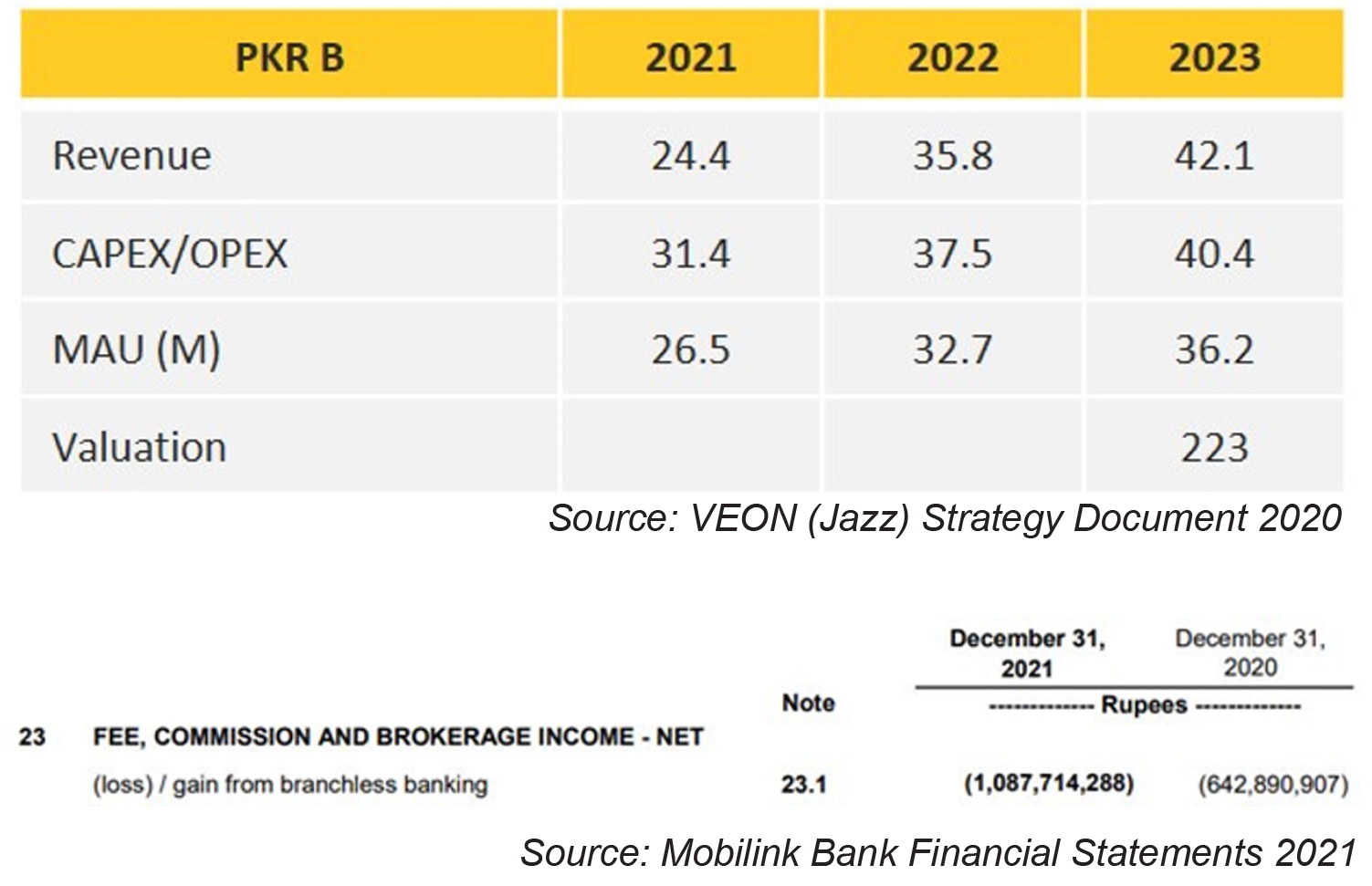 To understand why the growth targets might overwhelm anybody, it is necessary to understand where JazzCash stands at the moment. As per the latest financial results announced by VEON for June 2022, " JazzCash reached 16.2 million Monthly Active User (MAU) (+23.2% YoY), and revenues grew by 58.9% YoY. LTM Gross Transaction Value was PKR 3.7 trillion, with a 29.3% YoY increase. This was supported by the continued expansion of the retail presence, reaching some 119,000 active agents (+44.9% YoY) and almost 157,000 active merchants (up 2.1 times YoY)." 
If we compare these results to the targets set by VEON's management, it is quite evident that what the heads are being asked to achieve is extremely difficult. Existing MAUs are around 16 million while the targeted figure is around 36 million by the end of next year. It is highly unlikely that JazzCash can achieve this figure.   

On top of it, amid the pandemic, the State Bank of Pakistan (SBP) issued circular instructing banks to abolish Interbank Fund Transfer (IBFT) charges to account holders who could no longer go to bank branches or branchless banking agents because of the pandemic restrictions to make these transfers. Slashing these IBFT charges promoted digital payments but took away the primary source of revenue for branchless banking operations such as JazzCash. 
JazzCash has posted an overall loss for the last two years and for the first quarter of 2022, the loss from branchless banking stood at PKR 562 million. 
The negative outlook on the profitability front makes things more complicated for the person who is spearheading the MFS operations. Especially when one considers the fact that the ultimate goal of Veon is to achieve a healthy valuation for JazzCash and sell it out for a premium. Similar to what Telenor did with Easypasia. 
Yet, the goal looks far from materialising. VEON, Jazz's parent company, as part of its acquisition of Warid from the Abu Dhabi Group (ADG) on July 1, 2016, entered into an agreement with the group. According to the terms of this agreement, ADG would have a right, upon the fourth anniversary of the acquisition, to sell their remaining 15% stake in the combined business (now Jazz, formerly Warid) to VEON at the then-established fair value.
Therefore, a valuation was completed in December 2020 by the Bank of America, which VEON appointed while ADG appointed City Bank. As a part of the process, both banks estimated the value of JazzCash to be close to PKR 40 billion. This is way below the targeted PKR 220 billion valuation by 2023 as per Veon's strategic direction given in 2020. 
Further, the same valuation report stated, "Given the negative EBITDA of JazzCash, and the lack of long term JazzCash specific proceeds, the business was valued separately." What doesn't help either is the fact that a significant number of wallets are opened and kept active with the throughput and chargeback strategy of Jazz. It essentially means that free mobile top-ups are the only transactions passing through many of these wallets which significantly exaggerates the gross transaction value. Subsequently, artificially increasing the valuation. 
While Jazz might soon be in the market searching for another CEO to head its digital finance ambitions, it may just rethink its strategy this time around, as the organisation desperately seeks someone who can stick by and execute what its board has envisioned. 
An earlier version of the article mentioned that nine JazzCash CEOs had been changed in a span of 7 years. The article also mentioned that CEO Erwan Gelebart served for 4 months. Profit has since received a clarification from JazzCash that only 2 CEOs had been appointed and CEO Erwan served for over a year. The errors appeared both in the print and online versions of this story, and have since been corrected in the online version.
The errors are deeply regretted.