LAHORE: Toyota Indus Motor Company, a joint venture company between Toyota and House of Habib, has announced an increase in the price of select vehicles. It includes an increase of 6.4% or Rs 461,250 on average with some increases as high as Rs 700,000.The new prices will take effect from 17th November, 2022 and are as follows: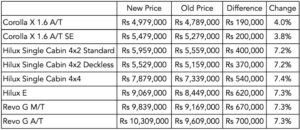 According to Toyota the increase is due to the rising cost of production owing to depreciation of Rupee against the US Dollar.
Notably, all models that witnessed an increase in their prices lie either in the middle or penultimate model in their respective category in terms of pricing. However, Toyota's decision to increase the prices of only certain models have raised questions. 
The new pricing has brought these models closer to their top tier counterparts in the respective category. Therefore one aim Toyota may be pursuing is the use of decoy pricing–redirecting customer spending towards their more premium offerings. Another aim Toyota may seek to achieve is to lay the groundwork by preparing customers for possible even higher relative price increases for the more premium variants of these particular models. 
Irrespective of the aim Toyota seeks to achieve with this price increase, the reason is likely the same: its Rs 3.3 billion operating loss in Q1FY23. Toyota saw its sales revenue collapse by 76% from Rs5.42 billion in Q1FY22 to Rs1.29 billion in Q1FY23. Had it not been for its Rs 5.16 billion from its other income, Toyota would have ended the quarter with a complete loss altogether.