Karachi: The State Bank of Pakistan (SBP) recently took to Twitter to announce a momentous milestone – the total deposit inflows in the Roshan Digital Accounts (RDA), a special banking facility catering to non-resident Pakistanis, crossing a staggering $6 billion. However, upon closer examination, it becomes apparent that this figure may not be an accurate reflection of the actual situation as the data only shows inflows but not outflows. 
The graph shared by the SBP is a cumulative bar chart that simply adds up the inflows to the existing sum of inflows. For instance, the data indicates that the total deposits under the RDA were $5.9 billion, with an additional $155 million registered in March alone.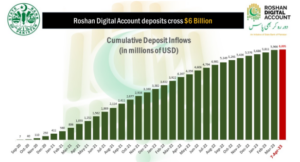 Why is this figure misleading?
The SBP's celebratory tweet only sheds light on the money that has come in, without providing any information on what has gone out. It merely represents the total inflows received to date, without considering the balance. 
Profit had reached out to an official from SBP who was aware of the intricacies of RDAs back when SBP had made a similar announcement of RDA inflow deposits exceeding $4.5 billion.
As per the explanation provided by the official, which is also applicable in this instance, the $6 billion touted by the SBP is simply the sum of inflows that RDA accounts have received since their inception, and does not take into account the withdrawals that have been made during this period. In essence, the SBP's focus seems to be solely on the inflows, without considering the outflows or net flow, which can be misleading.
Since, the SBP does not disclose the balance in the RDA accounts nor the data on withdrawals from RDAs, except for those made to buy NPCs or invest in PSX (Pakistan Stock Exchange), there is no way to ascertain how much has been repatriated and withdrawn by the accoint holders. Considering that SBP continues to withhold this information despite the fact that the issue of lack of transparency and incomplete information has been raised many times in the past,  further raises questions about the reliability of the $6 billion inflow figure posted by the SBP.
In conclusion, while the SBP's tweet may have touted a significant milestone in terms of RDA inflows, it is important to approach this figure with caution and consider the nuances of withdrawals, net flow, and the source of inflows. Without a comprehensive breakdown of the data, it is difficult to fully grasp the reality of the situation, and the SBP's celebratory tweet may not provide the complete picture.