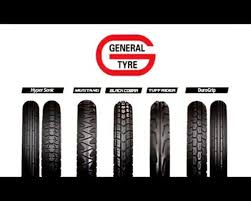 Generally, tires expire in six years and the age of the tires can be tracked using the manufacturing date and a code stamped on the tire but the tires manufactured by the General Tires Pakistan don't seem to have any of those, reported a national daily.
General Tyres Pakistan originally formed by General Tire International Corporation (GTIC), USA is an Original Equipment Manufacturer (OEM). The manufacturing capacity of the company is 2.3 million tires and it stands as the largest tire manufacturer in Pakistan.
The wear and tear of tires can be gauged by a code stamped on the side of the tire. However, The GTP's  manufactured tires do not mention the date of manufacturing and the code is also missing. This may be a serious threat to the international safety standards as the buyer has no mechanism to determine the age and expiry of the tires and whether the tires are properly certified (DOT code or the E-mark). Once the tires begin to wear and tear, it becomes more likely to fail in the form of a tread separation – often at high speeds on the highways where the failure is likely to result in deadly accidents.
Despite the National Highway and Motorway Police (NH & MP)  sending various reminders to the company to adhere to international safety regulations and standards, the company has refused to respond.