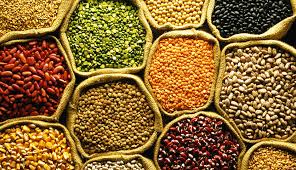 Minister for National Food Security and Research Sikandar Hayat Khan Bosan while addressing a news conference on Friday has informed that the government is working on a strategy to increase production of pulses.
Compared to other crops such as rice, sugarcane and potatoes, production of pulses remains relatively low. The strategy under consideration is expected to cost Rs2b and focuses on the development of seeds for different kinds of pulses and promises incentives for farmers.
Bosan further went on to say that the record production of moong will help ensure that the demand-supply gap for pulses is eliminated.
The Federal Committee on Agriculture (FCA), which oversees strategic measures to ensure food security, set the production targets for the upcoming Kharif crops.
The national production target for sugarcane in 2017-18 has been set at 6.85m tonnes over an area of 1.16m acres. Similarly, the production target for maize is set at 5.6m tons, moong 120,600 tons, mash 11,300 tons, chillies 118,000 tons and tomatoes 154,400 tons. Kharif tomatoes are produced in Khyber Pakhtunkhwa (KP) and Balochistan only.
Bosan further stated that melting of snow will provide sufficient water for the Kharif crops. For 2017-18 Kharif crops, water availability in canal heads will remain 68.12m acre-feet (MAF) against the average usage of 67.1 MAF. At present, all provinces are getting their adequate supplies from the system, he added.
Bosan informed that the availability of rice and maize seeds will be 96.45pc and 96pc of the total seed requirements, respectively. The State Bank of Pakistan (SBP) informed the FCA that allocations of institutional credit for agriculture were Rs700bn for the current year and the disbursement was Rs409bn, which was 58.4pc of the target.
The minister revealed that the government is continuing with the fertiliser subsidy scheme, beyond its expiry in January. Punjab and Balochistan have agreed to provide funds for the scheme while Sindh is expected to follow soon, he added. However, the KP government remains reserved on the issue.
Bosan said the area under cotton cultivation had reduced owing to declining profitability. He informed that the government is ensuring good rates to farmers due to which the price of cotton remained strong, he added.
The minister added that the population census will determine the actual number of small farmers in the country. He revealed that 97.5pc farmers fall in the category of small farmers with landownership of 5 to 10 acres of land. The census will also help reveal migration trends of farmers from rural to urban areas, he informed further.