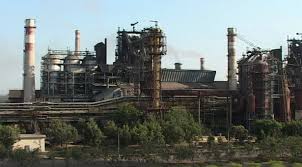 The surge in steel demand led by the economic growth and construction activities stemming from the onset of China-Pakistan Economic Corridor (CPEC), has increased imports of steel during the past few years. As domestic production remains depleted following the complete shutdown of Pakistan Steel Mills (PSM), the country is depending largely on imports for meeting the demand of development activities along with the housing projects and manufacturing growth spurred by investments in the automotive sector and appliance space.
According to a fresh research of Topline Securities, the steel demand in the country has increased by 14 per cent, while a further 15 per cent surge in demand is expected during 2017 to 2019.
As per World Steel Association (WSA) steel use in 2015 was 7.1 million tonnes in Pakistan, translating to a per capita use of 37.5 kg. Going forward, it is expected that Pakistan's steel requirement would swell over 12 million tonnes, taking Pakistan's per capita requirement to 62 kg by 2019.
According to the study commencement of infrastructure projects such as power plants, dams, airports, road networks, etc along with public and private housing schemes that would require long-steel products. Besides, manufacturing growth led by investments in the auto and appliance sector would spike the demand for flat steel rolled.
According to data of Pakistan Bureau of Statistics (PBS), finished steel production has grown during 2013 to 2016 to 10 per cent, while imports of the steel have risen at the rate of 16 per cent over the same period, indicating the lagging of local production.
Due to the higher regional electricity costs and frequent outages especially in Punjab where most of the small mills are concentrated, local steel supply is unable to compete with cheaper imports, particularly from China, where manufacturers enjoy benefits from economies of scale and a more economical and efficient iron-ore based production process. In order to avail the opportunity of the rising demand in Pakistan, Chinese manufacturers, who have been slapped with anti-dumping duties by most G20 taboos, have come forward to run rampant in Pakistan due to the Free Trade Agreement (FTA).
Pakistan is a net steel importer as it imports 45 per cent of its finished steel requirement. Pakistan imported 3.4mn tonnes of finished Steel, local rolling mills produced 3.2mn tonnes of finished steel, while flat steel manufacturers made 820mn tonnes, hence consumption as per official data is around 7.4mn tonnes.
On the other hand, Pakistan's iron and steel industry remain a small, fragmented and largely unorganised industry despite the recent trend of high public spending, infrastructure development and robust private construction activity.
Domestic steel production capacity is estimated to be around 7mn tonnes, comprising of over 330 steel related enterprises with 173 melting furnaces, and 158 rolling mills. However, industry experts cite that barely 15-20 per cent of the actual domestic steel production meets international quality standards as the majority of the production falls in the category of ungraded, unrecognisable and untraceable material produced from ship plate and hence cannot be used in large projects.
PSM, the nation's largest industrial asset, is run to the ground because of gross mismanagement and negligence, with accumulated losses and total liabilities swelling to Rs 166 bn and Rs 173 bn in 2016, up from Rs26 bn and Rs 35 bn, respectively, in FY09. Consequently, PSM hasn't been that down since June 10, 2015, while the government's efforts have so far failed to restart/revive it.
The government has been trying to either sell or lease out the national asset, but buyers are unwilling due to the sheer number of PSM employees. The government's most recent plan involves leasing out Pakistan Steel Mills for 45 years under a revenue sharing arrangement and laying off roughly 5,000 workers.